Sgt. Christian McIntyre has made a career of jumping from airplanes.
On Sunday, June 9, the 2011 Citrus High School alumni will make a 1,200-foot jump from an aircraft to participate in the D-Day commemoration ceremonies in Normandy, France.
McIntyre serves in the 173rd Airborne Brigade, known as the "sky soldiers." He has served in the military for almost eight years. He now lives with his wife and children while stationed at the NATO base Caserma Ederle, in Vicenza, Italy.
McIntyre was chosen to participate in what he describes as a re-enactment of the D-Day invasion, where American, British, and Canadian paratroopers invaded enemy lines.
"We'll be landing pretty close to where they dropped," McIntyre said.
The landing site is next to the Orne River that runs through Sainte-Mere-Eglise, France. Paratroopers from across the world are jumping alongside McIntyre's unit.
"There's gonna be about 900 of us," McIntyre said. "Americans, French, Germans, some Romanians."
The jump will seek to recreate the intensity of the original landing.
"We have eight C-130s, which are the normal aircraft we use to jump," he said. "It's gonna be a mass-track jump ... with paratroopers coming out of both doors simultaneously."
McIntyre knows the drill.
"I'm not new to this," he said, "We jump all the time."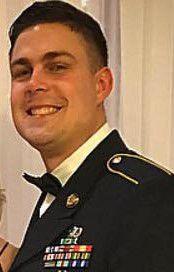 McIntyre said the military handed out a limited number of slots to those in his unit who were chosen to participate in the ceremony.
"You have to stand out (to get a slot)," McIntyre said. "My boss wouldn't have given it to anybody, so I guess she saw something there ... she ended up giving one to me, so I was more than grateful for that."
The historical significance of the event is not lost on McIntyre.
"The 75th anniversary is supposed to be bigger than all the others," he said.
During the invasion in June 1944, Allied paratroopers made their way from the Normandy shores up the Atlantic Wall toward their shooters. The battle in Normandy posed an extensive threat to German control over the Western Front. D-Day helped secure the Allies' victory, driving the five-year war to its end.
After completing his two-year mark in Vicenzo, McIntyre said he plans to move back to Florida and re-enlist to work at an in-state military base.
"I want to stay in the military ... I love it," he said. "You don't get to jump out of airplanes anywhere else."
Both McIntyre and his family are honored for him to be a part of this worldwide commemoration. To McIntyre, his service is a joy.
"Honestly, I really don't see myself as special or anything like that," he said. "To me, it is a job. I get to do fun stuff, jump out of airplanes, just like any other young kid wanted to do. I'm kind of living my dream."