Over the past 42 years, Fred "the Barber" Sparkman has cut the hair on thousands of heads.
This past weekend, he set down his scissors and shears for the last time to retire.
He posted on the Fred's Barber Shop Facebook page his goodbye message: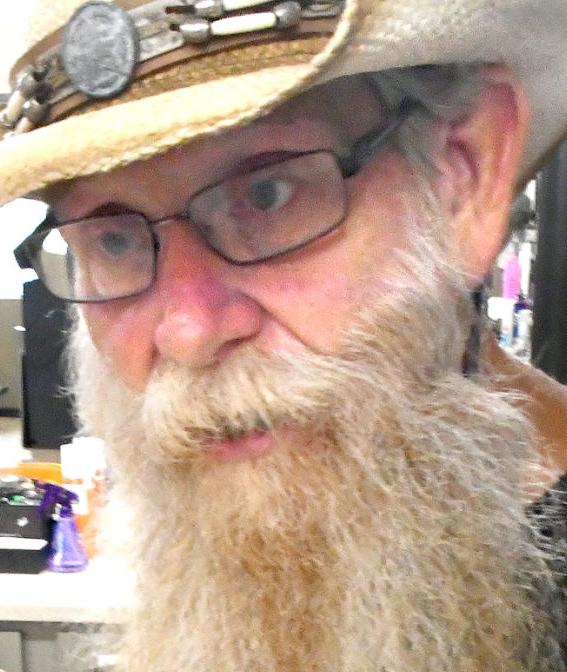 "Today was my last day at the barbershop. I'm so very thankful that I had the opportunity to have the barbershop my whole life. I had surrounded my wife and my life at the barbershop. Due to my motorcycle accident in South Dakota (Aug. 14, 2020) I have no choice but to retire. I am very thankful for the 42 years that I have had in Crystal River cutting hair. It was the very best time I ever had in my life.
One of the things Fred "the Barber" Sparkman loves best is camping and fishing in the mountains.
"I have sold the barbershop to a great guy who's going to open his own business in that store. Unfortunately, he's not a barber but he's a great guy and he will take that building and property to the next level."
Here are some of the thoughts friends and customers posted in reply:
• Luther Willis: "The end of an era. Fred, you have touched and inspired many in your time cutting hair. Enjoy your retirement. God bless you and your family."
• Christine Simmons: "So glad you're still with us. Businesses will come and go, but you only get one life. Continue with your recovery, focus on getting stronger and enjoy retirement."
• Joe Faherty: "I believe my first Citrus County haircut was from Fred 30 years ago. He was a very large man at that time with a very large heart. God bless, praying for continued healing."
• Rex Arnold: "Good luck my friend. I am going to miss you and those real tall stories you would tell while you were in the middle of a haircut. Luv ya, you will be greatly missed by myself and many others."
• Mandy Lynn: "Enjoy retirement — you deserve nothing but the best! Thank you for teaching my young son the importance of looking a man in the eye while you firmly shake his hand."
• Laurie Croft: "You are an icon in this county. People will be talking about you for years and years to come. We will miss your haircuts and your wonderful sense of humor! God bless you, and good luck on the next chapter of your journey."
• Troy Strawder: "Retirement is good my brother, enjoy every day, you deserve it! You always brightened every single person who walked into that shop. You made the guys from Key Training Center feel equal and just as important as the CEO of a major corporation. For that I thank you. Trust me, they will never forget!"
• Jessica Jean Schaak: "Enjoy retirement Fred. Thanks for encouraging my husband to marry me while he sat in your chair and for also cutting his hair for our wedding day for free! You are a top notch guy and I hope retirement is everything you could want!"
• Jason Shetrone: "Thanks Fred for the many awesome haircuts you have given to not only myself but the veterans and homeless from the Mission in Citrus over the years. Going to miss coming into the shop and chatting with you. Congratulations on your retirement, and here's to a great future. God bless you, brother."
• Elliott Nunez: "Enjoy retirement Fred and Pat! Enjoy many happy fishing expeditions. ... Thank You for being the 'No.1 Boss' and the best paying job I've ever had! Thank you so much for taking the time to teach me what I needed to know to work as a barber now, not just a cosmetologist. Thank you for all you did when I went through some awful times. No other employer would've done what you have done for your workers. Over and over again I will never forget you, Fred Sparkman."