The rainfall is finally forecast to give way to drier conditions this weekend but folks who live along the bloated Withlacoochee River will have to deal with the aftermath a bit longer.
Of particular concern is the portion of the river at State Road 200 near Arrowhead Estates, which floods easily. The river there rose sharply this week.
The river there is currently at 8.39 feet. Minor flood stage is 8 feet and moderate is 9 feet. The National Weather Service (NWS) predicts the river to peak there Friday afternoon at 8.6 feet.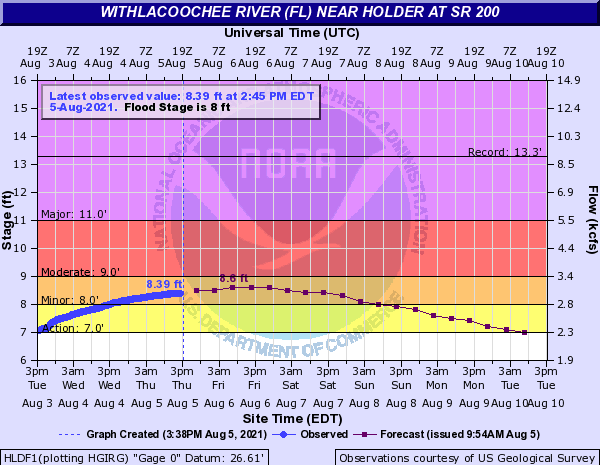 That could change depending on how much more rain that area and the river upstream gets. After Hurricane Irma in 2017, the water level reached 9.4 feet. After the 2004 hurricanes it reached 11.3 feet.
The NWS said the river is forecast to stay above minor flood stage until Sunday.
"There is a lot of standing water in low-lying areas throughout the County, including Arrowhead," according to Dr. Mark Fulkerson, chief professional engineer with the Southwest Florida Water Management District (SWFWMD). "Arrowhead has many isolated wetlands that have filled up and have no easy way to naturally drain."
Most of the rain this week fell on the middle and lower sections of the Withlacoochee, from Citrus County downstream to the Gulf of Mexico,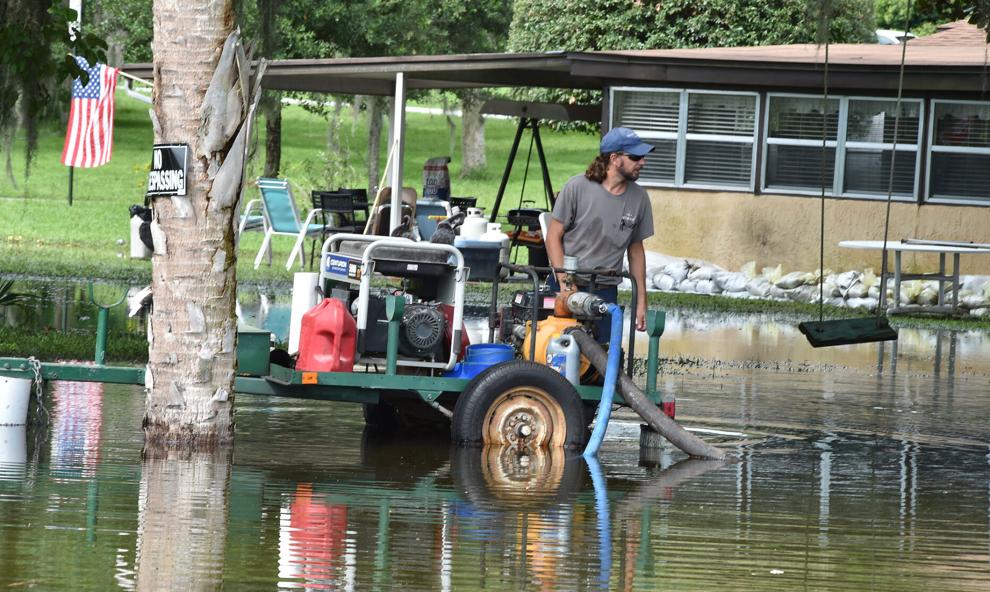 As a result, the Citrus County portion of the river has seen a quick jump in water levels, while areas upstream have not, Fulkerson said.
"For now, we're not seeing a big wave of water coming downriver from the Green Swamp, so the impacts affecting the Withlacoochee River in Citrus County are from more local rainfall," Fulkerson said.
The river is still rising upstream at State Road 44 so additional rainfall could change these predictions and push river levels higher. 
The Withlacoochee River at Dunnellon has been slowly dropping since Wednesday afternoon, partly due to the District lowering Lake Rousseau about 6 inches by increasing flows through the Inglis Main Dam. The river at this location is now below minor flood stage. The dam has no effect on the river upstream near State Road 200.
Citrus County has received over 30 inches of rain in the past two months. The wet season (June-Sept) average is 31 inches, "so we're set to surpass that mark significantly," Fulkerson said.
To see the most up-to-date river predictions, visit: weather.gov/serfc.
Low-lying properties farther away from the river were still not spared from torrential rains.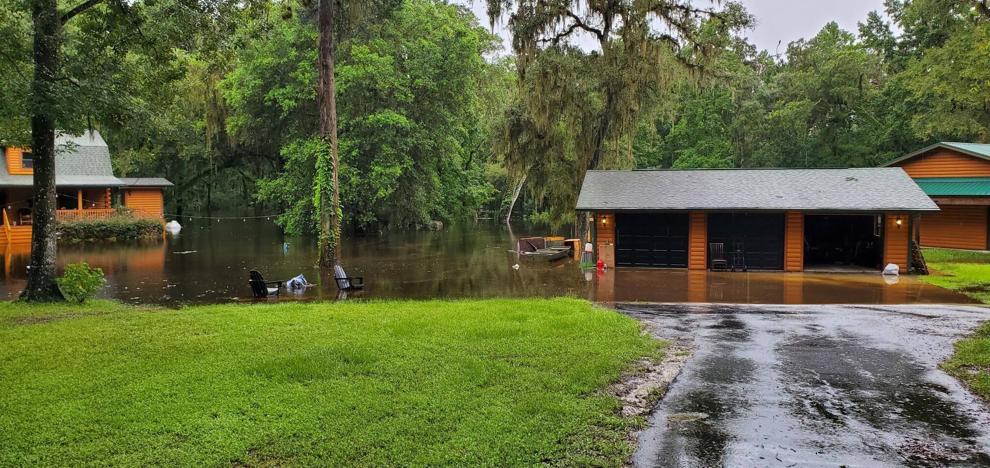 Rainfall raised waters up to surround a house and garage off of East Vernon Court near Floral City, prompting Citrus County Fire Rescue (CCFR) firefighters to rescue the stranded homeowner by boat Wednesday evening.
Those living inside an area under a flood warning should consider evacuating to higher ground if they're advised to do so. It's also dangerous to walk, swim or drive through floodwaters, which can harbor hidden obstacles, poisonous snakes and other hazards.
Lightning has also led to numerous emergency calls.
CCFR spokeswoman Cortney Marsh said lightning struck a Homosassa-area home on Tuesday, and an Inverness-area home on Wednesday, but fire and smoke damages weren't reported.
Lighting also struck a utility pole in Beverly Hills, igniting it on fire, Marsh said, and tree limbs fell onto power cables, causing them to land onto an Inverness driveway.
Flood waters have been slow to recede out of coastal communities like Crystal River, where cyclical high tides throughout the day have been backing up the outflow of rainwater.
Most of Crystal River was spared major flooding but the northeastern part of the city has been inundated because of overflowing ditches.
 "The water's going out as quickly as it can," said Brown "Jack" Dumas III, assistant city manager and city fire department chief, "but it's going to take a number of days to drain the amount of water we've had fall on us in the last few days."