After investing so much on its own, Crystal River wanted Florida to help support the final piece of its Riverwalk along its downtown's borders with King's Bay.
None came after Gov. Ron DeSantis included the project in his $1 billion veto list accompanying the state's $92.2 billion budget he signed Monday, June 29, 2020, to go into effect July 1.
DeSantis said vetoes were expected because of state revenue shortfalls from COVID-19.
"It's disappointing," City Manager Ken Frink said June 30. "What I was hoping to do was get some buy-in from the state."
Frink said the city will get $200,000 from the state for a study to evaluate the quality of its sewer system.
DeSantis also approved $1.5 million in legislative appropriations toward Save Crystal River's (SCR's) King's Bay Restoration Project, SCR Vice President Steve Lamb said June 30.
"We're thrilled that made it through the budget," Frink said about SCR's initiative, which has been cleaning the bay of unwanted vegetation since 2015 and replacing it with natural eelgrasses. 
With the state funding, SCR could reach its project's target milestone of restoring a total 45.43 acres by November 2020, depending on the width and congestion of private canals.
Almost 40 acres of the bay's bottom have been rehabilitated by SCR's project since it began.
"It's going to be real close," Lamb said.
It's SCR's ultimate goal to clean a total 92.6 acres by Crystal River's 100th birthday on July 2, 2023. 
Lamb said the Homosassa River Restoration Project, a similar environmental endeavor, also received $1.5 million.
Even though Crystal River missed out on $200,000 in state monies to add a restroom and paved parking to its Riverwalk job list, Frink said the city will press on to break ground in June/July 2021.
"We're still planning for next year," he said.
Riverwalk progression, Frink noted, depends on the city getting a remaining pair of property owners to approve its requests for easements to build pathways on private parcels.
Frink said the completed Riverwalk will draw more visitors to the area, boosting local economies, something state officials should back.
"It's a much larger project than the city…and Citrus County," he said. "…and we really thought the state should have some buy-in on that."
Crystal River has invested roughly $3 million in the Riverwalk's multi-phased construction, Frink said.
Its first phase opened in March 2018 with an incomplete route of beautified sidewalks down Northwest Second Avenue and along streets surrounding Kings Bay Park.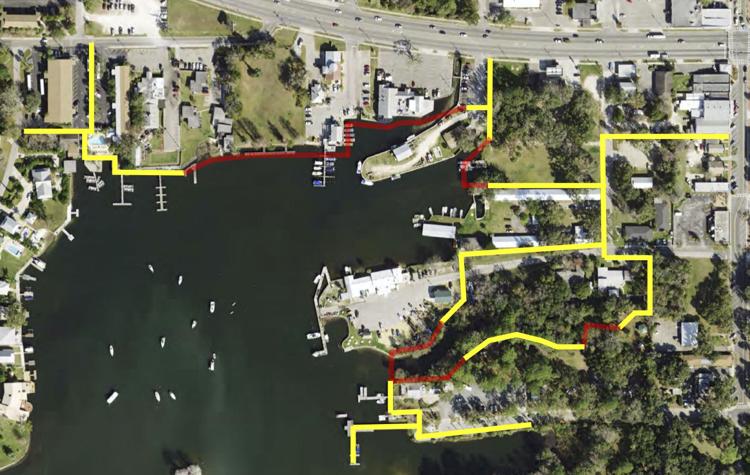 To fill in the missing, waterfront sections of its Riverwalk — especially a boardwalk from Charlie's Fish House to Cracker's restaurant — the city has secured funding and signatures for easements.
City officials in August 2019 requested $2 million from state lawmakers to help fund the Riverwalk's second and final phase, which, based on 2017 estimates, would cost between $2.8 and $3.2 million.
Lawmakers reduced Crystal River's funding request to $200,000.
"We know the costs of construction have gone up since then," Frink said, adding the city is reevaluating those expenses.
Citrus County commissioners also dedicated $1.7 million toward the Riverwalk from its federal allotment of money awarded from the BP Deepwater Horizon oil spill lawsuit, known as the RESTORE Act.
Crystal River has around $1 million to make up, which the city has in its coffers, but its a price tag, Frink said, the state could have covered.
Frink said he's happy with DeSantis designating the 800-mile-long Nature Coast Aquatic Preserve, which protects 400,000 acres of seagrass habitats along coasts from Citrus to Pasco from well drilling and dredging.
Other impacts to the city from the state's budget include a loss in sales tax allocations, but Frink said Crystal River doesn't get much of those appropriations to begin with.  
Crystal River City Council will meet July 13 to approve the city's Truth-In-Millage (TRIM) rate, which must be adopted to advise the public of the potential tax on properties for the coming fiscal year.
A pair of public hearings must be scheduled before council votes on a final millage rate.
Frink said the county's property appraiser has yet to advise him of the city's current taxable value, but he's not presenting a tax increase. Crystal River's current millage rate is 4.8.
Council will continue workshopping the city's 2020-21 budget on July 16. 
"We will be presenting a budget where we'll be living within our means," Frink said. "The city, state, and country are hurting enough, financially, and the city needs to live within its means."