Hunger and food insecurity has always been a problem, and a percentage of the population in any community regularly depends on food pantry organizations to help feed their families.
In 2020, local food pantries have seen an increase of between 300% and 400% of people coming to them for food.
Of that increase, one-third has never needed food assistance in the past, but because of the economic impact of the coronavirus they are seeking help, said Barbara Sprague, Community Food Bank of Citrus County (CFBCC) executive director.
"Where we usually distribute 2 million pounds of food a year through our 56 agencies, this year we're at 4 million pounds — we've doubled," she said.
The week before Thanksgiving is designated National Hunger and Homelessness Awareness Week, and this year the Chronicle is spotlighting the Community Food Bank of Citrus County, the central agency responsible for feeding Citrus County.
On a recent busy Friday morning, Sprague took time out to talk to the Chronicle about how the coronavirus has impacted this vital nonprofit organization.
What has 2020 been like for you?
"It's been a roller coaster," Sprague said. "Besides the people that regularly come to our agencies for food, now we've got an influx of new folks because of the coronavirus. They've had their hours cut or had to take a furlough, they've lost their job or their kids weren't getting free meals at school — a variety of different reasons."
COVID-19 has also made fundraising for all nonprofits more challenging.
"Thankfully, we had a lot of the different COVID grants and funding options earlier this year," Sprague said. "But we've been unable to have 'in-person' events like our annual dinner at Black Diamond, which is our biggest fundraiser. For that, we've asked our table hosts, which are our board members, to host their own smaller events ... so, we're still getting the word out."
This year, Florida Commissioner of Agriculture Nikki Fried made a video in support of food banks to help draw attention to the vital work they do and the ongoing needs they have for financial support.
CFBCC's annual budget is $500,000, covered by private donations and corporate sponsors.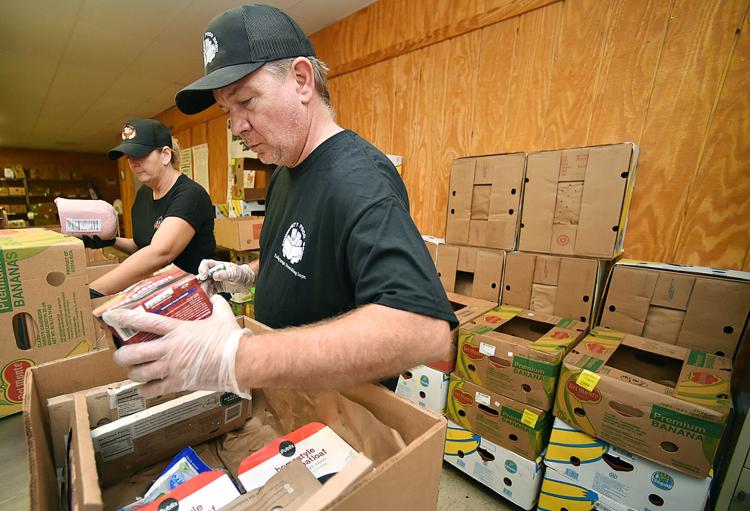 Where does the food come from?
To feed the approximately 66,000 people in Citrus County and also parts of Hernando and Sumter counties through food pantries, soup kitchens and shelters, the CFBCC coordinates with a variety of food sources such as Feeding Tampa Bay, USDA, FEMA, Walmart, Publix, Winn-Dixie and Save-A-Lot.
How has the coronavirus affected your food supply?
Sprague said one good thing that came from the pandemic was the USDA Farmers to Families Food Box program that provided stimulus money to allow farmers and food distributors to redirect gluts of their unsold produce, dairy and meat to food banks.
However, that ended in October.
In the past, the CFBCC has also relied on the twice a year food drives sponsored by the local post offices. In October 2019, Citrus County residents donated 33,647 pounds of food, which postal carriers collected while on their routes.
This year, Sprague said, both food drives were canceled.
"Also because of COVID, there's been a few weird hiccups in the food chain," she said. "Right now there's a shortage of canned goods."
She said she's not sure if it's the cans, the aluminum they're made from or maybe shipping has been affected.
"Just weird stuff we're noticing — there's also a turkey shortage," she said.
However, the CFBCC has secured grant funding this year to provide 1,000 turkeys to their agencies to distribute for Thanksgiving next week.
What does 2021 look like for you?
Sprague said they hope to expand their services to include a satellite location on the east side of the county. In addition to food distribution, they want to offer services, from skills training (culinary, forklift, inventory and management), plus bring in other community agencies that can help people find resources and services.
"We want to elevate people in other ways," she said. "But, of course, expansion takes money."
What is on your 'wish list' for CFBCC?
Donations top the list, monetary and nonperishable food items.
For every dollar they receive, they can stretch it to make 10 meals.
"That's the buying power of a food bank," Sprague said. "Our 56 agencies could never do what we do, and that's why food banks are so important to a community — it's that bulk buying power that allows the food pantries to feed more people."
Next on the list: volunteers.
Before the pandemic, the CFBCC had a core crew of about 30 volunteers, plus groups that would come in from businesses or clubs.
However, since most of their regular volunteers are retirees, they're the ones who have had to stay home because of COVID.
"But we've had a wonderful time with homeschool kids and virtual learning students coming to help us," Sprague said. "This gives them an opportunity to socialize and learn about the community — they've saved us. We are in desperate need of volunteers."
The Community Food Bank of Citrus County is at 5259 W. Cardinal St., Building B, Homosassa.
For volunteer opportunities, call 352-628-FOOD (3663).