In December 2008, a Citrus County planning board gave approval to Preston "Scott" Baggerly's Christian retreat center in a rural neighborhood off U.S. 19 just north of Crystal River.
The Faith Haven Christian Retreat Center would have boys and girls bunkhouses for quiet weekend programs for church groups.
Neighbors along West Bentbow Path, a private dirt road with deep divots and potholes, expressed concern about traffic and noise.
Scott Baggerly assured them there was no reason for concern, according to minutes of the Dec. 18, 2008, planning board meeting.
Baggerly said he would maintain the road, and anticipated only church vans accessing the property.
Faith Haven today does not have overnight bunkhouses in use. They're on the property, but not permitted for occupancy, county records show.
Instead, Baggerly advertises Tree Top Adventures, which features zip lines and ropes courses. He acknowledged in an interview that he wants to give tourists an alternative destination once they're in Crystal River to see manatees.
"The intent was to benefit the county," he said. "We want to give people more to do here."
The problem, county officials say, is none of it is legal.
Following the complaint from a neighbor in August, the county cited Baggerly for violating the 2008 conditional use by adding elements unrelated to "Christian retreat center."
A special master will hear the case Wednesday.
Neighbors, who spoke to the Chronicle on the condition of anonymity because they fear reprisals, said the promises Baggerly made in 2008 of a passive church camp have been overshadowed by the zip line and ropes courses.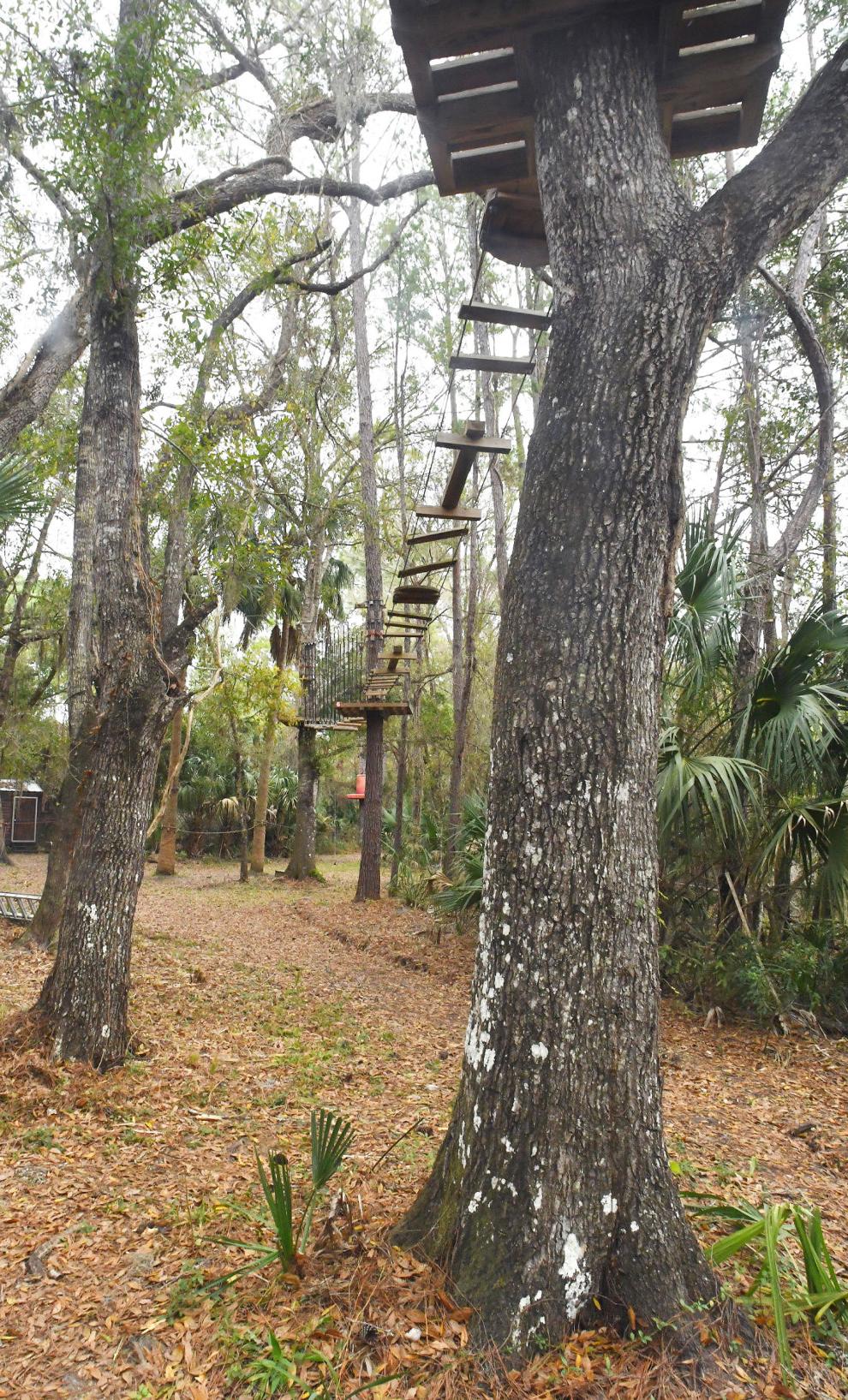 "He said there would be zero traffic on our street other than the occasional van," one homeowner said. "He has a business he's running down there. He has great big Greyhound tour buses come through."
Baggerly said all he needs is a certificate of occupancy to open the retreat center portion of the property. He sent repeated emails to the county requesting the c.o., only to be denied each time.
"This is a legacy for the county," he said. "We're not trying to do something illegal."
While Baggerly said the county has given him no reason for denying his permit, land development director Joanna Coutu sought to clarify the issue in an email to Baggerly.
"The existing use of the site is not an allowable one since the Conditional Use only permitted a private religious retreat and not a public amusement/attraction site as it is currently operating," she wrote.
The Baggerlys, from Pinellas County, bought the 62 acres of woods in 2001, property appraiser records show.
In early 2008, Baggerly emailed the county with his plans for about 6 acres of the property.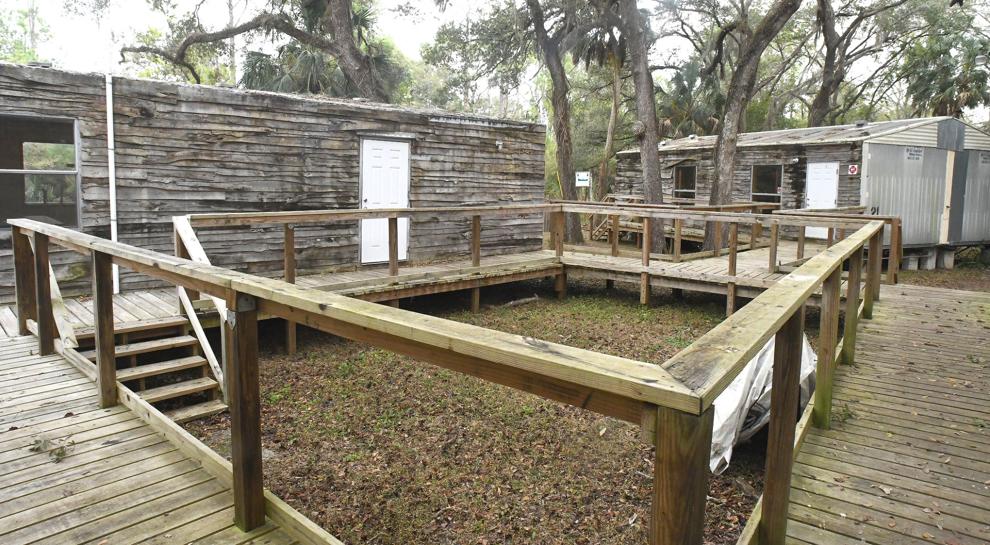 "It is our desire to develop our land into an area that will facilitate the youth, equestrian society and visitors of our community. We would like to build (A) a Christian Youth Camp for Churches and Christian Groups (i.e. Scouts) to lease for retreats, (B) Horse Stables to board horses and use the undeveloped land for riding trails and (C) a Bed & Breakfast to reside in and provide 4 guest rooms," he wrote.
In May of that year, he founded Faith Haven Retreat Center Inc., a not-for-profit, and followed that in October with an application and site plan for a conditional use from what was then the planning and development review board, or PDRB.
The application states simply "Christian retreat center" and the site plan shows only two bunkhouse cabins. 
The PDRB at its meeting in December 2008 approved the request, with conditions. The first was: "The retreat center shall be limited to passive recreational use, operated by a non profit organization, and open only to bonafide members and guests of such nonprofit organization."
There, county officials say, is the rub.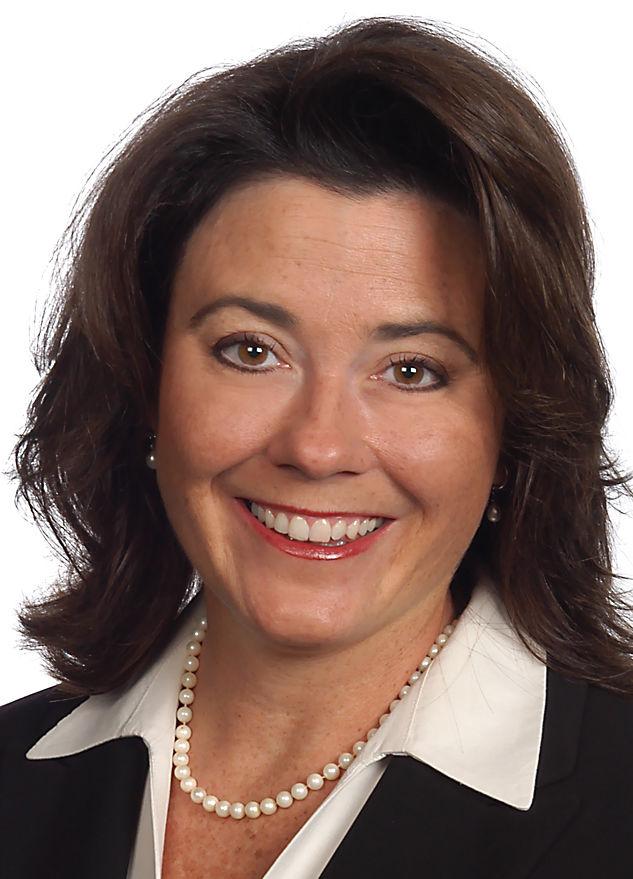 "Opening the ropes course to the general public was never approved or accepted," County Attorney Denise Dymond Lyn said.
Baggerly's attorney, Bill Grant, disagreed, saying Faith Haven is passive recreation.
"The county is mistaken," he said. "It was approved by every department in county government including the fire department, including engineering, including environmental. Everyone but land development."
The conditional-use approval is good for one year. Baggerly requested and received extensions and then, in 2015, he asked for the "continued placement" of the ropes course as a part of the conditional use approval.
Jenette Collins, then the head of planning and development for the county, approved Baggerly's request so long as it is "accessory and incidental to the primary use of the Christian Retreat Center," according to her letter to Baggerly.
Lyn said the ropes course is not allowed without the uses Baggerly applied for and was approved: two bunkhouses for Christian retreat activity.
"Faith Haven has not established a primary use on the property, which is a Christian retreat center," she said.
Grant said Baggerly is following the requirements of the conditional use, despite what county officials say.
"The problem the county has, they're relying on people who were not there in 2008," he said.
Baggerly said the team building exercises that a ropes course provides is keeping with the Christian retreat center theme.
"Our mission is to facilitate community, team building, and education in a Christian-based environment," the group's website reads.
Baggerly said he needed funds to develop the retreat center, which is why he opened the ropes course.
"We had to have something with cash flow," he said in an interview.
Faith Haven and the Baggerlys took out a $498,500 mortgage on the property in 2016, and defaulted two years later, leading to a foreclosure lawsuit, court records show. The Baggerlys filed to restructure their debts through Chapter 11 bankruptcy, which ended the foreclosure case when Baggerly agreed to make regular mortgage payments, records show.
According to case management summary in Baggerly's bankruptcy file, Faith Haven was to pay the mortgage on the property, which is owned by the Baggerlys and not Faith Haven.
The summary says Hurricane Irma in 2018 "caused a severe decrease in funds for Faith Haven," resulting in the foreclosure.
Plus, a company Baggerly owns, Life Source Engineering Inc., "lost a major customer that year," making it even more difficult to pay the mortgage, the summary states.
Baggerly said in an interview Faith Haven brings in about $3,000 a month. A group of middle school students from Georgia was scheduled for the day after the Chronicle interview.
Also at issue, county officials say, is the term in the conditional use allowing "bonafide members and guests" of the nonprofit to utilize the property.
The county, according to emails and documents, wanted to see Faith Haven's membership list. Until recently, there were none. Two women, one living in Crystal River and the other from Homosassa, signed up as members in November and December, records show.
Baggerly said the term "guests" means anyone from the public.
Faith Haven markets itself as a tourist destination, which Baggerly says does not contradict with its mission.
"This is our vision to give back to the county," he said.
Grant met Tuesday with county officials in hopes of resolving the issues that stand in the way of getting final approval.
Michael Sherman, Citrus County's director of growth management, wrote in a December email to Baggerly that his options are either stop conducting the unpermitted activities or get planning board approval for an amended conditional use.
Baggerly said he wants to compromise.
"We're going to do whatever the county wants us to do," he said, "within reason."