It may seem like an eternity but it's only been four years since widening of a 2.1-mile stretch of U.S. 19 in Homosassa began.
It's long enough, though, for motorists and business owners who have had to contend with congestion along the 2.1-mile stretch from West Green Acres Street to South Jump Court.
It wasn't supposed to take this long but unforeseen obstacles came up extending the original completion deadline.
The Florida Department of Transportation (FDOT) offered good news this week: the $31.8-million widening project on target to wrap up in spring 2021.
But until then, it's more of the same.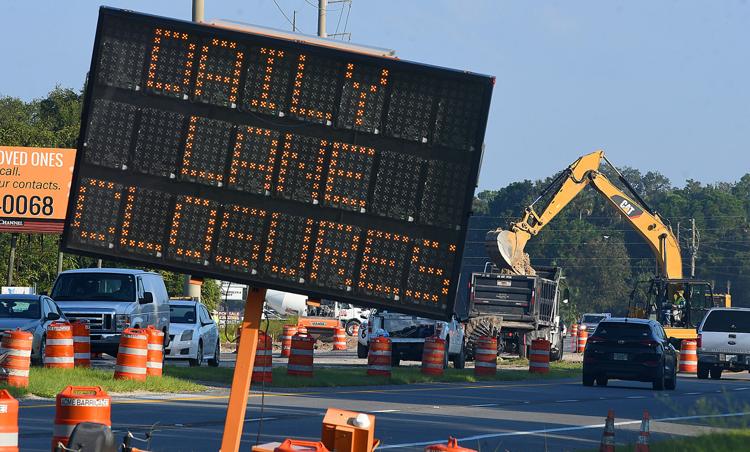 "As the contractor progresses towards the finish, drivers can expect periodic lane closures and traffic shifts to accommodate the work activities," FDOT spokesman John McShaffrey said.
McShaffrey said here is what drivers can expect from now through the end of the year along the project route:
— Northbound U.S. 19 traffic will shift to the outside lanes to open the median area for workers to start building concrete traffic separators and a curb.
— Workers will build an outside southbound shoulder along the road north of Homosassa Trail.
— Side street and driveway connection will be paved, which should help motorists who have been driving on temporary pavement the last few months.
— The ditch ponds on the south end of the project are now being excavated and FDOT expects the remaining excavation of the drainage pond on the north end to soon begin.
— Construction of the sidewalk along the route will take place
"We expect other miscellaneous work to be started by the end of the year, such as final sign installations, signalization work, and handrail installations," McShaffrey said. "This would allow the pedestrian trail to be opened and more sidewalk areas to be opened.
The widening project began in 2016 and was supposed to wrap up in the spring of 2019. That date was extended to late 2020 before the spring 2021 deadline was announced.
Detour expected to end Oct. 25
On Sunday, Oct. 11, FDOT  temporarily closed westbound West Highlands Street between South Skyway Avenue and northbound U.S. 19 for drainage improvements.
Weather permitting, that closure should continue through Oct. 25.
West Highlands Street  traffic is being detoured using South Skyway Avenue and West Dixieland Street. Access to the Maus Nissan dealership is from northbound U.S. 19 by turning onto eastbound West Highlands.
Motorists are being urged to be cautious in that area.
Meanwhile, work continues on the six-laning of U.S. 19 from West Jump Court to West Fort Island Trail in Crystal River - a 4.7-mile stretch. Work on that $51-million project began Nov. 5, 2018 and is expected to be completed by fall 2022.