Editor's Note: This story was updated to reflect the correct number of years Tom Davis has been with the Crystal River Airport.
Holly Davis woke up early last Friday morning in her cabin feeling the gentle chop of the Pacific Ocean that surrounds the Galapagos Islands. 
It was the last night at sea for the career excursionist from Citrus Hills and roughly two dozen passengers and crew members aboard the 117-foot Majestic Explorer, part of a weeklong diving tour around the 19-island archipelago off Ecuador's coast.
"We're bouncing through the waves; it's very gentle," Davis said. "I dozed back off and all of a sudden there was this 'Wham!'"
At first, Davis thought a big wave had slapped against the vessel as it was cruising along at 10 to 12 knots, but the banging happened again and again, and the vessel's throttle never let up.
Crew members rushed to each of the eight passenger cabins, telling their guests to get dressed and leave their belongings, except for their passports.
As Davis got to the deck in the 1 a.m. darkness, she could see by the light of flares that the Majestic Explorer had run aground atop shallow rocks on the northern shores of Isla Santiago, miles and hours away from the nearest port.
"It was stuck on rocks, and waves were rocking it pretty hard from side to side," Davis said. "We didn't know it at the time, but later a pretty big gash in the hull was revealed."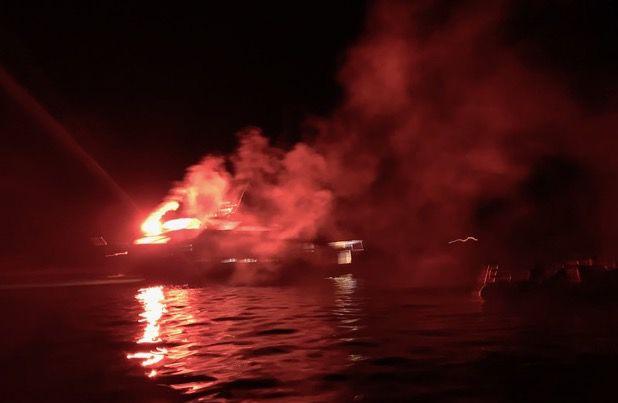 Those onboard escaped on engine-powered rubber tender boats. It was about an hour until a passing ship responded to the Majestic Explorer's SOS, and diverted from its route to pick up its passengers while its own clientele were asleep.
Most of the crew stayed with the Majestic Explorer, salvaging what they could of the hundreds of thousands in dollars worth of diving gear aboard.
Davis and the 13 other passengers were transported from boat to boat eight times during their 10-hour passage back to port.
During their travels, Davis and her diving colleagues watched the sunrise, refilled water bottles when they could and enjoyed the food and hospitality of whoever aided them along the way.
"You typically bond with your fellow passengers on these trips, but I think there's going to be an extra level of bonding after going through that," Davis said. "We were really in very good spirits."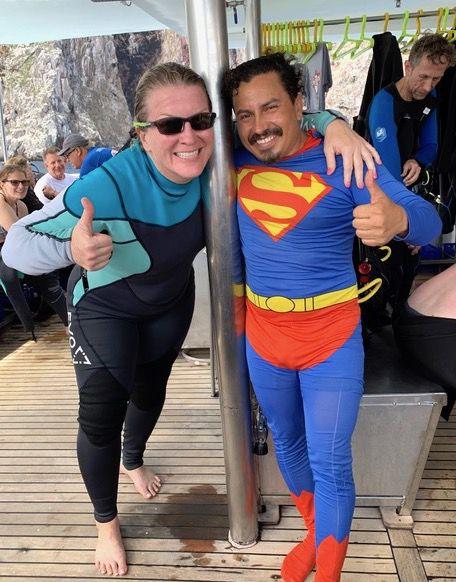 Davis said their scariest moment was piling everyone into one tender boat before risking a crossing through the rough open waters in between Isla Santiago and Isla Santa Cruz.
Luckily, they decided to turn back to a secluded cove on the southern side of Isla Santiago, and split into two tender boats for safer passage.
After the final three-and-a-half-hour leg of their odyssey, the divers reached Puerto Ayora, a town on the southern side of Isla Santa Cruz, where they would have eventually finished their touring journey.
"It went exactly as well as it should have except for the whole shipwreck part," Davis said.
Members of the Majestic Explorer were able to recover a lot of their clients' luggage and items.
They tried the next morning to float the ship off the rocks at high tide and pilot it back to the mainland, but damage to the vessel was too severe, causing it to capsize and sink.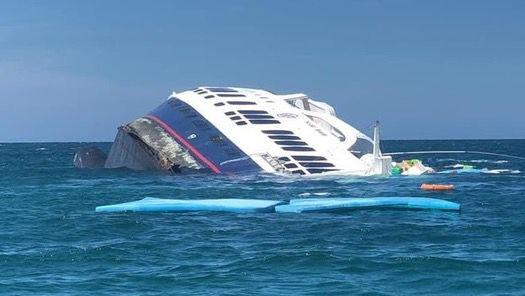 Davis said she was happy to see what she could during her trip, including the impressive Darwin's Arch, rafts of sea lions, a massive whale shark, prehistoric marine iguanas, schooling hammerhead sharks, sea turtles and other captivating fisheries.
"I just love the critters, and the Galapagos is known for that," she said. "It was an absolute blast."
Davis, 52, has been diving since 2009. It's her favorite hobby next to flying and equestrian sports.
"I'm happiest in the air, in the water or in the saddle," she said.
Davis is the youngest daughter of Tom Davis, the 33-year U.S. Navy veteran fighter pilot who's been training future flyers and working at the Crystal River Airport for 41 years.
"I'm still his little girl," Davis said about her father, who couldn't be reached for comment. "He's not really happy with me diving ... and he was really not happy with shipwrecking."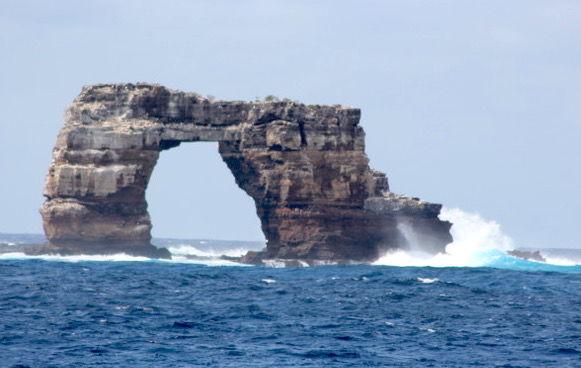 Davis said she can't thank the ships' crews enough for keeping her and her fellow passengers safe during their passage back home.
"It was the trip of a lifetime. I can't wait to go back," she said. "I would happily stay with the same crew."