Tom Avery chose Cardinal Street on purpose.
He and wife had been visiting Citrus County from their home in Daytona Beach for a time, then moved to Homosassa permanently five years ago.
They bought a 5-acre tract off Cardinal Street in south Citrus, placed a log cabin on the back, and eased into retirement living.
Then the Suncoast Parkway came along, and with it an interchange on Cardinal, despite it being a rural country road with a Walmart on one end and very little commercial in between.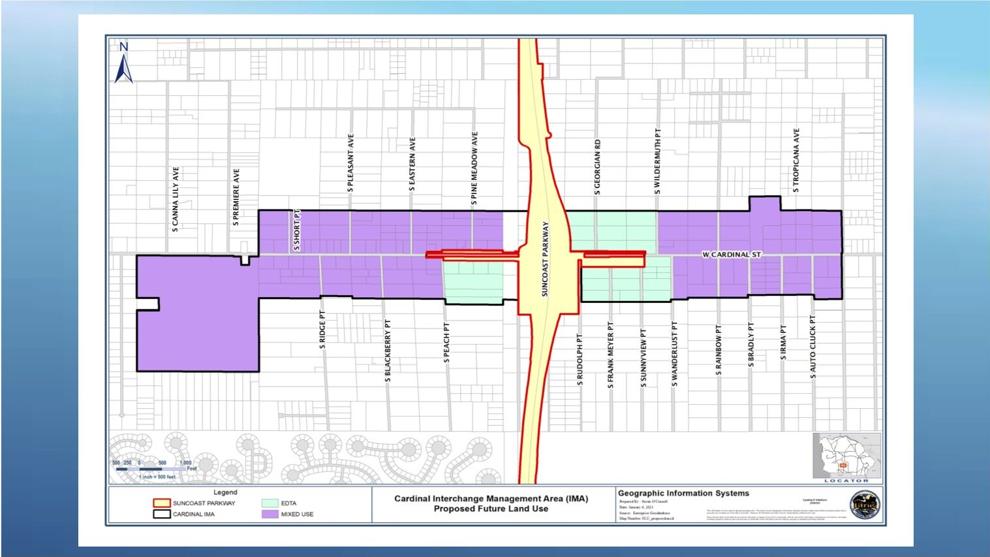 And now the county is planning a massive change to Cardinal — mixed-use development with 10- and 20-acre minimum buildable lots to go with a parkway interchange management plan that, if successful, will vastly change rural Cardinal to a mini town center.
County commissioners voted 3-2 on Tuesday, Jan. 19, to send the proposal to the state for review. It'll come back for a final vote sometime in the next few months.
Supporters, such as the county administrative staff that proposed the change, say it makes much better sense than allowing hodgepodge zoning changes on small parcels for gas stations or fast-food restaurants.
Instead, they say, the mixed-use development on minimum 20-acre tracts will result in a "walkable" community where everything — shopping, entertainment, outdoor trails — are within a confined area.
"We can't predict the future," assistant county administrator Steve Lachnicht said during the Tuesday, Jan. 19, board meeting. "People are seeking walkable communities. It's the most desirable product we have out there."
"We came over here because it was quiet," he told commissioners during the Cardinal Street public hearing. "We wanted to get out of the hubbub and here we got right in the middle of it."
County commissioners were mixed in their views. Here's a sample:
• Commissioner Holly Davis: "These are things that are actually going to make things better than the worst case scenario, which is leaving it as it is."
• Commissioner Jeff Kinnard: "This exit was dropped right in their laps. Good planning will yield a much better environment."
• Commissioner Ron Kitchen Jr.: "Most people are resigned to the fact they know something's happening down there. It's a well thought out plan."
Commissioners Scott Carnahan and Ruthie Davis Schlabach disagreed.
• Carnahan: "This is a community buy in and I don't think we've got the community out there to buy in."
• Schlabach:  "If this goes in as is, it's going to shut down Cardinal and we'll be known even more as business unfriendly."
Commissioners said they may tweak the plan after state review to allow exceptions to the 10-acre and 20-acre minimum to build. If someone wants to build a commercial development on acreage just below the minimum, commissioners said the county should have a mechanism to allow for that.