Editor's Note: This story was updated with the identity of the deceased man, and a video of the shooting provided by the Citrus County Sheriff's Office.
A Citrus County Sheriff's Office deputy fatally shot a man local authorities say threatened the law enforcement officer with a knife the morning of Friday, Jan. 22, at a Homosassa gas station.
After notifying next of kin, sheriff's officials Friday night identified the man as Steven Verdone, of Homosassa.  
Citing Marsy's Law, the sheriff's office would not ID the deputy, who was uninjured and placed on standard administrative leave while the Florida Department of Law Enforcement (FDLE) investigates. 
Deputies responded at around 9:45 a.m. to 911 calls reporting a man, Verdone, behaving erratically and running in and out of traffic near the Marathon Gas station on the corner of West Cardinal Street and South Gross Avenue, Sheriff Mike Prendergast and sheriff's office Col. Elena Vitt said at the scene.
Amanda Glode and Jason Dennis said Verdone was trying to jump in front of vehicles in front of their home off of Cardinal Street, a few lots east of the shooting scene.
They said Verdone walked down their street almost every day. On Friday morning, Glode said, Verdone went into her yard to yell at her two barking mastiffs. 
Glode said she brought her dogs inside before she tried to stop Verdone from running into the path of traffic.
"I was trying to talk to him," she said, adding Verdone responded by approaching her up to her front gate, yelling obscenities and comments alluding to him wanting to end his life.
Glode and other neighbors called 911 while Verdone walked toward the gas station. About 45 seconds later, Glode and Dennis said they heard three gunshots.
"It was the craziest five minutes of my life," Glode said, expressing her sadness for the man and deputy. "It's still a soul."
Gas station surveillance and cellphone footage, released Friday night by the sheriff's office, shows Verdone yelling at people near the locked entrance to the convenience store, which he also tried to enter before he's interrupted by the deputy's arrival.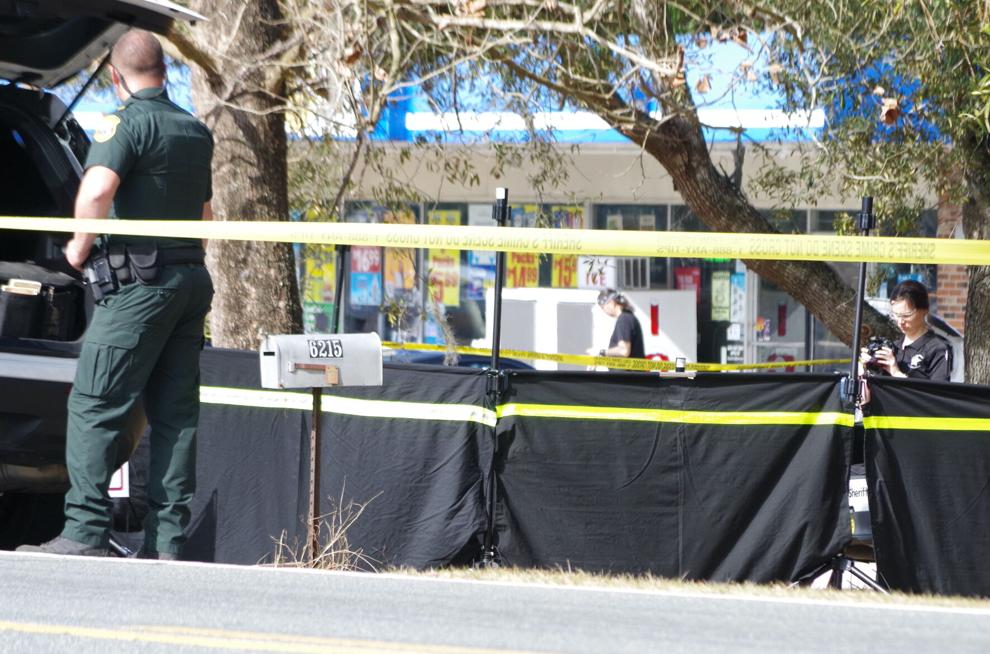 Prendergast said Verdone "immediately approached" the deputy as he was exiting his cruiser to respond to the neighborhood's 911 calls.
"The deputy observed his behavior and started backing away from the suspect in order to allow the suspect to have some time to think about what he was doing," the sheriff said, "and try to deescalate the situation."
Video footage shows the deputy back stepping from the gas station with his agency sidearm drawn and pointed at Verdone as Verdone advances, still clutching the knife.
"Drop the knife," the deputy's heard telling Verdone multiple times before firing three shots, striking Verdone a few feet away.
Once Verdone was neutralized, Prendergast said, the deputy rendered first-aid on him while Nature Coast EMS crews responded, but Verdone was pronounced dead along the side of Cardinal Street.
Cindy Currie said she thought one of the three rounds she heard ricocheted off her shed a couple houses from the shooting.
"I was like, 'what the freakin' heck is going on?'" she said. "It was too close for comfort."
For most of Friday, deputies closed down the busy Cardinal Street, from South Berliner Way to South Straight Avenue, while crime scene technicians collected evidence and detectives interviewed witnesses.
Prendergast said the medical examiner's office will autopsy Verdone's body, and more information will be released. 
"We're making all the necessary arrangements to properly document the crime scene and let FDLE do what they need to do to take care of our deputy," he said. "Most importantly, our deputy is fine; he was not cut by the suspect's knife."
Prendergast said investigators were able to get video footage of the incident, and asked the public to submit more information to his agency, which can be reached at 352-249-2790 or sheriffcitrus.org.
"So that we can present a well-valued piece of information and the full facts surrounding this officer-involved shooting," the sheriff said, "and get our deputy back on the road as soon as possible."