Oct. 25, 1985 was the worst day of Derrick Jamison's life, the day he was sentenced to die fro a murder he did not commit.
On Oct. 25, 2005, exactly 20 years to the day later, Jamison was exonerated and walked out of an Ohio prison a free man.
"The worst day of my life, Oct. 25, became the best day of my life," he told a group of about 40 people who had come to hear him tell his story at the annual Cities for Life/Cities Against the Death Penalty vigil on the lawn of the Historic Courthouse in Inverness on Saturday.
Jamison was convicted of The Aug. 1, 1984 murder of Gary Mitchell, a Cincinnatti bartender who was beaten to death by two men who robbed the Central Bar where Mitchell worked.
Jamison was arrested, charged and convicted based on false testimony from Charles Howell, one of the men who took part in the robbery and murder.
Howell had agreed to testify against Jamison in exchange for a lesser sentence.
Also, statements contradicting Howell's testimony that would have incriminated other suspects had been withheld by the prosecution.
Two federal courts ruled that the prosecution's actions had denied Jamison a fair trial, and in February 2005, all charges against Jamison were dismissed.
Although exonerated, Jamison still lost 20 years of his life.
He has spent the years since his release traveling with organizations like Witness to Innocence and Journey of Hope, speaking out against the death penalty.
He has also been the subject of numerous newspaper and magazine articles and is part of a book, "The Deprived: Innocent on Death Row."
Currently, Jamison, 58, lives in the Tampa area with his dog, Lucky.
On Saturday, he described his first day on death row: "I arrived at the penitentiary with gray- and white-shirted guards at the door to 'welcome' me," he said. "I was shackled from head to toe, still in shock from my conviction."
They marched him down a long corridor for his first stop — the death house — so he could see his future.
"I remember walking into this big ol' room ... and seeing the electric chair, Old Sparky they called it. Over 400 people had been executed in it...the last one was in 1963."
Next, he was stripped naked, given his prison uniform and marched down another long corridor.
As the guards called out, "Dead man walking!" on the way to his cell where he would live for the rest of his life until his execution, Jamison noticed the faces of the other men who were also waiting for their executions.
"They were so young — 17-, 18-, 19-years old, but they looked so much younger," he said. "I said to the guards, 'Y'all are killing kids? They're just babies!' I was 23 years old."
He said there hadn't been an execution in Ohio since 1963, and then in 1999, once the death penalty had been reinstated, a man named Wilford Berry,Jr., whom Jamison had become friends with on death row, volunteered to be executed by lethal injection on Feb. 19.
"After that, 56 — all those young guys that I saw grow up to be young men — 56 of my friends were put to death."
Since 1973, 166 former death row prisoners have been exonerated set free, 29 of those are from Florida prisons.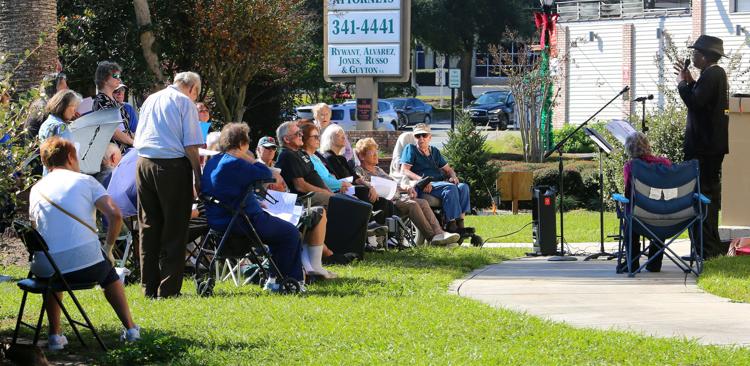 Among the people who came to hear Jamison's story, Bernie Welch, from Mount Dora, said, "Florida is preparing for its 100th execution. There have been 29 people exonerated — almost a third of the decisions made by the courts in Florida were legally flawed."
"One innocent person put to death is one too many," Jamison said. "That's why I say the death penalty is a human rights violation.There's something called 'life without parole' — you can't release a person from the grave."