Heather Marie Scroggins, 31, was arrested Monday, July 27, 2020 on felony charges of child abuse without causing great bodily harm.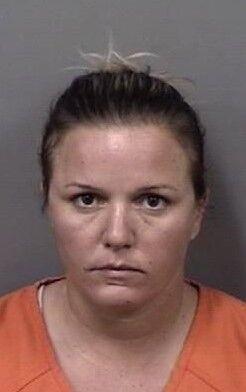 According to Scroggins' arrest report, a Citrus County Sheriff's deputy met with a child in Scroggins' care who had run to a neighbor's house and told the neighbor Scroggins was "beating" them.
The deputy noted that the child appeared "very distraught and shaken" and had about 10 "areas on the victim's legs where there was swelling from being struck by an object" and open, bleeding abrasions on the right hip, arm and chin.
The child told the deputy that they and another child were supposed to clean their room, but they "didn't complete their task in a sufficient amount of time," the report said. Scroggins then spanked the other child with a stick from outside and then hit the victim with the same stick.
After Scroggins left the bedroom, the victim said they were going to take out the trash, but ran to the neighbor's residence instead, and the neighbor called the sheriff's office.
When the interview with the child was done, the deputy went to speak to Scroggins who said she had spanked both victims with a switch (stick) and that they had been "bad all day."
"What area of the body did you spank them?" the deputy asked.
Scroggins replied, "on the rear end," adding that she told them not to fight her and that if they got "hit on the arm or anywhere else it was because they were fighting her."
The deputy talked to the other child whose story corroborated with the victim's story. He also noted that the child did not have any injuries or marks on them like the victim did.
Scroggins was arrested and taken to the Citrus County detention center. No bond was set.