A citizen committee gave its unanimous support to a proposed set of rules seeking to regulate and charge Crystal River's kayak-rental industry launching into King's Bay.
Members of the city's Waterfronts Advisory Board voted 5-0 the evening of Monday, July 6, 2020, recommending City Manager Ken Frink's plan for City Council to consider at its July 13 meeting.
"What you guys are doing is quite an undertaking," board Chairman Wayne Mozo told Frink and his staff during a virtual meeting. "It's quite a price but one I think is worthwhile in the end."
Advisory board members also asked Frink in their vote to revise his measures to better define fee structures for commercial kayak launches, create safety for paddlecraft launching and specify how business can unload equipment and passengers.
"There is more work that needs to be done before this goes to council," board member Mike Engiles said. "We're putting the cart before the horse."
Frink said his proposals, which apply to just commercial kayak vendors, will provide a framework for the city to fine tune details of.
They won't provide a quick or certain fix, Frink said, but will help ease an overcrowding of paddlecraft launching into narrow canals alongside boats, and gain additional revenue for the city to manage influxes of tourism.
"Businesses are using city launches with virtually no restrictions and no costs," he said. "The physical impact is huge and the industry is contributing nothing to the city to manage this."
Frink wants to phase his plan in short-term, midterm and long-term time-frames.
Under Frink's plan, all commercial kayak business licensed in the city would launch from Kings Bay Park by Aug. 7, sparing the city's Hunter Springs Park, its adjacent cove and surrounding neighborhood from kayak and traffic congestion.
Hunter Springs Kayak owners Dave Perry, echoed by Engiles and other local tour operators chiming in, said Kings Bay Park's docks and launches are treacherous for guests, especially those paddle-boarding. 
"It's a miracle the city hasn't been sued over this thus far," Perry said, adding those launching from Kings Bay Park are also in close contact with passing boats.
If there's a safety concern, Frink said, the city won't institute those components of the plan until they're addressed. 
Northwest Third Street, the road leading into Kings Bay Park, would be modified into a one-way loop, allowing kayak companies to quickly drop off and load clients, Frink said.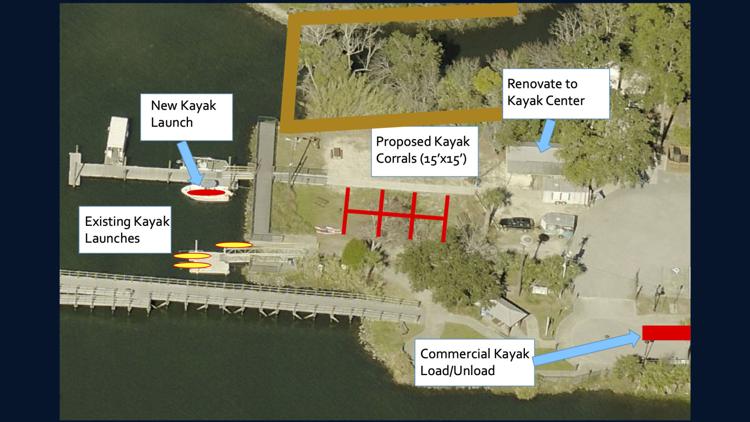 Several fenced-in corrals would be built near Kings Bay Park's three existing launches for kayak-rental companies to store their gear.
Board Vice Chair Phillis Rosetti and Perry asked Frink if unloading zones could be closer to the corrals and launches, keeping pedestrians away from motorists. 
In one to four months, Frink wants Crystal River to pass a resolution establishing a $10 fee for each commercial vessel to launch, regardless if the customer rented one for private use.
Collected revenue would pay for park improvements and eventual full-time staff to monitor kayak launches, Frink said.
Frink said kayak vendors would purchase city wristbands for customers to wear in order to launch. Each commercial paddlecraft would also be marked to ID it with its business. 
Engiles and Mozo suggested the city look into digitizing how it monitors commercial kayakers who paid the fee, like with barcode scanners and cellphone applications.
Board members Rosetti and Lynn Marcum were also in favor of charging noncommercial, out-of-city guests to launch from city parks.
Crystal River would also require businesses to show a safety video to their customers before they launch.
Frink's proposed resolution would also punish violating businesses and revoke their ability to launch from city ramps, following an appeal.
Kayak business owners told Frink they're worried the fees could be too steep for families to afford, especially if they're renting more than one vessel.
A Crystal River Kayak Company owner Mary Morgan and River Safaris Operations Manager Brandie Wooten said they pay various premiums for running manatee-viewing tours, and kayak companies can afford them as well.
Frink said the resolution would also allow the city to bid out corrals for businesses to rent annually at monthly rates of $750 for brick-and-mortar businesses and $1,500.
Angela Ward said her small 19-vessel paddlecraft business can't afford those rates. Frink said kayak vendors might not need to use the corrals if they're quick enough in moving clients.
Within a year, Frink wants to renovate a city storage shed at the park into an office for staff and kayak welcome center, and install signage on area waters to better guide visiting kayakers.
Crystal River would also lobby Florida lawmakers for anchoring-exclusion zones in King's Bay, keeping boats from anchoring in waterway chokepoints used by kayaks and swimmers, Frink said.
Frink said the city would like to collect as much data on commercial kayakers as possible to learn when to pause launches from Kings Bay Park if paddlecrafts are crowding local waters too much.
Perry, joined by others, said he was pleased about Frink's first steps but cautioned city staff not to make knee-jerk reactions based on observational data.
"I think we've got some good stuff here," he said, "but I'm very nervous about this stuff as well."