Downtown Crystal River just got more personality.
City officials and advocates welcomed a 68-foot-wide, 14-foot-high mural featuring their community's wild waterscape as the backdrop to the city's new Town Square at U.S. 19 and Citrus Avenue
"Great job; it's just amazing," Mayor Joe Meek told artist William Mickey during the small unveiling ceremony the morning of Friday, Jan. 8. "It's a blessing for the city ... this really enhances our brand new park."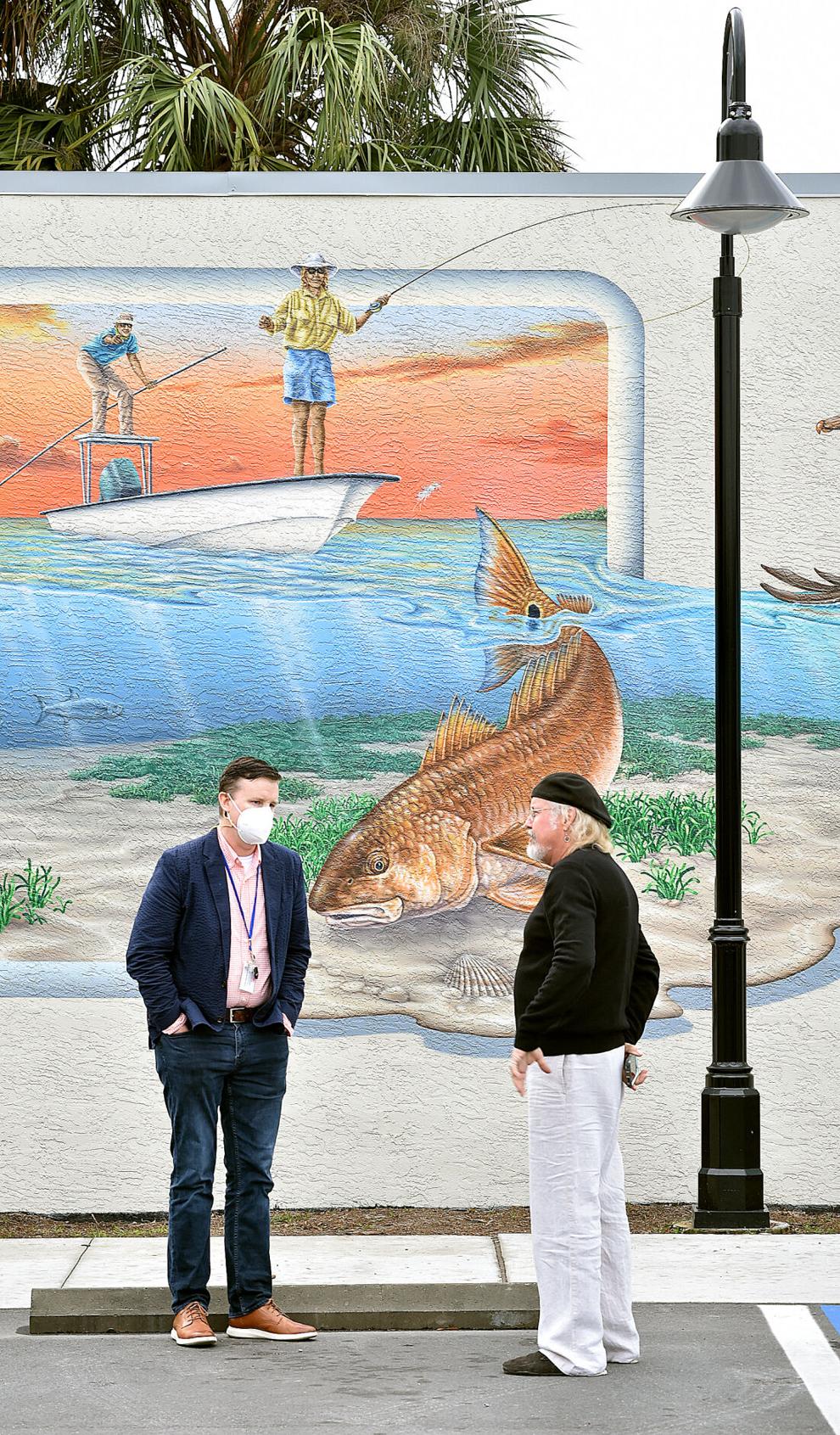 It took Mickey, a city resident, 11 weeks to paint his rendition of Crystal River's waterway bounties — from kayaking to scalloping, and everything in between — on the northern wall of Explorida's tour guide business.
"I'm just so thrilled to be a part of this whole collaboration of what's happening in downtown; it's an honor, it's humbling," he said, adding he was thankful for the comments of city visitors and locals praising the area's progression. "It was just so rewarding to hear their encouragement and input, and to be a part of everything that's happening."
Mickey, the muralist of many works throughout Crystal River, said rainy and chilly days did delay his painting, and the building's textured wall — which the mural jived with in design — was tricky to navigate.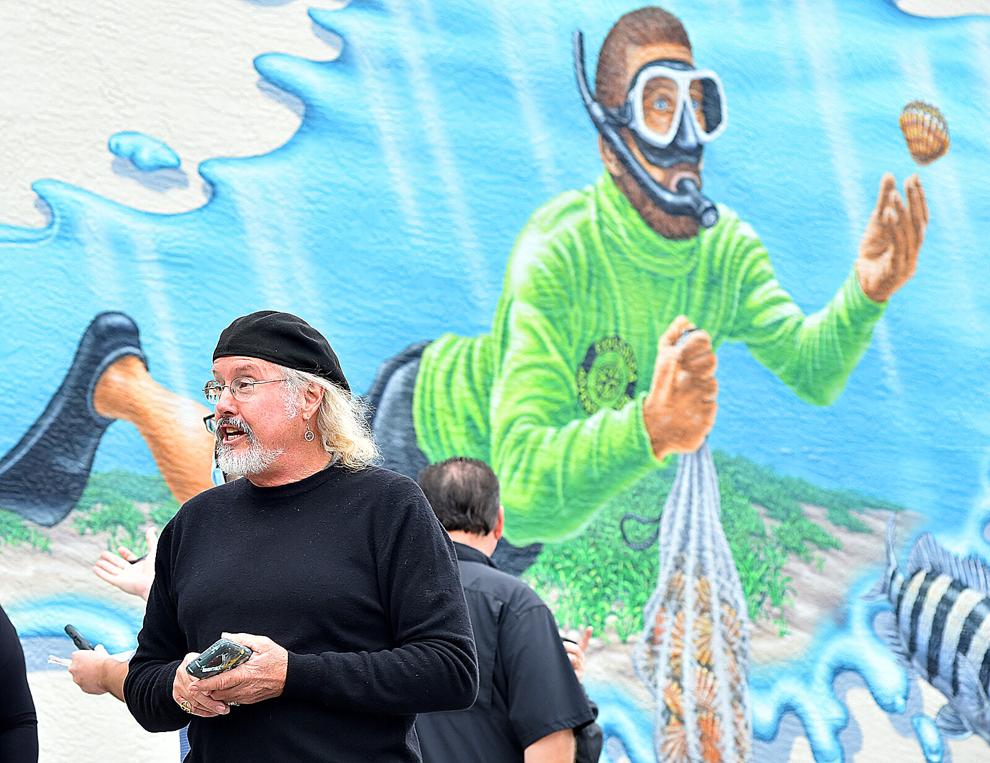 "It went really smooth," he told a Chronicle reporter, "and it was a great experience."
Husband and wife, Anthony and Kim Altman, who own the two-year-old Explorida business, said they appreciate Mickey's talent and their neighbors' support.
"It feels amazing to be a part of what's happening downtown, to be involved in this and help see this through," Kim Altman told the Chronicle. "We're supported by a lot of great people in this community; it's been a dream come true."
"The mural encompasses everything about Crystal River … everything," Anthony Altman added. "It all came together perfectly."
Private donations and a $1,000 grant from the city's Community Redevelopment Agency (CRA) Board funded the $18,000 mural, which was spearheaded by Crystal River Main Street.
Meek and Main Street board member Carol Kimbrough thanked the city and donors, which included the local Damron family, resident Kennedy Smith, Meek, City Councilman Pat Fitzpatrick and anonymous contributors. 
"We were really honored to partner with the city to move this project," Kimbrough said. "It was a true, coordinated effort."

Crystal River Main Street Executive Director Meredith Linley told the Chronicle she and others in the city have been trying for 10 years to get a large mural on the side of the current Explorida building. 
It's now the first major project to cross off her list as the leader of the community-revitalization nonprofit.
"It's surreal," she said. "We're super excited."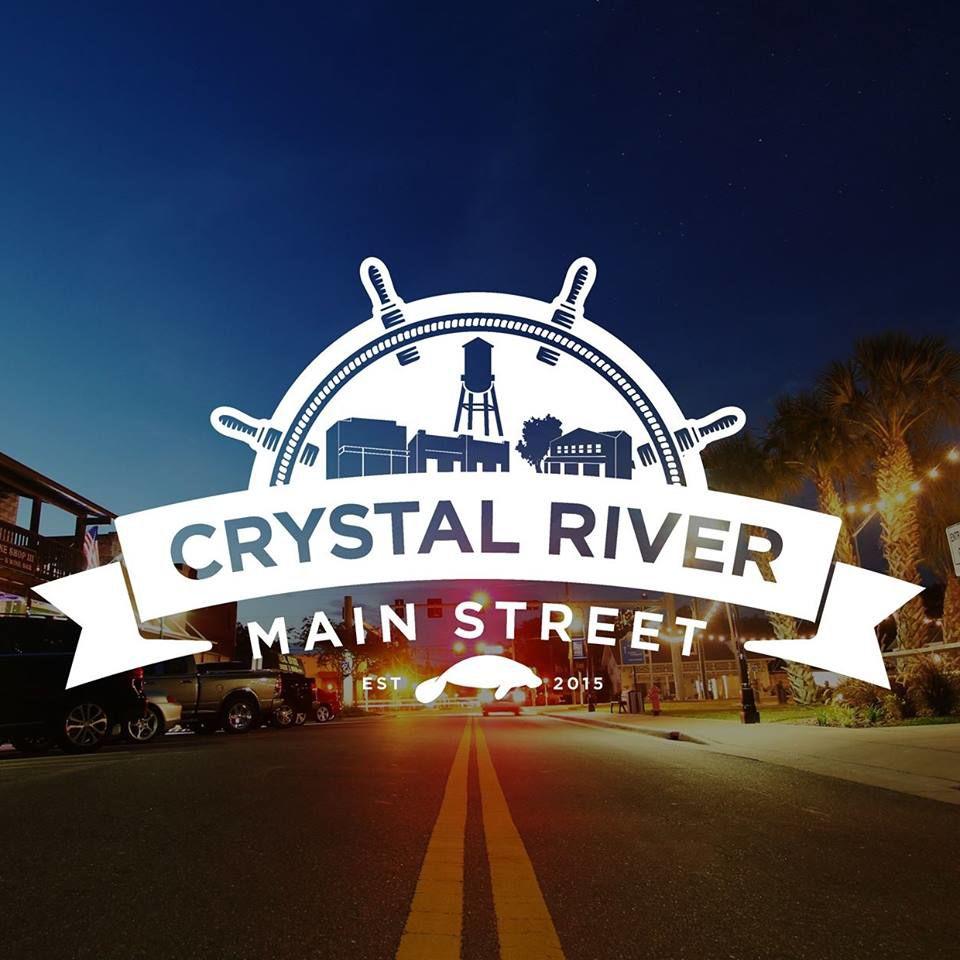 Linley said there are plans to put down a sidewalk decal for a selfie station to give passersby a perfect spot for a shot with the mural. 
It's just another step, she said, to improving the city's heart of businesses and a downtown with more projects on the horizon, like the splash pad park and second phase of town square.
"We're just excited to see what happens," she said, "and we're more than willing to help with any side projects that could come with beautifying this area back here."