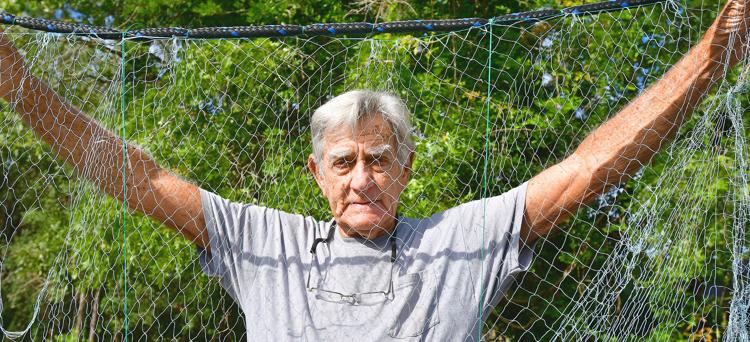 Conceived in a boat, born on the river: Mullet fishing is in Lonnie Head's blood
At 79 and a fourth-generation Old Homosassa fisherman, Lonnie Head knows the waters of the canals and rivers and the gulf by heart.
Still strong as an ox, he still goes out mullet fishing a few times a week in a boat he built himself, pulling in his nets full of fish like they're weightless.
Before the net ban in 1994 took away much of his and other commercial fishermen's livelihood, Head fished nearly every day.
"Fishing was all there was to do," he said. "All Homosassa was was a fishing village ... I started fishing with my daddy when I was 7 years old or younger. We had a helper and we'd go out and stay out for days. We anchored a big boat at Pine Island Beach and we'd fish at night from a little boat that we pulled. Then we'd come back and sell our fish to the fish houses."
Head laughed, adding, "I was conceived in a boat and born on the river."
His home back then was on Boulevard Drive, near Mason Creek Road, a block from where The Freezer Tiki Bar is now, deep in the "old" part of Old Homosassa.
"I went to school in the schoolhouse that burned down," he said.
His father was Riley William Head, the oldest of 11 children. His great-grandfather on his mother's side was Clay Strickland. Many of his ancestors are buried in Stage Stand Cemetery.
"There used to be a big dance hall, and my parents and others tore it down and built a house (with the lumber) for my grandmother Strickland," he said. "I helped pull nails out of the wood — I was just a young boy."
By the time he was 17, Head had his own fish route in Leesburg. He would catch fish and crabs at night, then pack them up and take them to Leesburg to sell to the grocery stores and schools.
"That was until the frozen fish sticks came out," he said.
Conceived in a boat, born on the river: Lonnie Head in pictures
As a backup job, Head worked as a meat cutter part-time.
"I'd never give up my fishing, but I knew fishing would go to pot," he said. "When I was a young boy, a fella I was fishing with said, 'One day you won't be able to do this.' I never forgot that."
In 1994, as a way to prevent overharvesting, Florida voters ratified a constitutional amendment limiting the size of all fishing nets to 500 square feet. The nets' mesh size was also limited to a 2-inch square.
In essence, this all but put commercial net fishermen in Florida out of business.
"It was a vote of the people that shouldn't have been," said Anna Head, Lonnie's wife and herself a longtime Old Homosassa resident. "The recreational fishermen didn't want commercial fishermen out there, said they were killing manatees and dolphins, but that's untrue. A lot of lifelong fishermen lost their calling — that's all they'd ever done.
"Besides," she said, "commercial fishermen fished at night and they couldn't have been in the way of recreational fishermen, plus they (commercial fishermen) mostly caught mullet."
The net ban, even nearly 24 years later, is still a sore spot with the old-timer local fishermen.
When the net ban first took effect, Head said they all had to turn in their nets.
"The small nets hurt us worse than the big nets ever did," he said. "They put so many laws on us that you can't make a living ... they said you could only have two nets, and they even went as far as to tell you how to hang the net."
Compounding the struggle to make a living, the net ban caused local fish houses to lose their out-of-state markets so the demand for fresh-caught fish diminished.
"So you maybe only fished two days a week instead of five," he said. "There's no point in fishing if you have no one to sell it to."
Mullet fishing is in Lonnie Head's blood.
He said as a kid he was often sickly, but when he was out on the boat with his dad, the salt air was better than any medicine.
"You don't have the pollution out there, and you don't have to breathe all the pollen and stuff," he said.
He learned to build boats from his dad, wooden well boats especially designed for net fishing, with the motor in the center of the boat so the nets don't get caught in the propeller.
"I've put one together in three days, but if you take your time it takes about a month," he said. "When they get old, I just burn them and build a new one."
He likes to fry his mullet, coating it with cornmeal and seasoning with a little salt and pepper.
His grandfather used to work on the train in Homosassa they called the "mullet train." They'd salt the mullet and put them in big wooden barrels and load them on the train to be shipped up North.
Fish, especially mullet, have always been a part of Lonnie Head's life.
"How I was taught, when you're out fishing, a fish makes its own sound," he said. "A trout makes a popping sound, and a catfish makes a little bitty flip sound at night and mullet make a sound almost like a catfish — you've got to be taught to know what you're listening to.
"You have to know the tides and the moon — you have to know all that stuff," he said. "I used to go fishing with my Uncle Chester in the Homosassa River and we'd drive trout like cattle and we'd catch anywhere from 500 to 800 pounds a night of trout."
Head said in 1960 Hurricane Donna hit the area of Old Homosassa hard and then in the '70s a twister came through.
The "no-name storm" in '93 caused a lot of flood damage and many people moved away after that, he said, but it was the net ban that caused the worst devastation and his hometown has never recovered from it.
"But thanks to the good Lord, it's been a good life," he said. "But things have changed, even the coast has changed — it's washed away. Where I used to fish, some of the keys are gone, washed away completely. It's a whole different world from how it was when I was brought up."