Any talk about raising impact fees, even a little bit, is an emotionally charged issue any time it's brought up.
Both sides line up to make their pitch: "Impact fees can hurt a recovering economy and will stunt new home construction" versus "It's only fair that new growth pay for itself."
That proved true two weeks ago when county commissioners held a public hearing on proposed amendments to the current fees. They tabled the matter to allow the public more time to comment and review a report by Duncan Associates that suggested some hikes.
Another public hearing will be at 2 p.m. Tuesday, March 23, at the Citrus County Courthouse, 110 N. Apopka Ave. in Inverness.
Even though two county commissioners have said they will not vote to change the current rate structure, that hearing promises to bring lively debate.
Impact fees help local government fund infrastructure necessitated by new growth. They are one-time fees on new development and are to be used for capital construction, not operational expenses.
There are eight impact fee categories collected in Citrus County: roads, schools, libraries, fire, law enforcement, parks, emergency medical services (EMS) and public buildings.
Currently, the county's adopted impact fee policy is at 50% of the full amounts for two categories: transportation and schools.
Single- and multi-family homes
Traditionally, single-family homes capture the lion's share of attention when it comes to tinkering with the fees. Multi-family homes — which can include apartments, duplexes and condominiums — are also attention-getters, although less so in Citrus County because there aren't as many.
Assuming commissioners do increase fees with the same formula currently in effect, how would that affect single-family homes?
Based on the consultant's report, impact fees would rise $1,363 — from the current $4,809 to $6,172.
A detached single-family home is defined as one that is 2,000 square feet with three bedrooms.
If the board goes with that recommendation, here's how Citrus would stack up to other counties in the region that impose impact fees for single-family homes:
• Hernando County: $4,714.
• Hillsborough County: $16,293.
• Pinellas County: $2,066.
The impact fee for a multi-family home in Citrus County would actually decrease by $433: from the current $3,644 to $3,211.
Here's how Citrus would compare to other counties' fees for multi-family homes:
• Hernando County: $3,493.
• Hillsborough County: $8,052.
• Pinellas County: $1,420.
County Administrator Randy Oliver said the board can set the impact fee percentage at anything between 0% and 100%.
He also said the numbers from the consultant are strictly his estimate of the impact of a new single-family home on the community.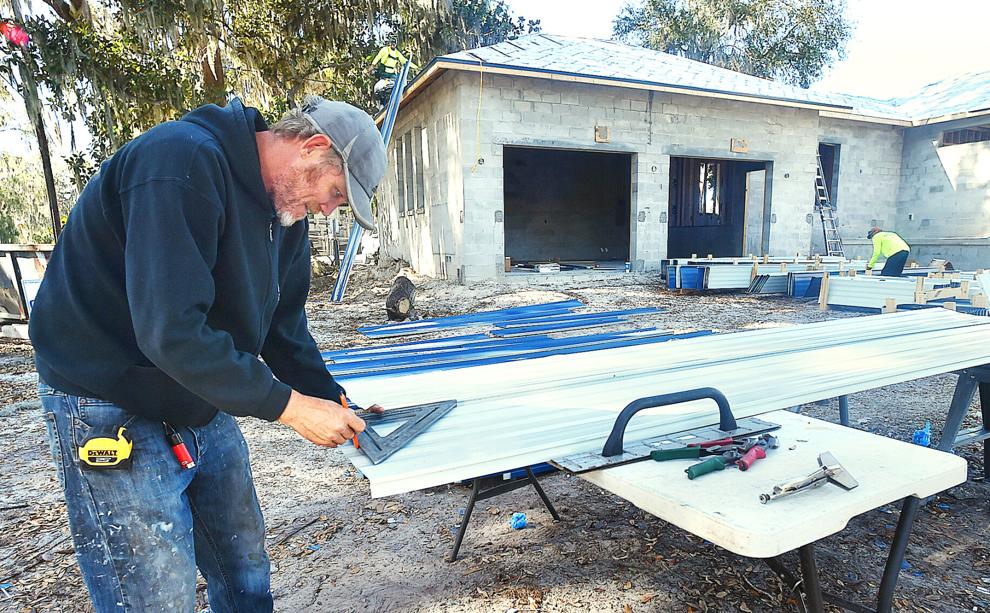 The unfunded portion from the impact fee is paid by the current tax base, he said.
"The purpose of impact fees is to have new growth pay for itself," Oliver said.
Several builders and Realtor representatives at last month's meeting opposed higher impact fees for fearing it would derail the hot housing market and freeze out lower-income buyers. Builders, they said, would be forced to pass on the higher costs to home buyers.
Some homeowners, they said, bailed out of building a new home here and opted to go to Marion County, which has much lower fees.
Stacey Worthington, president of the Citrus County Building Alliance, said builders are already putting up with increased costs for lumber and other construction materials due to the pandemic.
County Commissioner Jeff Kinnard said one big reason why Marion County is able to keep impact fees so low is because the voters there have approved a 1% public safety and transportation infrastructure sales tax.
The money from that tax goes toward a variety of uses, including road projects, law enforcement and fire rescue.
At least with impact fees, the costs are borne by new construction and not levied on all taxpayers, Kinnard said.
Carnahan, Kinnard — stay the course
County Commission Chairman Scott Carnahan said in a public hearing in February he already knows how he will vote: no changes at all to the current fee schedule.
He echoed that intention at last week's commission meeting.
Kinnard said he also won't vote to change fees at this time. Maybe when it next comes up for discussion in five years, but not now.
"The impact fees that we're collecting right now seem to be enough to fund the growth that we have lined up," Kinnard said.
Kinnard said he has no confidence in the consultant's report. For example, one section talked about fees as related to the construction of a new jail.
That is not even on the county's radar right now, he said.
"I don't think there was a thorough assessment of our needs," Kinnard said.
Kinnard said he doesn't believe Citrus County is losing housing starts to other counties.
County Commissioner Holly Davis said her inclination right now is to either leave the transportation and schools at 50% or raise either or both categories slightly.
The remaining categories would remain at 100%, she said.
"What the taxpayers need to understand, and that includes any and all people who are building, infrastructure then falls on them if we don't get the impact fees," she said.
Report: don't look solely at competing counties
One of the most frequent reasons for raising impact fees is to allow a county to remain competitive with other counties nearby. And comparing one county to the next is a common practice.
But the consultant's report said the desire to remain competitive in attracting new development "may be misguided."
An area's attractiveness to new development depends on a variety of factors, and relative impact fees do not appear to be a significant factor, the report said.
"An analysis comparing Florida counties that reduced their impact fees in response to the Great Recession and counties that did not reduce them or raised them found no significant difference in the rate of single-family permit issuance," the report said.