Did a financial tycoon's mistress murder him by throwing him from his penthouse balcony?
Who knows what happened on the night of Jan. 16, but one way to find out, and, possibly, root out the culprit, is by attending the trial at the Valerie Theatre.
Under the direction of Jacki Doxey Scott, a community cast and crew of 19 are premiering their production of Ayn Rand's courtroom drama "The Night of January 16th" at 7 p.m. on Friday, June 11, at the Inverness theatre, 207 Courthouse Square.
Evening shows are also scheduled for Saturday, June 12, Sunday, June 13, Friday, June 18, and Saturday, June 19, with a matinee on June 19.
Admission is $15 per person, and proceeds go toward the Citrus County Education Foundation to help benefit school arts programs.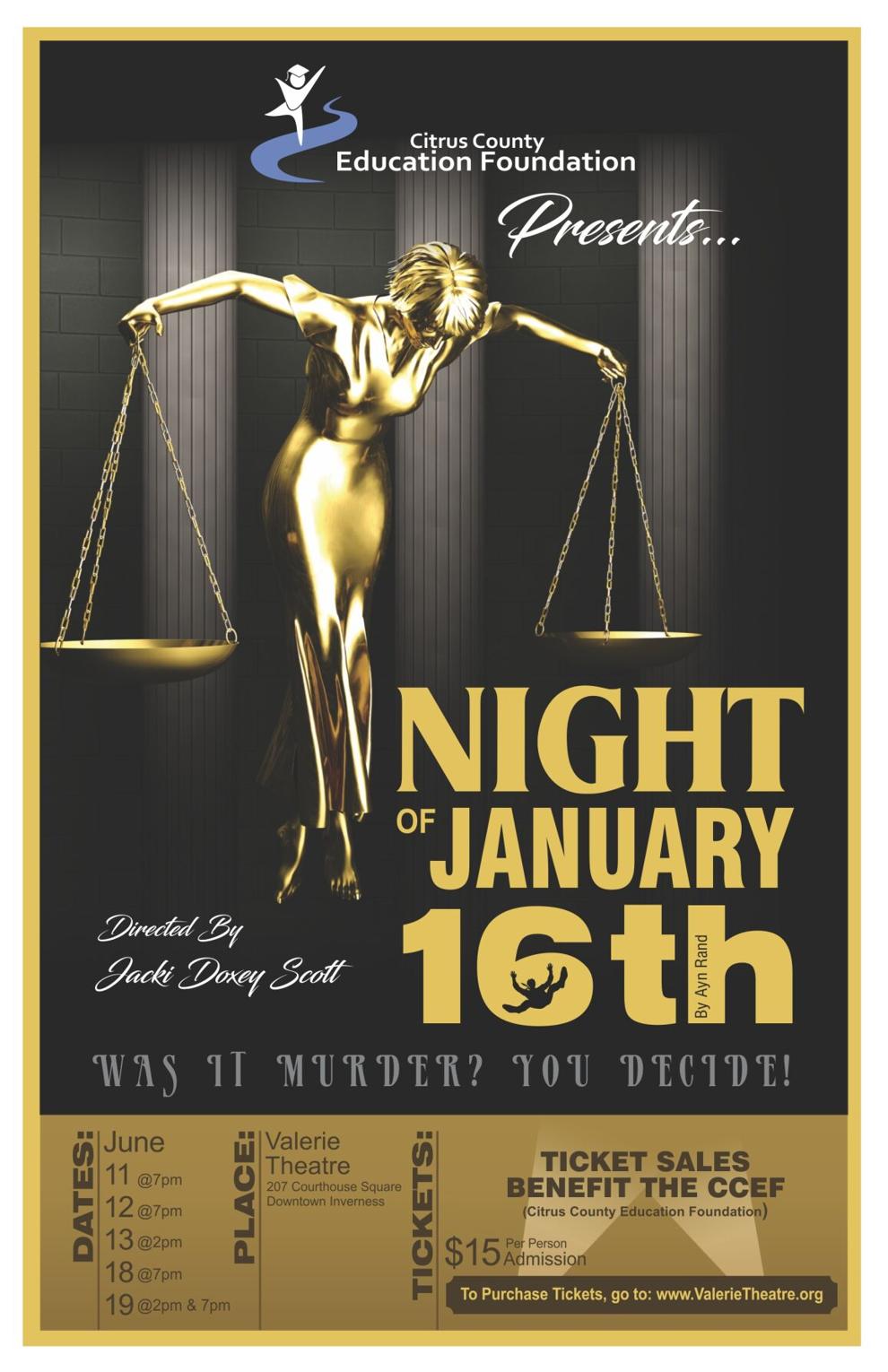 Buy tickets online at valerietheatre.org, where the theater's schedule is also available to view. Wearing masks is optional within the Valerie Theatre, which is allowing 100% occupancy.
Published in 1934 and written by Rand, author of acclaimed novel "Atlas Shrugged," "The Night of January 16th" has audience members play the role as jurors in the trial of Karen Andre, who's accused of murdering her former lover and boss, Bjorn Faulkner.
Before the show, a dozen audience members will be picked — with their permission — to help the actors reach a verdict.
"It starts out a typical courtroom, but there a lot of twists and turns that pop up throughout the play that keeps people on their toes," said Cami Plaisted, who plays Faulkner's widow, Nancy. "It's a really cool play ... something refreshing to bring to the stage of Citrus County."
After the spring 2019 production of Agatha Christie's "The Mouse Trap," this is the second local play the education foundation presented to raise funds for arts classes in county schools.
"That's something we really wanted to continue because there's a big need for it," said Plaisted, a prior board member of the foundation, "a lot of teachers are paying out of pocket."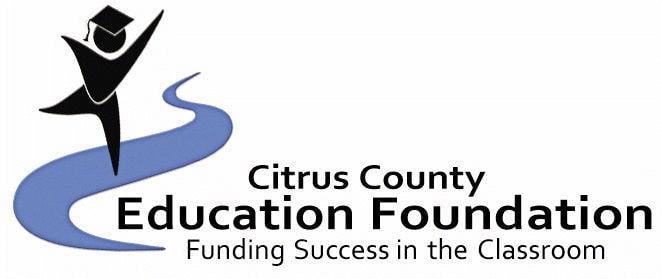 A handful of former educators and students are also involved in the production to help give back to the county school system.
Corey Reilly and Sarah Spiropoulos, respective graduates of Lecanto and Crystal River high schools, are cast as the dueling attorneys in Andre's trial. Reilly is also pursuing a degree in theater at Santa Fe College in Gainesville.
After joining the cast new to the stage, retired teacher Karon Bolognese became more empowered after stepping on the stage.
"She's a very quiet person, and this opportunity ... meant so much to her," Plaisted said. "Not only is it helping schools, but it gave her chance to get out of her shell."
Interested in volunteering at the Valerie Theatre, call the event specialist of Inverness at 352-726-2611, extension 1312.
Plaisted's father and mayor of Inverness, Bob Plaisted, is also in the cast. Bob Plaisted debuted his acting career at 10 years old but retired in 1960 before making his return.
"The Night of January 16th" is also the fifth play in Citrus County Plaisted has been a part of in the last five years.
"If there are people in the community ready to experience something fun and exciting, be a part of a great program for students and teachers in the arts and get back to a more normal part of life," Plaisted said, "this would be a great way to start their summer."