The Citrus 2030 Steering Committee has launched its website, www.citrus2030.org and guest speaker program in support of its Vision Check, which will be conducted from 8:30 a.m. to 4 p.m., Saturday, Oct. 5, at the College of Central Florida Citrus Campus Conference Center in Lecanto.
The Citrus 2030 Vision Check is inspired by the Florida Chamber Foundation's "Florida 2030 Project" to stimulate strategic thinking about Florida's future and to engage business/community leaders in each of Florida's 67 counties.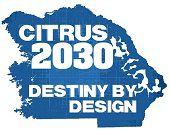 With the theme "Destiny by Design," the Citrus 2030 Vision Check builds upon the Citrus 2020 visioning and action planning foundation with the goal of creating Citrus County's strategic pathway to the year 2030. Participating business/community leaders and interested citizens will be organized into 10 aspiration focus groups and guided through the visioning process by professional facilitators and subject matter experts.
Civic, professional, business and community organizations interested in having a guest speaker make a Citrus 2030 presentation should email their requests to citrus2030info@gmail.com indicating whether a general overview or a particular aspiration is desired with a preferred and alternate date/time.
County residents interested in participating in the Vision Check should complete the website's short survey or email to citrus2030info@gmail.com their names, residential zip codes, phone numbers, and rank ordering of their top three aspirations of most interest from the list below.
Arts & Culture
Economic Development (Includes Public/Private Partnership)
Education
Health and Social Services (Includes mental health, addiction, and "Health in All Policies")
Living in Harmony with Nature
Public Safety and Security 
Smart Growth (Includes transportation, Infrastructure and Services)
Tourism, Recreation, and Social Venues (Includes entertainment)
Youth Development
Trade/Career and Technical Education