Teachers try to find one-of-a-kind ways to captivate and better educate their students.
But money isn't always there for them to start their customized classroom initiatives or adventurous field trips.
On Wednesday, the Citrus County Education Foundation's (CCEF's) Mini Grant Gala helped make some of those teaching dreams possible.
Roughly $84,400 was awarded to 56 programs and the 146 teachers in the Citrus County School District who applied for them. More than 10,000 students are expected to be impacted.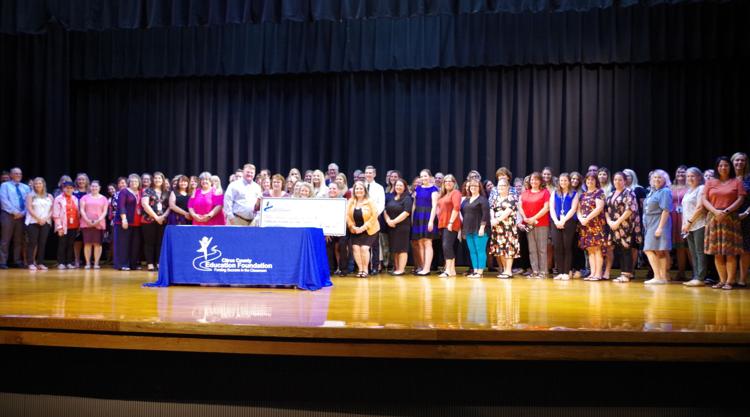 "We're very proud of the work that you are doing," CCEF Executive Director Shaunda Burdette said to the teachers and district officials in the audience of the Curtis Peterson Auditorium. 
Burdette said $40,000 of grant money went toward funding Achieve 3000, a program used to help grow literacy skills for district students in grades six through 12.
Robin Coolbeth and Laura Ubinas, of Inverness Middle School; Laura Norton, of Lecanto Middle School; Catherine Owens, of Crystal River Middle School; Vernon Owens, of Crystal River High School; and Sabrina Parente, of Lecanto High School, were nationally recognized for their success in using Achieve 3000.
Achieve 3000, which the district has used since 2016, was at risk of losing funding, said Burdette, who said CCEF was more than willing to step up.
"We wanted to know how we could directly impact Citrus County in the most greatest way possible," Burdette said.
For more about which programs and teachers received a mini grant, see the story online at chronicleonline.com.
This is just one of many programs, services and events CCEF offers throughout the year to benefit local educators and students.
"To think of them as a partner is such an understatement because if it were not for the Citrus County Education Foundation, truly some of the best things that are happening in our classrooms, which starts with you all as our teachers, would not happen," Citrus County School Board Chairman Thomas Kennedy said at the gala.
Those who contribute to the mini grants include: the Consortium of Florida Education Foundations, Suncoast Credit Union, the Duke Energy Foundation, Walmart, the Black Diamond Foundation, Crystal Automotive Group and school district payroll contributions.
Delta Kappa Gamma also hosted a workshop to train teachers how to write a grant application.
Citrus County Education Foundation Mini Grant Award Recipients
| Grant Amount | Project Name | Teachers/Staff | School |
| --- | --- | --- | --- |
| $40,000 | Achieve 3000 | N/A | Citrus County School District |
| $963.91 | We Are Ready to Choose It, Choose It Part 2 | Mary Malek, Kelly Sieg | CREST |
| $950 | Make Math More Meaningful | Amanda Mendoza, Sarah Spangler | Central Ridge Elementary |
| $1,000 | Set the Stage to Engage in an Integrated ELA/SS Block | Brittani Loury, Jessica Hicks | Central Ridge Elementary |
| $500 | Learning with Sensory Tools | Jennifer Clark | Central Ridge Elementary |
| $1,000 | Creative Innovation With Wonder | Holly Herndon, Noreen Minhas | Crystal River Primary |
| $1,000 | Science Super Stars | Jacquelyn Balmert, Beth Heinz | Crystal River Primary |
| $1,000 | Field Experience(s) for CRPS 4th Grade Students at University of Florida's Museum of Natural History Field Experience | Gwendolyn Hunt, Diana Sauls | Crystal River Primary |
| $500 | Literacy and Art Integration | Julie Weaks | Citrus Springs Elementary |
| $938 | Ideal Interactive Instruction | Theresa Ryan, Mary Moss | Citrus Springs Elementary |
| $604 | Motivated and Thrilled to Comprehend | Alexandria Vincent, Rebecca Leach | Citrus Springs Elementary |
| $323.43 | Magical Math | Marcus Franz | Citrus Springs Elementary |
| $750 | Reaching for Reading and Spelling Success | Suzanne Akin, Tanja Leonard | Citrus Springs Elementary |
| $954 | NISL Inquiry Field Trip | James Park, Caroline Christiansen, Hope Wilson | Floral City Elementary |
| $79.95 | Learning the Alphabet | Chelsea Dowling | Floral City Elementary |
| $995 | OWLBOTS: Explode the Code | Marlise Bushman, Christina Learn, Nereyda Reyes | Forest Ridge Elementary |
| $1,000 | "You ain't never had a friend like me." | Abigail Hart, Sandra Mosley | Forest Ridge Elementary |
| $500 | Solar Power: Ideas in Action | Elizabeth Cornelius | Forest Ridge Elementary |
| $985.96 | Exploring Our Learning Through STEAM Projects | Jessica Barnes, Allison Lago | Forest Ridge Elementary |
| $1,000 | Math- I'm Lovin' It | Luci Cyr, Jennifer Gula | Hernando Elementary |
| $500 | Coding with UBTECH Alpha Pro 1 Robot | Danita Consol | Hernando Elementary |
| $490.33 | Light Up the Mind with Math | Brenda Baker | Hernando Elementary |
| $554.82 | STEMology | Lisa Laughlin, Holly Aguilar | Hernando Elementary |
| $487.96 | Wireless Listening Center | Darla Crotsley | Homosassa Elementary |
| $959.04 | See it, 3-D it! | Alissa Grace, Heather McLeod, Chris Russo | Inverness Primary |
| $1,000 | NO WASTE Makerspace with Reading in Good Taste! | Maria Bemis, Dawn Crawley | Inverness Primary |
| $483.80 | STEM Station | Rachel Fulkerson | Inverness Primary |
| $975.07 | Robotics Coding for Empowered Learners | Leka DeGroot, Sarah Liptrap | Lecanto Primary |
| $379.53 | "Eggcellent" Adventures with STEM | Tiffany Hengesbach | Lecanto Primary |
| $850 | Making Math Make Sense | Terry Stoufer, Christine Moyer | Lecanto Primary |
| $1,000 | A Whole New World at PGE | Amanda Crawford, Laura Cooper | Pleasant Grove Elementary |
| $1,000 | Fountain of Youth | Kelly Abramowich, Barbie Bogart | Pleasant Grove Elementary |
| $971.98 | Stranded with a Good Book | Ann Martin, Connie Kane | Rock Crusher Elementary |
| $955.51 | "Scoping" through Science | Marla Johnson, Lauren Bertine | Rock Crusher Elementary |
| $260 | Fluency for Success | Stacy Griffin | Rock Crusher Elementary |
| $1,000 | "Rockin' Research" | Terri Mullins, Susan Littrell | Rock Crusher Elementary |
| $955.51 | All "Hands-On" Science | Jaime Mays, Anna Newlon | Rock Crusher Elementary |
| $484.41 | Literacy and Engagement in U.S. History | Dawn Stewart | Crystal River Middle |
| $500 | Engagement in Civics | Marcy Stitzel | Crystal River Middle |
| $1,000 | Creating Reading Minds for the Future! | Colleen Fuller, Brittany Rummel | Crystal River Middle |
| $1,000 | Finance Park | Shannon Conley, Kandy O'Quinn | Crystal River Middle |
| $500 | A Reading Culture | Elizabeth Abramowich | Citrus Springs Middle |
| $1,000 | Super Succulents | Deanna Hadley, Randy Hobson, Ty Lashley | Citrus Springs Middle |
| $710 | M3: Math, Manipulatives, and Modality | Rebekah Paprzycki, Cynthia Towne | Citrus Springs Middle |
| $1,000 | Interactive Current Events in 7th Grade Civics | Donald Whitaker, Michelle Davis, Richard Nelson | Inverness Middle |
| $1,000 | Let's Read Panthers | Brenda Phillips, Tanya White | Lecanto Middle |
| $1,000 | Illuminating Science and Art Connections | Hillary Hewit, Pasquale Bartello, Sandra Pope | Lecanto Middle |
| $987.62 | Patriotism First - Band and Civics | Kelsey Crawford, Megan Blackstock | Lecanto Middle |
| $975.48 | High-Tech Literacy | Kara Boney, Dana Rise | Citrus High |
| $1,000 | IXL for the Algebra Classroom | Lita Stanton, Robert O'Brien | Citrus High |
| $1,000 | Mapping Ecosystem Changes in Crystal River | Shannon Wilson, Ronald Marhsall | Crystal River High |
| $995.87 | Survival in Small Groups | Amanda Amato, Bridget Barton | Crystal River High |
| $494.18 | Literacy, Gamified | Jessica Price | Lecanto High |
| $1,000 | ACCESS for ALL | Timothy Phillips, Deirdre LaBelle | Lecanto High |
| $1,000 | La biblioteca hispana (The Spanish Library): A library of Spanish readers for second language learners and heritage Spanish speakers | Brian Sullivan, Clara Malloy | Lecanto High |
| $903.73 | Interactive Whiteboard Table | Karen Harper, Alexis Gearhart | Lecanto High |