Some of the most popular stories from the week that was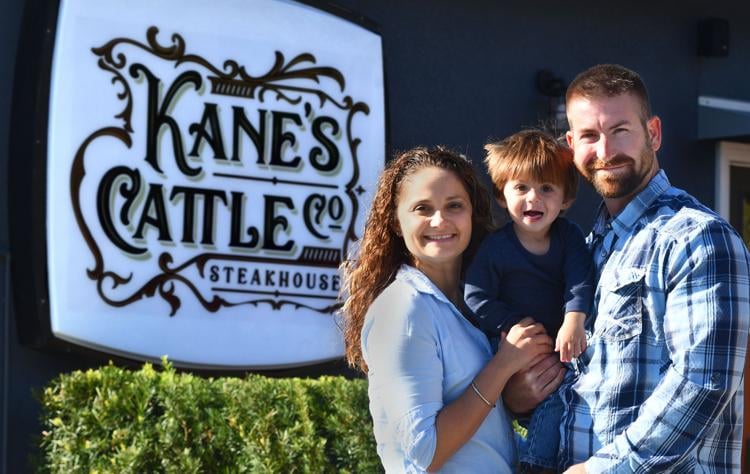 New Crystal River steakhouse to debut
There's a new steakhouse in town, courtesy of well-known local restaurateurs Kason and Morgan Sundberg. Kane's Cattle Co. will tentatively open its doors in mid-December. The Sundbergs also own The Loft Bar & Grill and Lollygaggers Sports Pub & Grill.
"Our vision is to bring a culinary uniqueness to the ever-growing downtown Crystal River area," Morgan said. "Kane's will serve as a casual lunch venue, and transition its evening atmosphere into a casual fine dining experience everyone will love."
Deputies hit by car, fire at suspect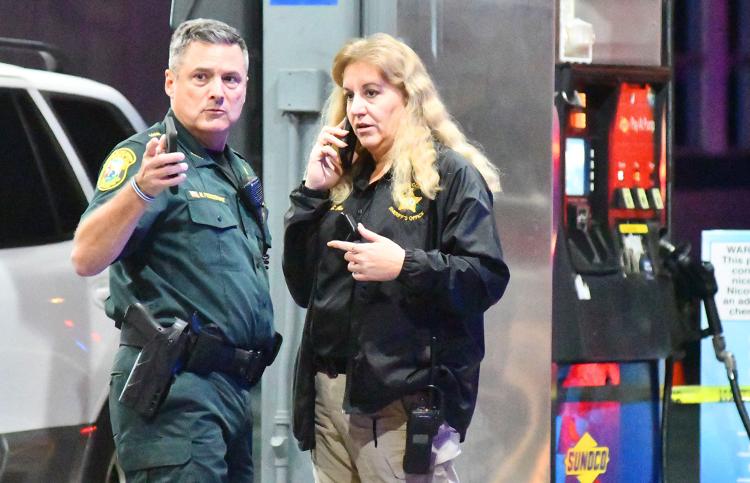 On Tuesday shortly after 5 p.m., sheriff's office deputies initiated a traffic stop along State Road 44 and North Crede Avenue, near the Sunoco Gas Station in Crystal River —, and chaos ensued.
The driver attempted to run over at least two deputies, struck two of them, causing some injuries One of those two deputies fired his weapon at the suspect who attempted to run him over, Citrus County Sheriff Mike Prendergast said. The suspect fled the scene, hit a motorcyclist with his vehicle, causing severe injuries. He then hit a tree with his vehicle and fled on foot until he was apprehended.
New St. Johns Tavern opens in Crystal River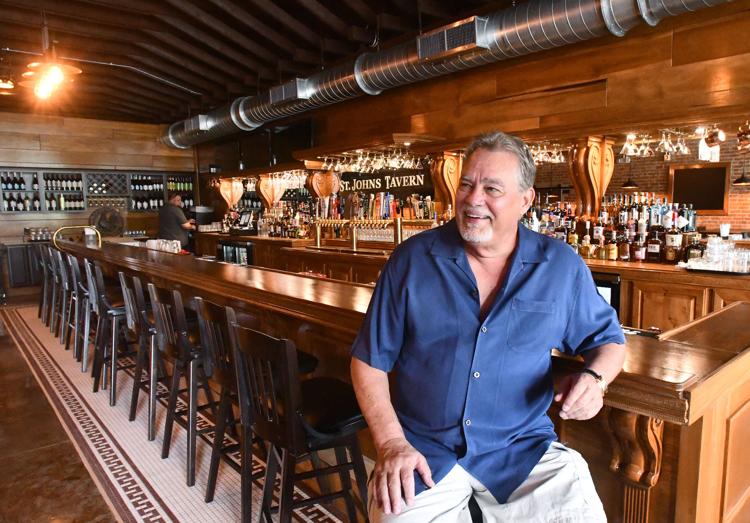 The former Lucille's Grocery Store and Gators Sporting Goods in the historic Citrus Avenue downtown district of Crystal River has been transformed into St. Johns Tavern by owner Chase Palmes.
In addition to a 1956 phone booth, with an actual working rotary phone and an actual 1926 Harley-Davidson mounted on the wall, the 54-seat tavern features 20 beer taps and a menu with New York-style sandwiches and burgers and Charcuterie (meat and cheese) platters.
Bushnell man charged for driving with cannabis concentrates, three pounds of marijuana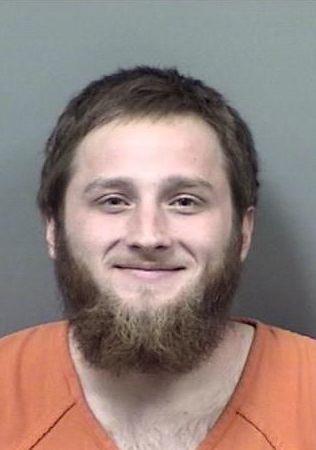 On Nov. 11 as a Citrus County Sheriff's Office deputy pulled over Cody Leonard Dillon, 22, of Bushnell, near Inverness for unlawfully tinted windows, he smelled marijuana coming from Dillon's vehicle when he exited his cruiser.
In addition to the two large plastic baggies sitting on the backseat, a search of Dillon's vehicle revealed 16 baggies of various marijuana edibles, two boxes of cannabis jellies, three jars of concentrated cannabis, packages of cannabis wax, more bags of marijuana flower and $4,600 in cash. Dillon was charged with possessing marijuana with intent to sell and two counts of possessing a controlled substance.
New details released on sheriff's fatal collision with pedestrian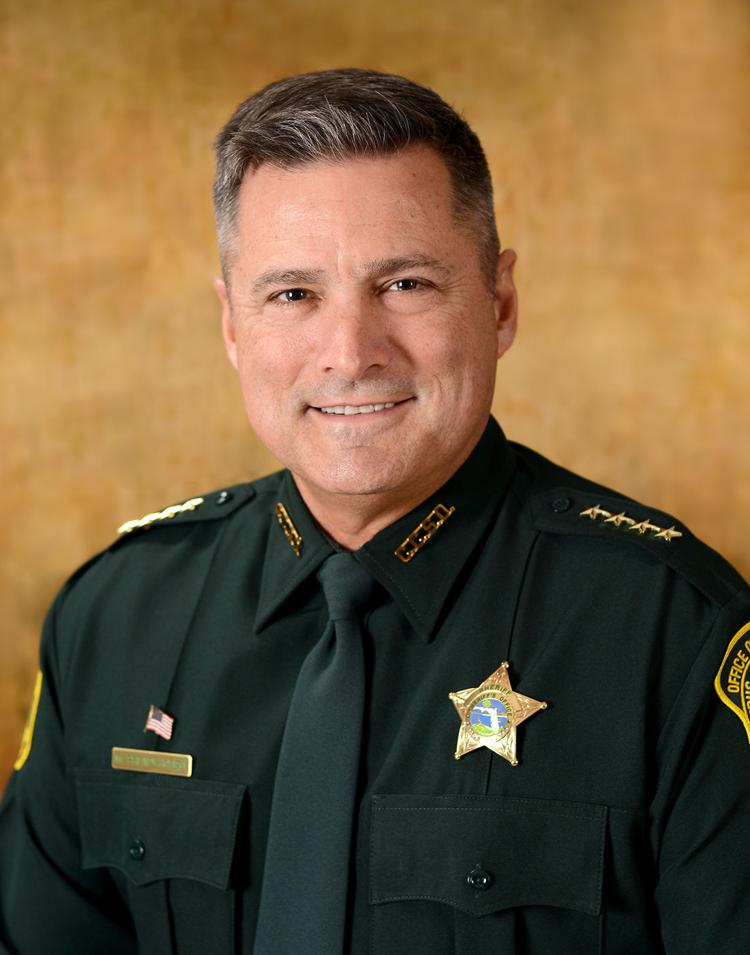 According to a preliminary Florida Highway Patrol report dated Sept. 30: Citrus County Sheriff Mike Prendergast was not speeding on U.S. 19, nor did alcohol appear to be involved in the August accident in which the sheriff struck and killed pedestrian 59-year-old Ronnie Heath, crossing U.S. 19 north of Weeki Wachee in Hernando County.
The preliminary report also indicated that during the accident it was cloudy and the road was not lit. It also indicated Heath was wearing dark clothes.
FHP is continuing with the investigation. Spokesman Sgt. Steve Gaskins said in an email that "the investigation has been submitted for supervisor review, but has not been released at this time."
Citrus County Sheriff's Office announces drug arrest sweep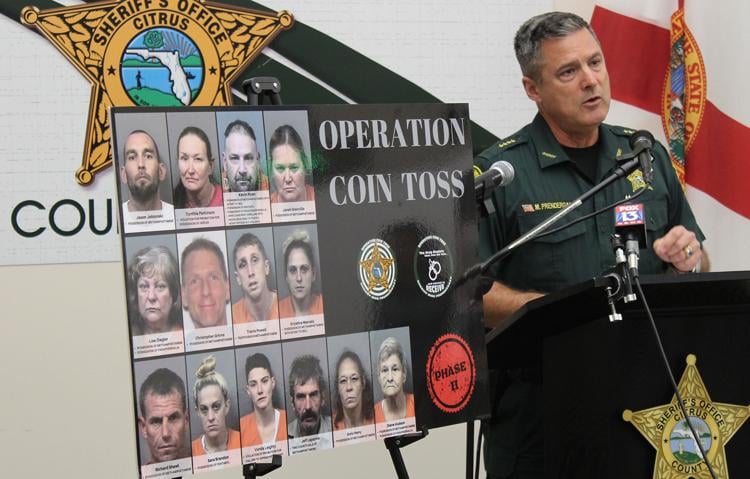 On Tuesday, Sheriff Mike Prendergast announced the arrest of 30 people as part of a two-month long operation, "Operation Coin Toss," and the second phase of a launch focusing on illegal drug trafficking and use.
In August, the sheriff's office made 24 drug related arrests in its phase one focus on the county's worst drug dealers. "These are not outstanding model citizens of Citrus County. They are hardcore drug dealers. They are known criminals and we've had them on our target board for a long time," Prendergast said. "These hardcore criminals posed a serious risk and danger to our community."
Board sticks with denying digital NY Times for library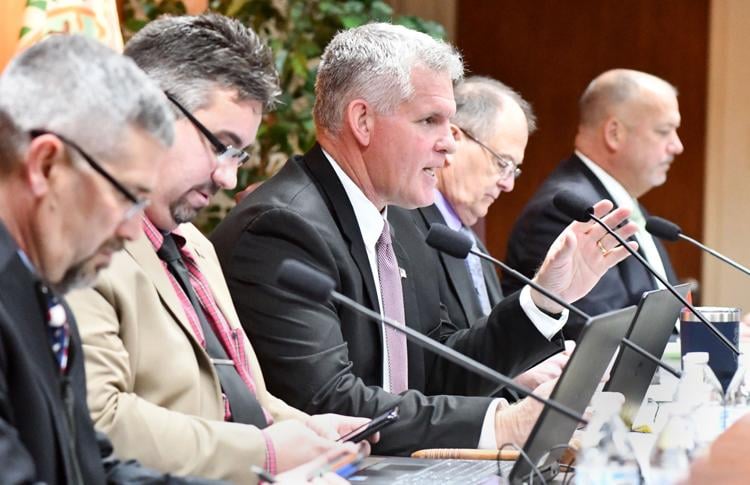 Although none of the county commissioners mentioned anything about "fake news," three of the five stuck to their positions and voted against a proposal to provide digital New York Times access to 70,000 library cardholders while eliminating print editions that are now available.
Commissioner Jimmie T. Smith, who voted no on the proposal, said a New York Times digital is not necessary for the public because information on just about any topic can be found through an online search.
"It's not an information dirt road, it's an information highway," Smith said.
Suspect has lengthy record of run-ins with law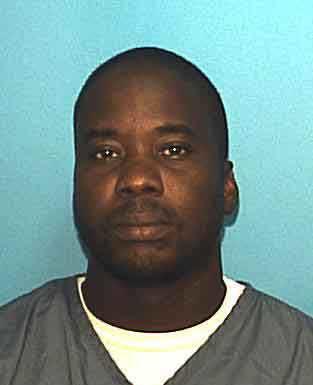 Nine-time convicted felon John Travis Wilson, 39, will face a number of new charges for the Tuesday evening melee he caused in Crystal River. He is suspected of attempting to run over two undercover sheriff's deputies while fleeing a traffic stop near the Sunoco Gas Station on W. Gulf to Lake Highway in Crystal River. Wilson remains hospitalized with non-life threatening injuries as a result of being shot by one of the deputies he allegedly tried to run over.
Anti-Trump 'support group' rises for NYT fight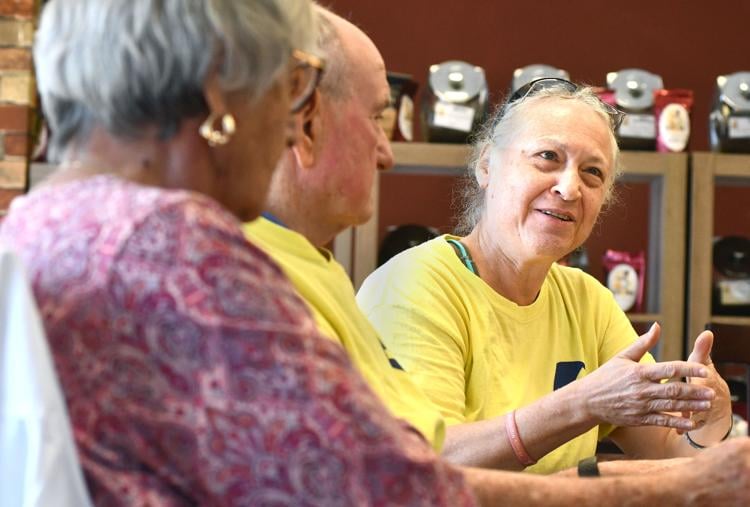 It started out five months ago as a small batch of people who would see each other at protests. Now membership in the Citrus Coffee Coalition ("A group of folks fed-up with Trump's lies, corruption, obstruction, national security risks etc, etc, etc.", according to the group's Facebook page) tops 120 — and it's picked up by 20 percent in the past two weeks, thanks to the national spotlight on Citrus County over the county commission denying a $2,700 annual online subscription for the New York Times for digital access for 70,000 library card holders.
Hot topic of the week: Although many people who called Sound Off, wrote letters to the editor and commented on Facebook said they were tired of talking about the New York Times uproar, it was still THE hottest topic of the week — four weeks in a row. However, several hundred people took a side road and to comment about the Citrus Coffee Coalition, an "Anti-Trump" support group that saw their membership increase after the New York Times brouhaha.
On the pro-coalition side, Robin Martin wrote on Facebook: "Glad to see there's some intelligence in this county!" and Mirae Fremont wrote, "Nice to see some forward thinking in Citrus County."
The much larger "anti" side called the group cry baby snowflakes, wondered if they needed therapy animals or coloring books and suggested they take their liberal views back up North.
Brenda Farabee lamented, "This thread makes me so sad. I truly enjoyed the feeling of small town civility, community. Judging by this article and thread it's gone, not even the illusion is left."
Quote of the week: "It's an open sore and they put salt in it, and the whole country saw that they did that." — Charlotte Johnson, member of the Citrus Coffee Coalition, a group opposed to President Donald Trump, commenting on the Citrus County commissioners who have put Citrus County in the national spotlight regarding their stance on the New York Times' digital subscription at the county libraries
Good news item of the week: Jean Pike was recently presented the Pillar of Pride Award by the Riverhaven Garden Club for her volunteer work with Habitat for Humanity. Pike, 92, makes hand-crafted teddy bears to give to every child at their family's dedication of their own Habitat home. Even at 92, Pike is present at every Habitat dedication.