When Phyllis Wilson enlisted in the U.S. Army as a young woman, it was done so as an ends to a mean.
"When I joined, I had been trying to self-fund my way through college," she explained, admitting her enlistment was more for the "educational opportunities" the Army provided.
Little did she realize, the Army was more than an ends to a mean. But that was a lesson she wouldn't learn until after leaving the regular Army to raise her two sons, complete her bachelor's degree – thanks largely to the G.I. Bill – and pursue a career as a registered nurse. Wilson remained in the Army as a reservist, which is more than a weekend a month and two weeks in the summer. But, Wilson admitted, she missed the sense of purpose, something bigger than herself. The allure of full-time enlistment was too much to ignore. So she chose to pursue becoming a chief warrant officer, after having worked with several throughout her brief time in the Army.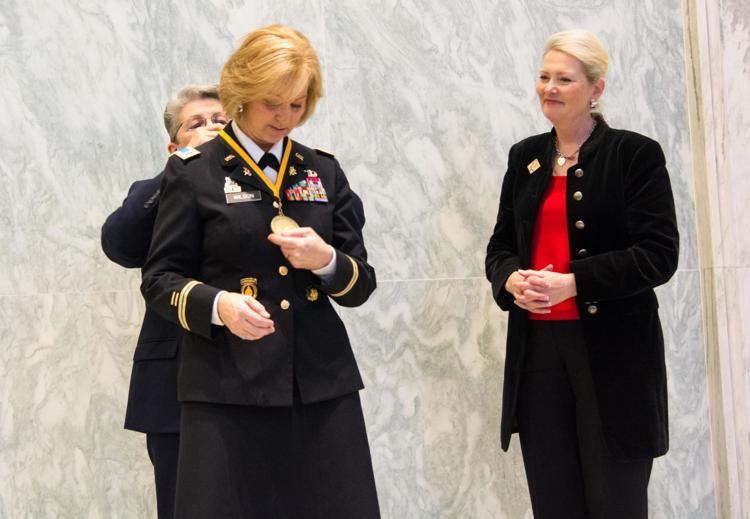 "Somehow, it really intrigued me," said Wilson, who in July 2018, became the first Army Warrant Officer selected to serve as a member of the Association of the United States Army's (AUSA) Council of Trustees. She joined Gen. Ann Dunwoody, Gen. Dennis Reimer and Medal of Honor Recipient, Master Sgt. Leroy Petry, U.S. Army, retired, to name a few. She was also a Senior Fellow at the Institute of Land Warfare. "The selection process is pretty difficult. To me, when I was chosen, it was a huge touchdown, just that."
That was 1989, and at that point in 1989, a Chief Warrant Officer 5 didn't exist – a Chief Warrant Officer 4 was the highest rank in the Army, a lofty goal for anyone who earned the rank of chief warrant officer. And a Chief Warrant Officer 5, is a rarity in the Army. So rare, they are dubbed "unicorns."
"They're rarer than seeing a general," Wilson admitted, sharing a tale of a visit to Afghanistan with part of a command team that included a three-star general. "We're standing there talking, and the soldiers interrupt, 'we hate to bother you, but could we get a photo?' The general turned and asked if they could give us just a second. They looked at him and said, 'Sorry sir, we didn't mean you, we meant her.'"
"'We've not seen a CW5, so he's like, "OK, alright,'" she recalled. "It was one of the moments that was bit on the unusual side."
Because of the rank or the person?
"Maybe both," she quipped.
Retiring two years ago, after 37 years in the U.S. Army, life is admittedly different, Wilson said.
"This is my second Veterans Day, since active duty Army, not wearing wear the uniform," said the 2019 Citrus County Veterans Day Parade grand marshal honoree. "Although I will be wearing uniform (for the parade), day-to-day, it does feel different. The transition is more difficult than I anticipated. I've talked with many veterans who feel exactly the same way. The service, the uniform is who we were, we wore it like a badge of honor."
That doesn't mean she's seeking attention or gratitude.
"While it's greatly appreciated, it's not why we choose to serve," said Wilson, who was born in Ohio, but her family moved to where the work was for her father, a roofer by trade. In addition to living in Ohio, her family moved "a fair number of times," which included Michigan, New York and Florida. "It is a different feeling. It was a great opportunity, I cannot recommend it more. I got to see things, that otherwise I likely wouldn't have seen, been to places I would have never visited."
Reflecting on her 37-year career in the U.S. Army, "it was a lot of fun," Wilson said, noting when anyone looks back on 37 years of life, "there's rough patches, whether it's in the military or not."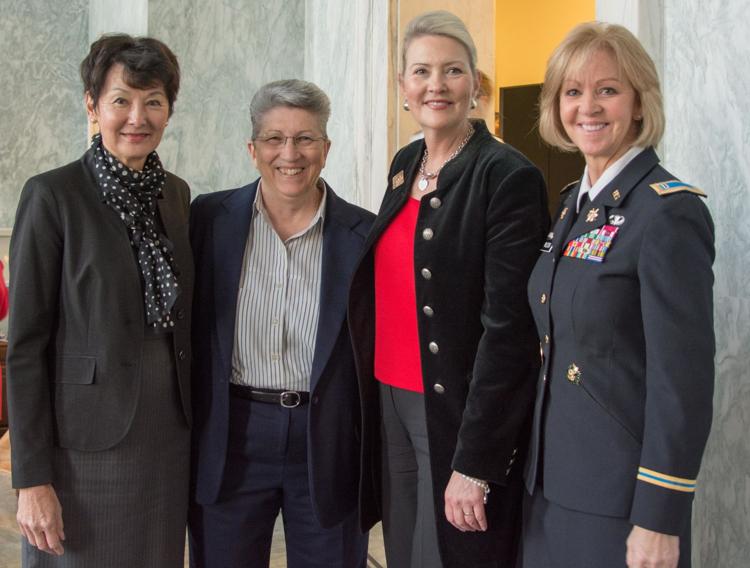 One of the pinnacles of her career was earning her "jump wings."
"I always wanted to jump out of airplanes," said Wilson, noting she had always wanted to be a paratrooper.
But it wasn't the top moment of her career. That "moment" was both as a solider and parent, when she got to pin "jump wings" on her son, Jeremy Kuryla.
 "It was much later in my career, when my son graduated jump school," Wilson explained. "They asked if there was a parent or grandparent who wanted to step forward and pin the wings on their sons or daughters, or grandsons or granddaughters. There was a few there, and there might be 500 students, but there might have been six students who had family, I was the only female. Standing there, talking to my son who was also in that formation, it was probably the proudest moment. That was a tremendous experience."
Her second son, Joseph Kuryla, is also in the Airborne, "I could not make it there for his pinning," she lamented.
Wilson would encourage anyone – man or woman – to enlist and pursue their dreams in the U.S. Army and make the most of their opportunities to travel and see as much of the world as they can. While Italy remains "her absolute favorite, hands down," visits to many other parts of the world, including Africa, were "humbling."
"It makes you humble because of how incredibly fortunate we are to live in this great nation," she said. "We do not have the trials and tribulations others around this world have; if we lose electricity, it might be for a few hours. In other places, if they get electricity, it might for an hour or two at a time. And that's after going without it for months."
If being a "role model" encourages the next generation – man or woman – to serve our country, she's for it.
"I try to live in a way to encourage others to reach for the stars," said Wilson, who now serves as president of the Women In Military Service For America (WIMSA) Memorial Foundation Inc., at Arlington National Cemetery, the only major national memorial honoring all women who have defended America throughout history from the Revolutionary War to today. "I never imagined I'd be at levels I've been at, to see places I never thought I'd see, to meet some incredible people. I've not been afraid to grab for those stars. Sometimes you fail, but most of the times, the things you've been able to accomplish are so worth the time. But if you're willing to work ridiculously hard, you can pretty much get anywhere you strive to be."