In about six months time, Crystal River's most visible yet ever-empty corner on U.S. 19 will be filled.
City officials hoisted their shovels Tuesday morning and lifted the first piles of dirt for the groundbreaking of a town square on the vacant lot of Citrus Avenue's intersection with the highway.
A ribbon cutting is planned for July 4.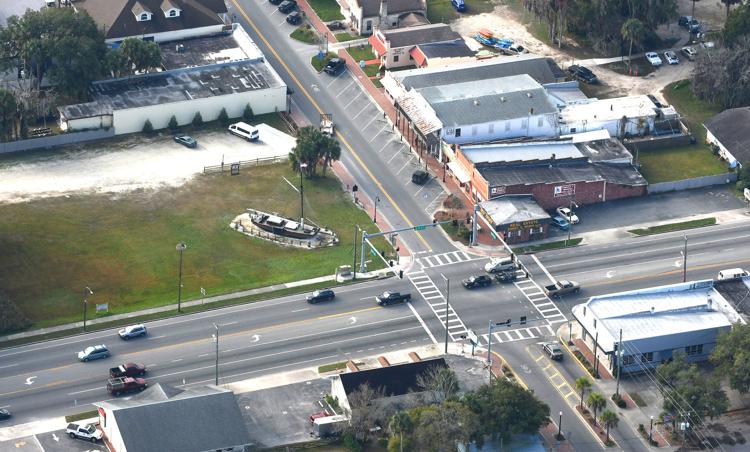 "This is going to be a major project for our city," Crystal River Mayor Joe Meek said to the ceremony's attendance of citizens, city staff, local business owners and representatives from Inverness, Citrus County and state governments, which Meek also thanked for their support.
Meek, who helped lead City Council's charge for the endeavor since the start of 2019, said he hopes the square will not just host city gatherings, but also spur private investment in nearby shopfronts and connect the city's Riverwalk and future children's splash pad park.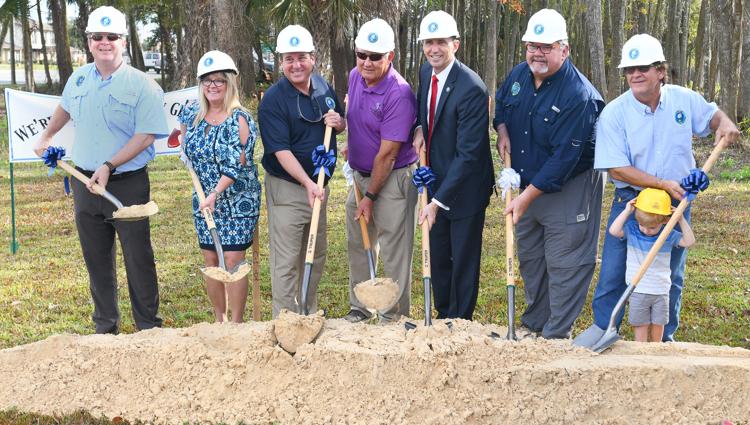 "This project shows an investment into our city at the busiest intersection that we have," he said, "and it shows that this city is serious about the revitalization of our downtown historic core."
Bud Daly, of Lecanto-based contractor Daly & Zilch, Inc., said his crews begin laying out where the square's structures will go on Wednesday, but most of their excavating work starts next week, following Saturday's Florida Manatee Festival in the city.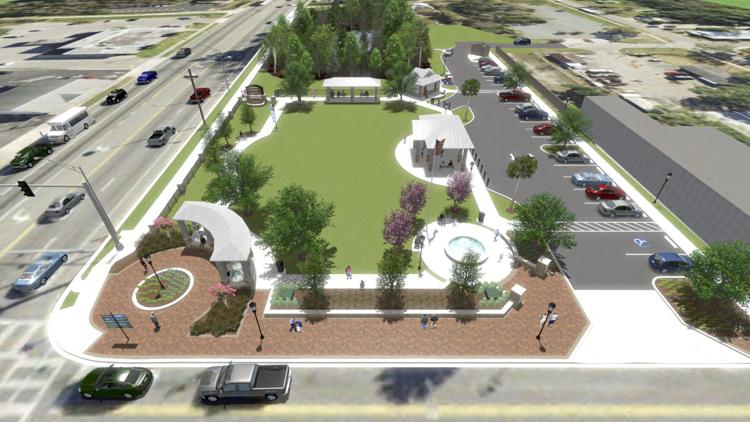 Daly said he expects early construction this week to have minimal impact for festival goers, adding the lot will be fenced in to keep people out.
"There won't be a lot going on, it'll be more layout," he said.
With an allowance of $820,683, council tasked Daly & Zilch to install utilities, landscape, fence between the highway, build a restroom, cement in sidewalks, raise a gateway entrance and put in benches.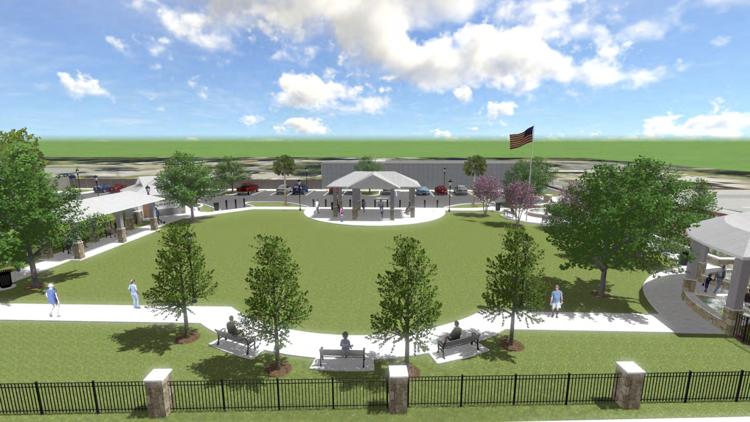 "We're going to make it nice," Councilman Pat Fitzpatrick said.
Florida lawmakers are also expected to allocate $650,000 to the city for two pavilions and a non-electric sign to advertise upcoming events.
In December, Crystal River Main Street and the Crystal River Boat Builders relocated the Spirit, a replica Civil War-era sailing scow, from the corner plot, where it stayed since 2015, to the Best Western Crystal River Resort.
Crystal River's public, lime rock parking lot next to town square will be left open until Daly said he knows how much traffic uses it. It's the city's plan to pave it into 21 parking spaces and a stop for its trolley.
Councilman Ken Brown said the city's desire to transform land that had an uncertain future into a green space for events and outings will be the envy of other townships.
"I thought about all the things this property could be," he said. "But with the vision of the community here, they took an opportunity that so many other communities … said, 'Why didn't we think about that?'"
"The word groundbreaking stands for more than the literal breaking of ground," Councilwoman Cindi Guy said. "It stands for ground-breaking change in a new face for the downtown of Crystal River … Groundbreaking means a fresh and inviting place for our community to be proud of for generations to come."
The Spirit was willing but the flatbed trailer — not so much.
City Manager Ken Frink credited his staff, the design team of Burrell Engineering Inc. in Dunnellon and Daly & Zilch for making town square happen.
"A project like this takes a small army," he said.
Citrus County Chamber of Commerce President/CEO Josh Wooten said the city's town square gives his event organizers another tool to attract locals and visitors, who'll then shop locally.
"We really applaud the city for making this the focal point," he said. "When you come into town, you need an area that pops, and this is a perfect parcel to do that."
"Let's get to work," Meek said.