Editor's Note: Due to a reporter's error, a story on page A3 of the Sunday, June 14, 2020, edition was missing a word in a paragraph, which should read: "Reinhardt said he'd keep local taxes down by ridding the school district of "wasteful spending" in a top-heavy administration."
Paul John Reinhardt wants to shake up the Citrus County School District to expand dual-enrollment opportunities and instill U.S. education in classrooms.
"I want to guide the district in another direction," he said, explaining his choice to run against School District Superintendent Sandra "Sam" Himmel, who's vying for her fourth, 4-year term. "I would aim higher for change."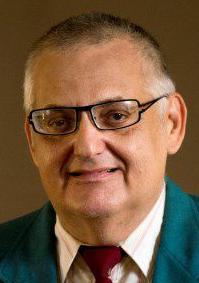 Himmel and Reinhardt, both Republicans, are facing off in the Aug. 19 primary, when all voters can decide a winner.
The school superintendent position has $129,064 salary, of which Reinhardt said he'd donate 50% toward the local child-feeding program, Citrus County Blessings.
No stranger to campaigning, Reinhardt ran unsuccessfully as a Democrat in 2018 for the Florida House of Representatives District 34 seat against incumbent Ralph Massullo.
He was also elected two years ago as a member of Citrus County Republican Executive Committee.
Reinhardt has lived in Beverly Hills since 1979, when his family moved from his birthplace of Queens, New York.
He went to school at the College of Central Florida's (CF's) campus in Ocala, obtained his bachelor's degree in science at the University of the State of New York and later earned his medical degree from a university in Tampico, Mexico.
Following his externships at hospitals in New York, Baltimore and New Jersey, Reinhardt became a substitute teacher for a couple of years with the school district, teaching science to middle and high schoolers.
He returned to CF as a professor, educating dual-enrolled high school students in anatomy and physiology. 
It's was then when Reinhardt said he grew an appreciation for programs that could give a high school student a collegiate degree before they graduated, compared to the advanced placement courses students are tested in.
"AP is more or less preparing for an exam, and you're lucky if colleges take the score you get," he said. 
His interest in the politics behind local education also grew, prompting him to run for the top job.
Reinhardt said he wants vocational courses to diversify in construction and maritime trades so students can help build Citrus County.
"There are people who want to work with their hands," he said. "I don't want all these construction jobs to go to people outside the county."
At high schools, Reinhardt is proposing to implement a "flex-schedule," which would allow students to either work or take college/vocational courses in the morning before returning to high school studies in the afternoon or early evening.
Students at all grade levels, Reinhardt said, would also be allowed to leave school to attend religious classes or church. He's also an advocate of students praying in public schools.
Reinhardt would also consider using uniforms and corporal punishment — with parents permission — as tools to stop bullying.
He also wants teachers to have affordable access to programs that would advance their education.
Reinhardt's other priorities include revamping the school-safety policy, like giving teachers the option to carry firearms at school and requiring students to have see-through backpacks.
With his background in medicine and health, Reinhardt feels he's the right choice to help implement COVID-19 policies.
He also wants to restore U.S. patriotism to classrooms by incorporating civics and government lessons in coursework, like choir singers reciting "God Bless America" in class.
Reinhardt said he'd keep local taxes down by ridding the school district of "wasteful spending" in a top-heavy administration.