Keeping an eye out for her passengers isn't part of Becky Schaffer's job as a school bus driver in Citrus County, it's everything to her.
It's what saved a student from getting struck by a passing truck as he was getting off Schaffer's bus at the end of the last school year.
"I just wanted to keep him safe," said Schaffer, who's been driving school buses in Florida for three years. "I saw it coming, and the most important thing to do is get him back on."
Members of the Citrus County School Board and School Superintendent Sandra "Sam" Himmel recognized Schaffer's actions at Tuesday afternoon's board meeting, where school district Transportation Director Marilyn Farmer played a recorded video of what happened.
"I truly believed she saved the life of this student," Himmel said after watching and before presenting Schaffer with the superintendent's Making A Difference Award. "What a marvelous job she did with her alertness to keep our kids safe."
For technical reasons, the Chronicle could not obtain or upload a copy of the footage. To view it, watch the recording of the school board's Tuesday meeting by visiting tinyurl.com/yxmcmv2c, and starting the video at the 11:50 time marker.
In the video, which didn't have audio, Schaffer is seen returning students home on the afternoon of April 18, and she stops on State Road 44 near South Sunfish Avenue, near Inverness, to let a student off.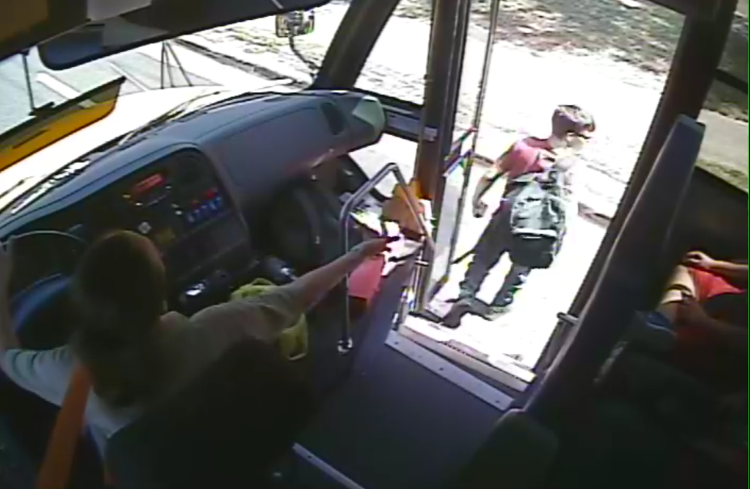 As the teenager makes his way down the bus steps and onto the asphalt, Schaffer, who's been watching her mirrors, waves and yells at him to get back on the bus, the video shows.
Schaffer's warning catches the student's attention long enough for him to look to his right and spot an oncoming truck, causing him to turn around and get back onto the first steps in time as the vehicle passes by.
"It's easy to do something and monitor everything when you love your job," Schaffer said. "It's easy to be able to watch these kids 'cause you feel they're more a part of you than your job."