Friday, Aug. 30, started out as an average day on the water for Bonnie Van Allen.
Known as "the Bait Lady" by locals in Old Homosassa and fishermen who frequent the nearby Gulf waters, she was finishing up her day pulling traps filled with pinfish to sell as bait the next day when she noticed storm clouds approaching.
About that same time, her husband, Ted Harless, called to warn her about the incoming bad weather.
"I told him where I was and that I was on my way in," Van Allen said Friday. "Before I hung up, I looked up and saw the left side of the boat was sinking and told Ted to call the Coast Guard and tell them where I am."
Next, she ran to the back of the 28-foot pontoon boat and grabbed one of the brand-new life jackets that Ted had just bought and then ran to the bow of the vessel.
Tanks filled with water and bait fish and shrimp started falling over, and Van Allen knew if she didn't jump in the water right then, she would get hurt.
"So, I jumped off ... and tread water for about two and a half hours," she said. "I knew help was on the way — I just didn't know how long it would take."
Clinging to the life vest, drifting in the rain and the lightning until Citrus County Fire Rescue rescued her, she said she wasn't afraid.
"But I was heartbroken," she said, "because I thought that was the end of the business and the boat. On the way home I told Ted, 'We're going to rebuild.'"
Thanks to friends and fans of the spunky nearly 80-year-old and her Live Bait and Ice Cream boat that have been mainstays in the area for the past 23 years, in a week's time more than $20,000 had been raised to get Van Allen and her iconic pontoon boat with the giant white shrimp on top back in business.
Wayne Merrell, a fisherman and friend of Van Allen's, started a GoFundMe page to help the Bait Lady.
Cody Cummins, manager at Birds Underwater Dive Center in Crystal River, is putting on a fishing tournament Sept. 28 to benefit her. 
"Thousands of people know her — she and her husband are both good people. Everybody wants to help her get back on the water," Merrell said. 
He said the money will go for a new motor, generator, new batteries and to redo the entire electrical system.
"Everything is gone," he said. "The pumps, the helm is gone, the shifting controls. Being in the salt water for a day and a half, it just ate everything up."
Friends were able to raise the boat and bring it to a dock off Mason Creek.
"We'll also have enough money to compensate Bonnie for days she's missing not being out selling bait — she's out there seven days a week," Merrell said. He estimates repairs will take about a month to complete.
Van Allen said she's stunned at how the community has taken care of her, but not really.
Although a relative newcomer — she moved to the area in the early 1990s — and although it took a few years for people to know her, she said the community has treated her well.
"For some reason, this little town has attracted the most wonderful people, and they have taken care of me for 23 years," she said.      
In 2010, her boat was damaged when three speeding boats caused the water to be sucked out from under it, slamming the boat down and causing the pontoons to bounce off a ledge near channel marker 22.
She made it back safely that day, but by morning the boat had sunk.
Everything was under water except the big white shrimp.
Back then, the community rallied around Miss Bonnie and got her up and running again.
"I figure once a decade I gotta sink," she said Friday, recounting the story.
Bonnie Van Allen wasn't always a "bait lady."
Born and raised in Miami, she attended the University of South Florida, majoring in art history and eventually earning a doctorate degree.
She lectured on college campuses across the country, and in her spare time she created sculptures — her big white shrimp is one of her creations.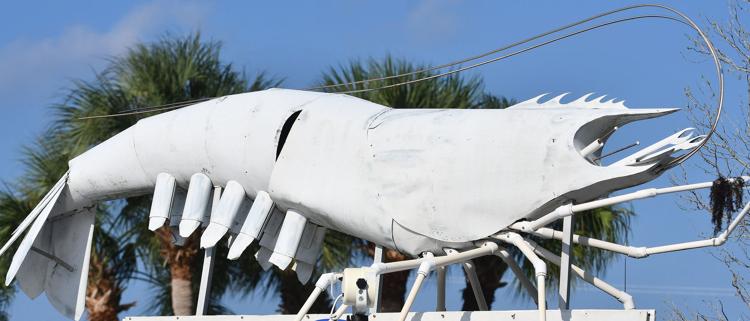 When she was 41, her then-husband died of a heart attack and she decided to move to New York City to pursue a career as a sculptor.
She met Ted, a mechanical engineer, and after about 10 years, they both wanted to leave New York.
Van Allen remembered the place her father used to go on vacation to fish and that she had always liked it.
So, they came to Homosassa and bought a 5-acre island with the plan to have an art studio there where she could continue to sculpt.
An old pontoon boat came with the island, which they used to putter around the local waters.
Then came March 1993 and the "no-name" storm.
"We lost everything," Van Allen said, "except the boat."
Not right away, but eventually she realized she could no longer continue trying to make a living with her artwork. That broke her heart, but not her indomitable spirit.
As she thought about what she could do, she remembered her father always complaining about running out of bait while he was out in the water and having to come all the way back in to buy more.
So, seeing a need that wasn't being met, she decided she would sell bait from her boat.
"I didn't even know how to drive a boat," she said.
"My sister (Sue Spivey) was a shrimper in Homosassa, so she helped me when I was getting started," Van Allen said. "Now I get my shrimp from Judy Pierce."
On an average day, Van Allen is up at 4:30 a.m. 
"Ted goes out and disconnects (the power) from the island — we are connected to the island to charge all of our batteries because the tanks have live bait in them and run all night," she said. "Ted gets the boat ready and I leave between quarter to 5 and 6 a.m. It takes me at least an hour to get to where I sell the bait."
That's channel marker 26 in the gulf.
Unless there's a tournament or it's the start of grouper season and the fishermen are exceptionally eager to get their bait, generally her customers start showing up around 6:30 or 7.
She sells steadily from 7 a.m. until about 12:30 p.m.
"Then I weigh anchor and head west ... to pull traps and get fresh pinfish," she said. "I finish up between 2:30 and 4."
She's usually home no later than 6 — the goal is to be home by dark.
Mostly she works alone. Sometimes she brings her dog, Gracie. Sometimes Ted comes with her, although his job is fixing things and running errands, like waiting for a delivery of ice cream from Deconna Ice Cream out of Reddick, Florida.
"I didn't always sell ice cream," Van Allen said. "It was out of necessity when they brought back scallop season. I was totally ignorant of that. When the scallopers are out, the fishermen stay away — no fishermen, no bait sales."
She said she'd be out on her boat surrounded by people scalloping and see thousands of little kids on boats.
"I wasn't selling pinfish, so I thought, 'What do little kids love that they can't bring out here?' Ice cream," she said. "So, Ted rigged up a freezer so I could sell ice cream."
Some people call Bonnie Van Allen an icon and her pontoon boat a landmark.
Where she drops her anchor each morning, boaters can see her big white shrimp from miles away.
She's rarely without her big dark sunglasses and Chinese hat a friend got her from San Francisco — it keeps out both the sun and the rain, she said. She used to have two, but one is somewhere in the Gulf, lost last week when she went overboard.
Next month, Oct. 21, she turns 80.
Her daughter, Ivey, is flying in from her home in California and they're having a thank-you party at The Shed for everyone who has helped the beloved bait lady of Old Homosassa.
"It's pretty cool that at 80 years old she's out there every day, out on her boat, doing what she loves," Cody Cummins said. "She's a huge member of the community, highly respected and pretty much an inspiration to everyone."
Van Allen said she's going to do this until she's at least 100.
"Or longer," she said. "As long as the good Lord lets me."