A consultant hired by county commissioners is recommending a series of changes to the county's impact fee structure which, if fully implemented at 100%, could involve thousands of additional costs for residents buying new homes.
But if commissioners stick to the current fee structure policy, the hikes would be much less.
The consultant, Duncan Associates, will present the numbers at a public hearing set for 2 p.m. Tuesday at the Citrus County Courthouse, 110 N. Apopka Ave., Inverness.
One example: If commissioners choose to implement impact fees at 100%, the fee for a single-family detached home would increase from $4,809 to $10,169.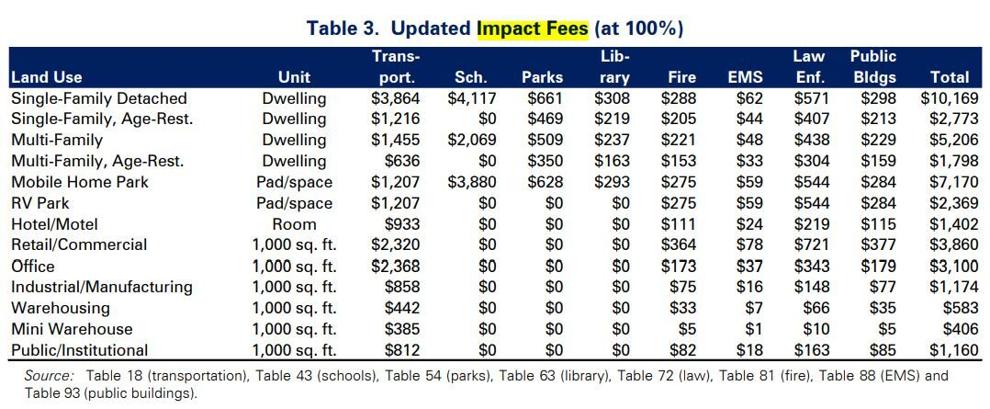 But that's at 100%. Currently, the county's adopted impact fee policy is at 50% of the full amounts for two categories: transportation and schools. Should the board continue with that fee structure, the increases would be much less and, in some categories, even decrease.
Using the single-family detached example, impact fees would only rise $1,370 — from the current $4,809 to $6,179.
Another example: the fee increase — using the 50% model — for retail/commercial would increase from $2,343 to $2,700.
Commissioners can set the percentage at anything between 0% and 100%. 
Impact fees help local government fund infrastructure necessitated by new growth. They are one-time fees on new development and are to be used for capital construction. They may not be used for operational expenses.
There are eight impact fee categories collected in Citrus County: roads, schools, libraries, fire, law enforcement, parks, emergency medical services (EMS) and public buildings.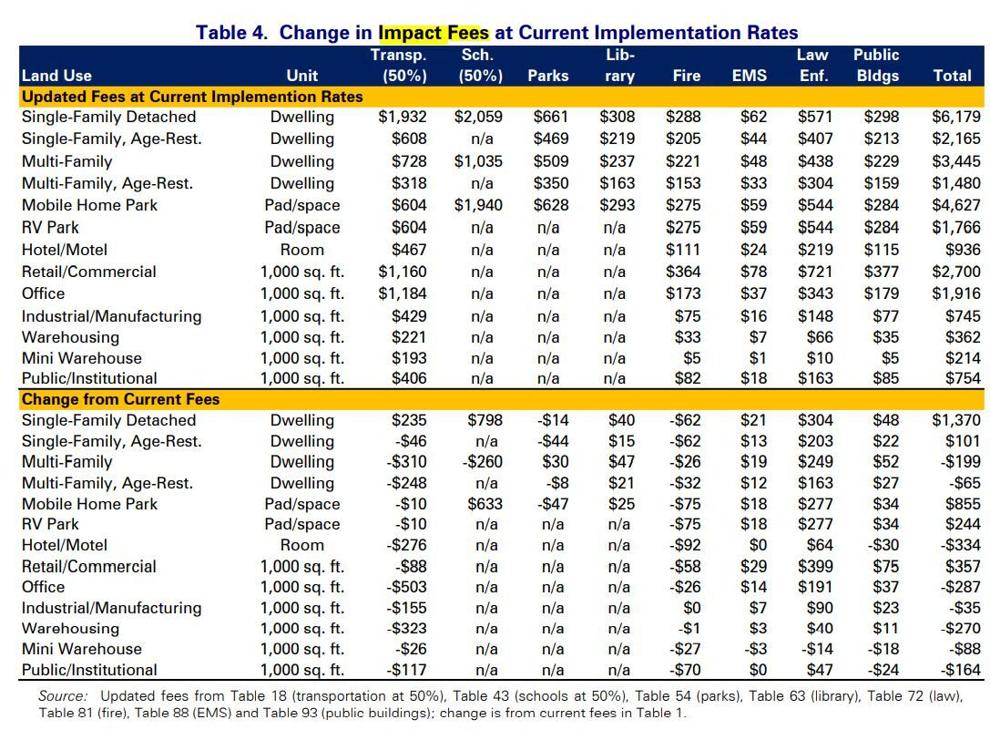 The county's ordinance requires updates every five years. Any increase does not become effective for 90 days from the date of adoption.    
Assistant County Administrator Steve Lachnicht said the biggest recommended increase is $800 for schools. Using the 50% model, the consultant recommends an increase from the current $1,261 to $2,059. 
"It's the best available data that reflects the current costs," Lachnicht said. "After five years, you wouldn't be surprised to see some increases."
County Commissioner Jeff Kinnard said he expects the board will vote on adopting updated impact fees Tuesday. The only question is whether they will support the 100% or 50% or some other formula.
Kinnard said he will not support impact fees at the 100% rate structure.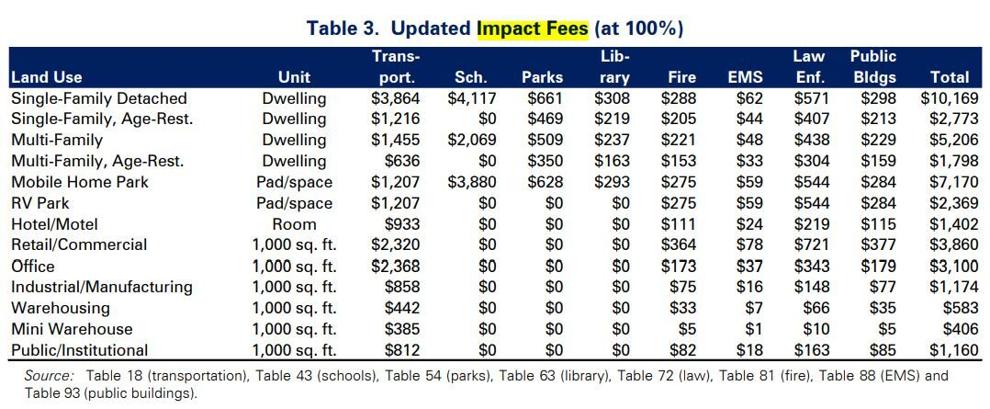 Assuming 100% implementation of all the update fees, Citrus County's total fees would be at about the Florida county average for a single-family unit and lower for the other four major land use types: multi-family, retail, office and industrial, according to the consultant's report.
At the county's current 50% implementation rate for transportation and schools, the updated impact fees for all five major land use categories would range from 38% (industrial) to 63% (single-family) of the average fee charged by other Florida counties.