Tom Petersen wanted his own cannon.
"They're awesome, they're just cool; the smell of black powder, the smoke rolling out," he said. "Not everyone has a cannon."
Buying a working replica of the antique ordnance was out of Petersen's price range, so the machinist and journeyman toolmaker decided roughly 25 years ago to build one instead.
Since then, Petersen has shaped steel into between 130 and 150 cannons for either himself or his customers to enjoy.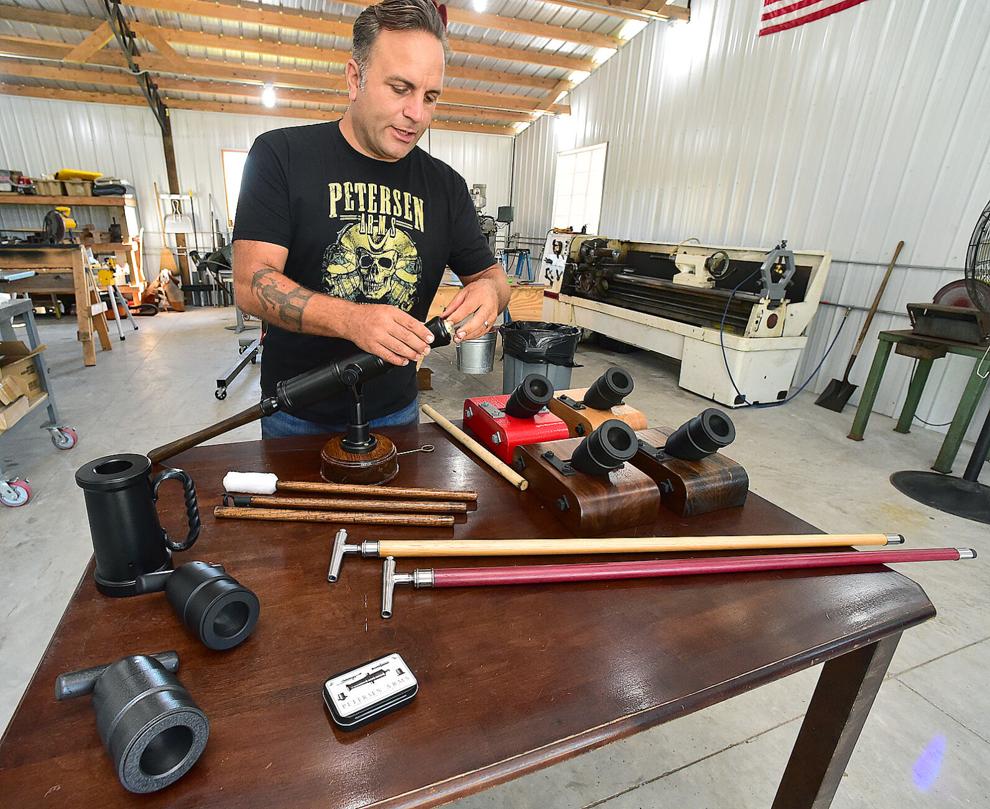 "I'm just going to keep building cannons until people don't want cannons anymore," he said at the headquarters of Petersen Arms — a machine shop he built and equipped over the course of three years on his farmstead west of Dunnellon proper.
Whether he's duplicating his own designs or taking on a client's custom order of a scale model, Petersen has to make sure his cannon creations are safe, reliable and efficient to use.
"The only way someone can get hurt by one of my cannons is if they stand in front of it," he said. "There's some cannon-making guys making sketchy stuff and selling it. I make them super safe, and I want them to last."
Looking to buy straight-shot cannons or angle-fired howitzers and mortars? How about a cane cannon or "Thunder Mug" signal cannon?
Visit petersenarmscannons.com or contact Petersen at 616-551-6688 or petersenarms@gmail.com to learn more.
"Because everyone needs a cannon" — as the saying for Petersen Arms goes.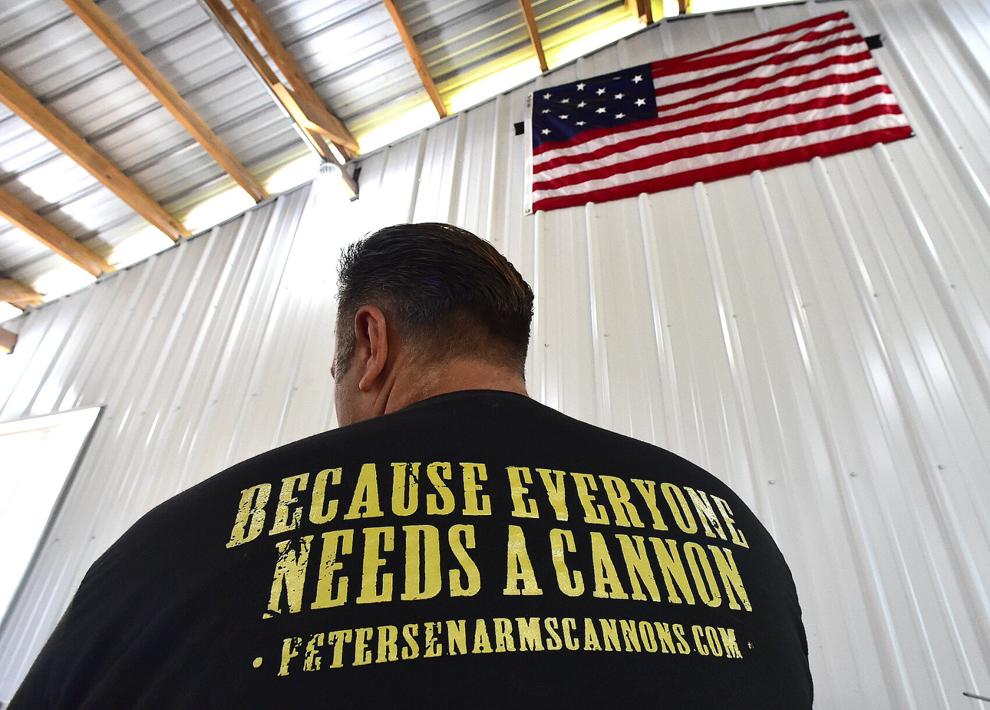 Petersen also has a Facebook page, Petersen Arms, where he publishes videos of himself firing cannons on his open land.
It didn't take long for Petersen to see a demand for cannons after he made his first.
He started selling his crafts on eBay, where he also advertised to do custom jobs, but the success of his main machine and tool shop kept him from doing more.
One of his first custom jobs was replicating a cheroot cane cannon — a .32-caliber, single-shot fitted as a walking stick's handle. With a one-minute reload, the weapon was lit by the cigars of conniving riverboat gamblers who needed to make a quick getaway.
"That's one shot and you're jumping off the side of a boat," Petersen said.
After moving to Florida a few years ago from Grand Rapids, Michigan, Petersen kept making cannons on the side, building up his workshop as he went.
"I also wanted to open up a machine shop because I wasn't sure if cannons would be full time," he said.
Petersen didn't get enough business from machining in the Sunshine State, leading him to land a job with a Hernando-based manufacturing facility of precision tools used to build turbine engines.
Petersen's career again kept him from his hobby, until he was let go when COVID-19 took a toll on his employer, allowing him to focus more on cannons.
"I've only in the last six months really hit it hard," he said. "This is what my business is going to be."
Petersen doesn't cast cannons — the traditional process of melting metals to pour into a mold packed with sand or clay, which dries the metal into a specific shape.
"Casting is a whole art in itself," Petersen said.
Instead, Petersen uses hardened drills and blades to bore and lathe his cannons from cylindrical bars of mild steel. He sculpts the metal to fit the exact dimensions meant for each section of the cannon — from its face to its breech. 
While a mistake at any stage of Petersen's work could bring him back to the first, boring or drilling out the cannon's barrel must be precise. If the metal encompassing the cannon's powder pocket is too thin, it could rupture from the gunpowder's compacted explosion.
Finding the steel he needs has been tough for Petersen in Florida compared to Michigan, causing him to make trips as far as Tampa to get supplies.
"We're not a manufacturing state so it's totally different," he said.
Petersen doesn't craft carriages for his cannons to be mounted on. Whatever wood Petersen does use is bought from a local sawmill.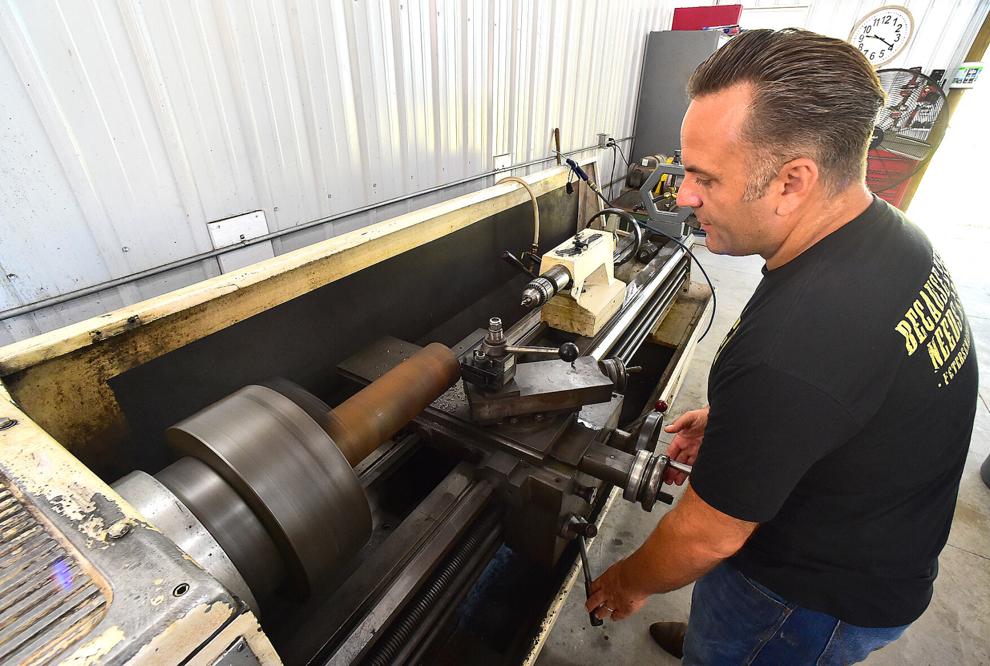 Petersen's made cannons up to 40 inches long, taking him as long as 30 hours to do. Depending on the size, Petersen may have to weld a handful of artillery parts together.
"Everything's handmade, everything's manually machined," Petersen said. "Give me a call if you want something crazy made."
Having a full-size bombard hasn't been practical for most of Petersen's clientele of battle re-enactors and cannon enthusiasts. Along with being less maneuverable, larger cannons use more gunpowder to fire a single shot.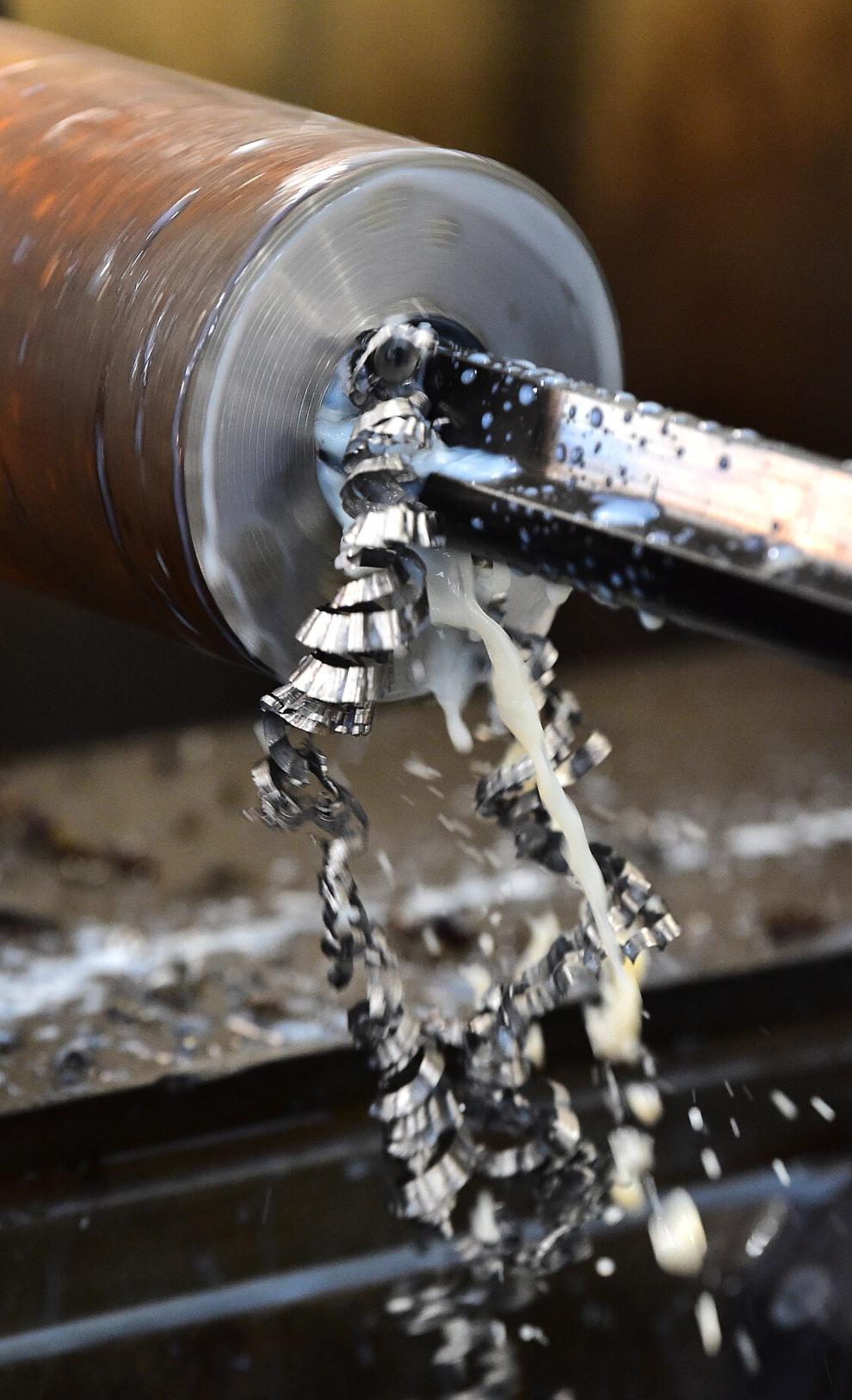 Each time Petersen deals with a new cannon design, he puts the finished product through an intense "proof test" to ensure the instrument won't harm its user.
To do this, he fills half the cannon with gunpowder to "triple charge" it before packing it down tight with aluminum-foil wadding and wet sand.
"I'm trying to make this thing into a pipe bomb without screwing it," he said. "So I basically try and blow it up."
Afterward, Petersen buries the loaded device and lights its fuse.
"Because if it does blow up, I don't want to get hit," he said. "If it survives, I know it's good."
Petersen's been able to introduce more novices to cannons by taking part in gun shows and pirate festivals. 
"I like talking to people," he said. "Younger people are getting into it, which is pretty promising, and women are getting into it, too."
Petersen said he hopes to take on an apprentice to help pass on and preserve the art of cannon-making.
"Just one, nothing crazy — not really even just to help, but I'd like to be busy just enough so I can help teach them the trade," he said. "I don't want any craft to die out."