After almost a decade of fundraising, research and patience, citizen advocates of the Withlacoochee River have the proof to show their waterway needs a lot of help.
"We did the investigation; it was tedious, it was expensive," said Dan Hilliard, president of Withlacoochee Aquatic Restoration Inc. (WAR). "But it's necessary, it's long overdue and we got it done."
It was in 2012 when members of WAR decided to pursue an extensive study to illustrate the health of the river's most downstream section in between Citrus and Levy counties — the Lower Withlacoochee River.
In early July 2021, following three phases of work, Wetland Solutions Inc. published a report of its findings.
What the Gainesville-based company discovered was unsettling, documenting "a variety of hydrological, physical, chemical, biological and structural impairments" from 120 years of human nature.
As a result, invasive vegetation has flourished while native fisheries and other river habitats have either suffered or died off.
"There was a downturn in what we were seeing in the river," Hilliard said, describing his residency along the lower river from 2001 to 2015. "The things we saw and appreciated ... those things were all gone, and it was the lifeblood of this community."
Wetland Solutions recommended several solutions for U.S. and Florida agencies and lawmakers to consider — from major reconstructions and septic-to-sewer projects, to herbicide and fertilizer regulations.
According to the company, the cost of restoring the lower river could be between $20-150 million, depending on which strategies are taken.
"This is a matter of perspective — the price tag of trying to fix the Everglades ... is in the billions of dollars; this is beer change compared to that," Hilliard said. "It may not cost that much, it all depends on what they decide to do, and they all have implications."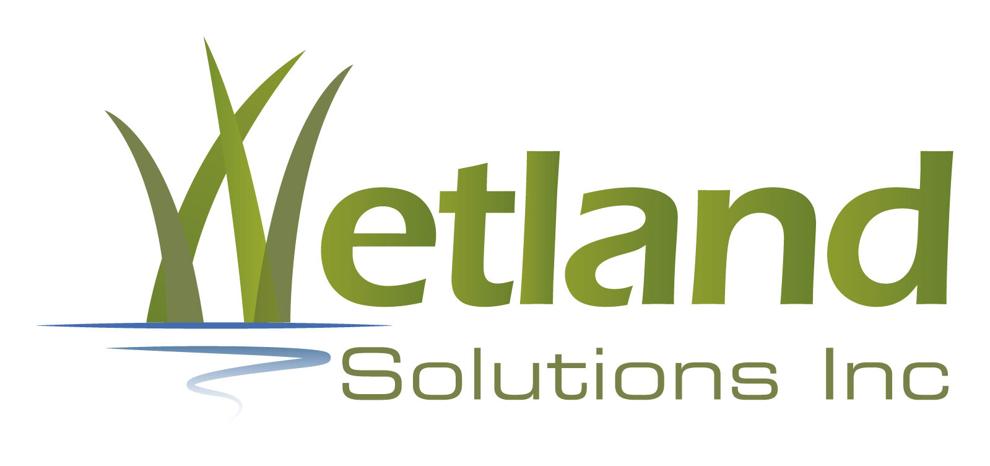 It's now up to WAR, its roughly 100 members and their supporters to spur action from the many stakeholders involved in managing the river.
"We have put some light on things that a lot of people, even the regulators, were not aware of," Hilliard said, "and, at the end of the day, I think we're going to see a positive benefit from it; the job is not over yet."
This isn't WAR's first battle for the Withlacoochee River.
Founded in 1984 under the original title of Withlacoochee Area Residents, the citizen-led nonprofit helped limit mining operations at quarries within the river's watershed.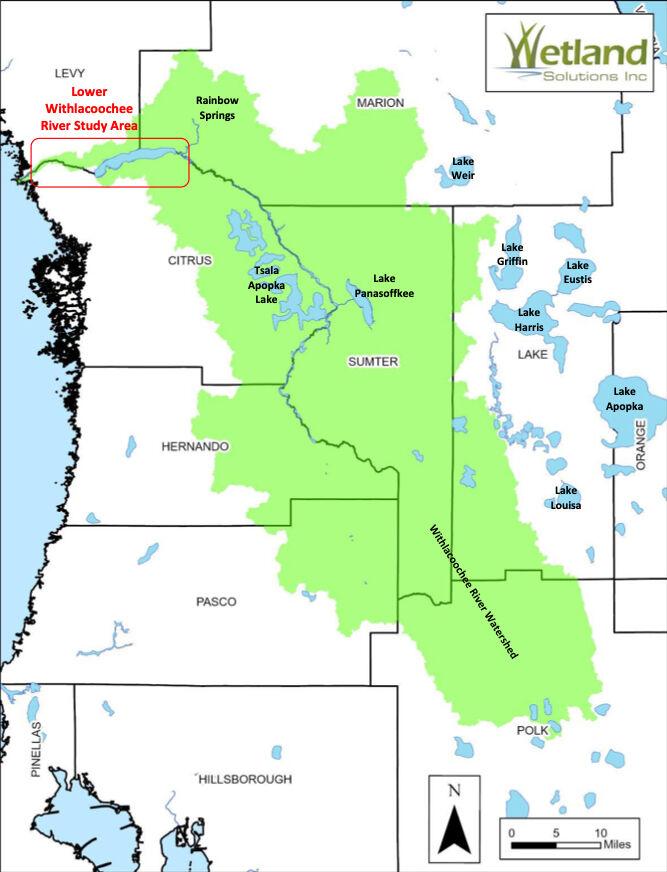 It also led the charge to designate the river as an Outstanding Florida Waterway, affording it special environmental protections.
WAR continues to have an interest in how minimum-flow levels are set for the river and Citrus County's coast by the Southwest Florida Water Management District (SWFWMD). For more information on WAR, visit warinconline.com.
Why focus on the Lower Withlacoochee River? It's where WAR was seeing the most damage.
"We knew, in essence, this is the sphincter of the Withlacoochee River, and water is not everything that flows downhill," Hilliard said. "This is the end, this is where the mess is."
Funding a study of the entire 157-mile Withlacoochee River, which is fed by the Green Swamp near Lakeland in northwest Polk County, would also be too expensive.
Stretching from Lake Rousseau to its mouth with the Gulf of Mexico near Yankeetown, the Lower Withlacoochee is divided by the unfinished Cross-Florida Barge Canal.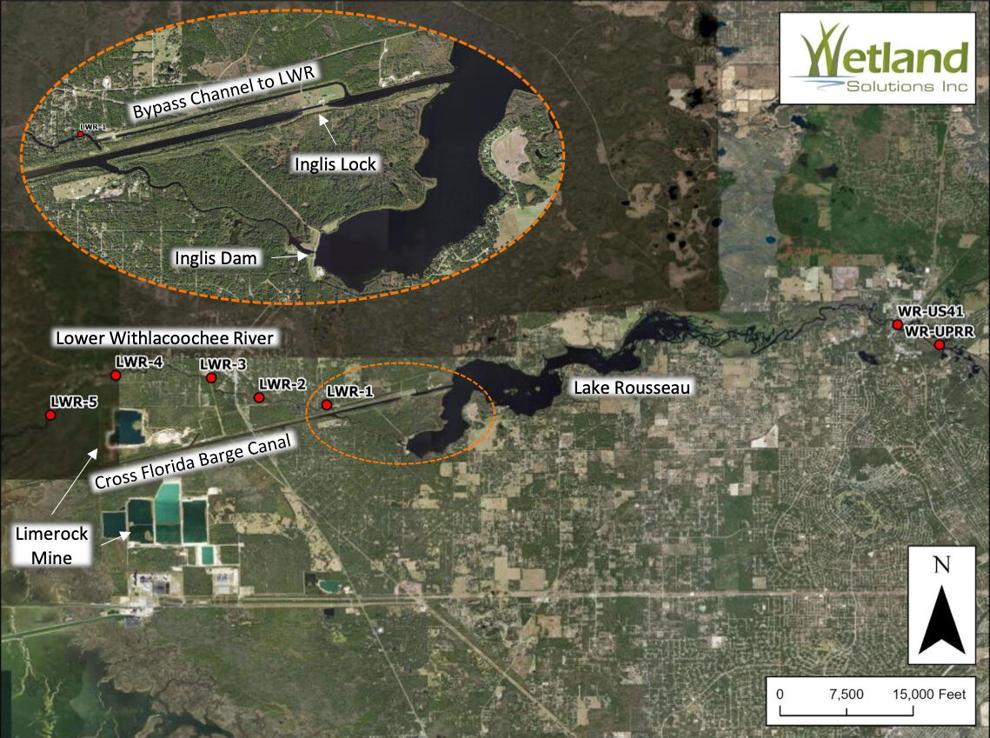 Hilliard said Wetland Solutions gave WAR a quote in the range of $340,000 to analyze the Lower Withlacoochee River, but its study area ranged into Lake Rousseau and as far upstream as the main river's junction with the Rainbow River near Dunnellon.
Roughly $139,000 in donations came from WAR members, the Felburn Foundation, Yankeetown, Inglis, Duke Energy and Drummond Bank. 
Scientists with the Florida Department of Environmental Protection, Florida Fish and Wildlife Conservation Commission and SWFWMD also collaborated with Wetland Solutions, saving WAR over $190,000. 
For the first phase of its studies, Wetland Solutions reviewed archives of the river's environmental history.
Its second phase was spent acquiring current readings of water qualities and flows from seven monitoring sites on the river, and the third and final phase was writing the report.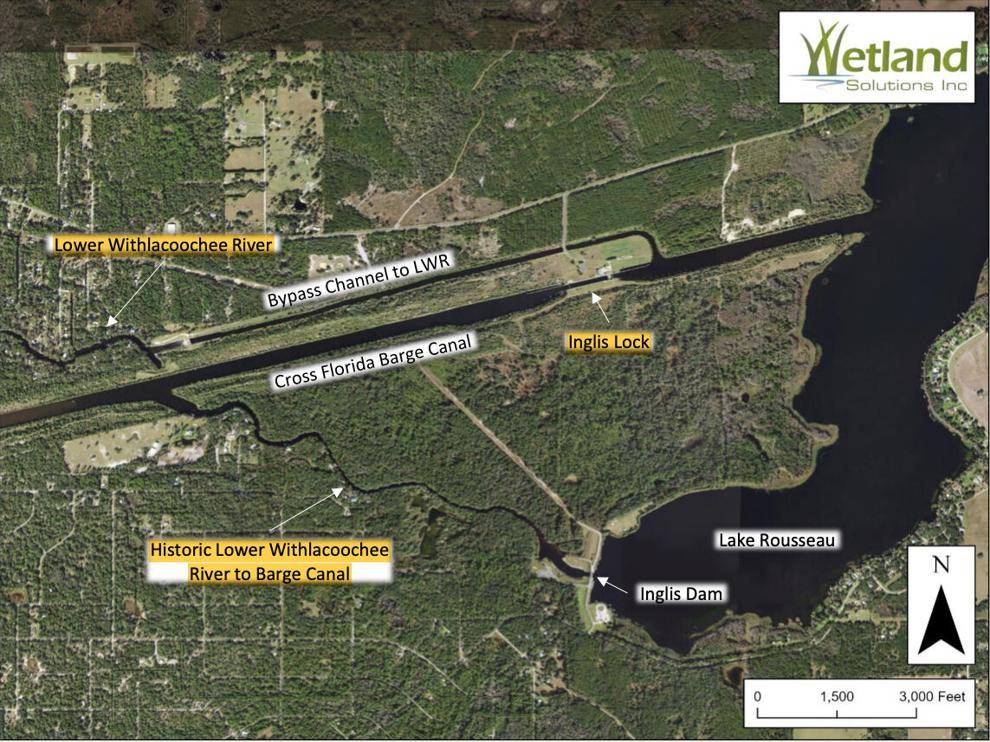 Wetland Solutions tied its findings to human growth and influences, especially with the barge canal's partial construction in the 1960s.
Due to the canal, which was decommissioned in 1990, the Lower Withlacoochee has been starved of around 1,450 cubic feet per second (cfs) in natural water flow it needs to sustain a healthy ecosystem by flushing out harmful sediments.
Lake Rousseau feeds the first half of the lower river, which then empties into the barge canal. However, the second half of the lower river is dependent on flows from a canal bypass. Tides from the Gulf can also affect the lower river.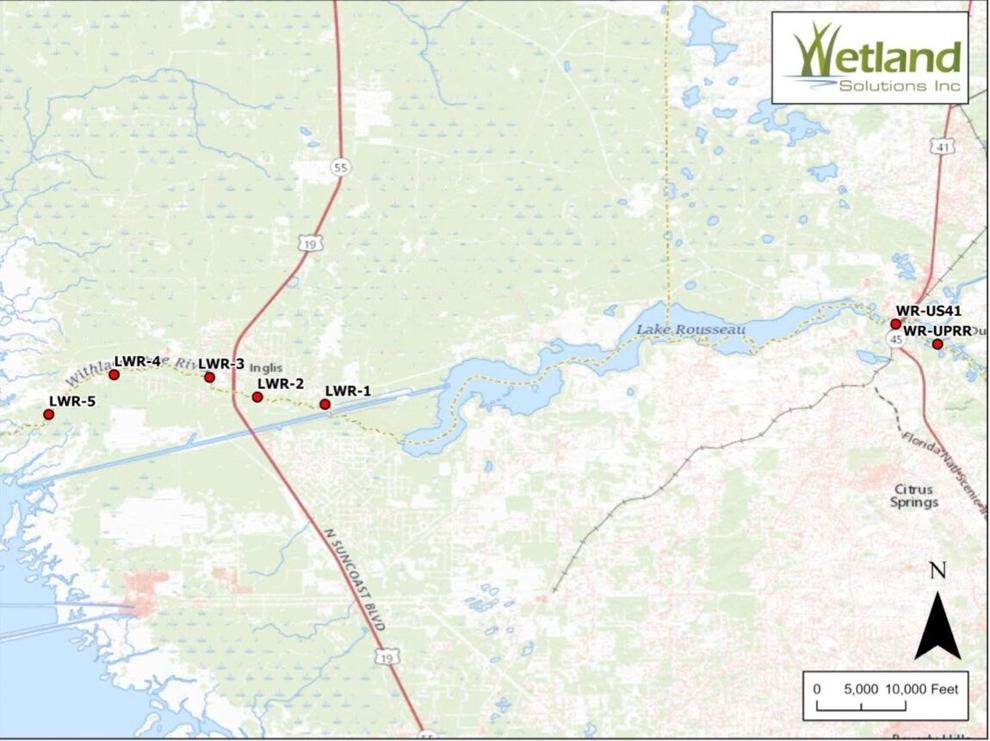 Downstream flows from springs upriver have also been weakened because of increased groundwater withdrawals, the report states, rising from 25 million gallons a day (MGD) in 1950 to 132 MGD in 2015.
Without a strong flows, increasing manmade pollutants from sources like septic tanks and herbicides can't funnel through, creating a pileup of toxic soup that cripples river habitats.
Citing a FDEP study, the Wetland Solutions report noted a poor ecosystem in the Lower Withlacoochee for macroinvertebrates to survive in. These tiny organisms are essential for larger river species to live on.
"What this river never gets anymore is the 3,000 to 4,000 cubic feet per seconds to scour the mud out," Hilliard said. "There's no basis for indigenous life to proliferate."
To curtail these issues, Wetland Solutions proposed alternatives for either the canal bypass to be modified or the Lower Withlacoochee River to be reconnected to help increase water flow.
Other solutions included: repairing a leak under the Inglis Dam in between Lake Rousseau and the Lower Withlacoochee; providing centralized sewage to every home in the river's watershed; establishing a fertilizer ordinance; reducing future groundwater withdrawals; drawing down Lake Rousseau and restricting herbicides.
For Hilliard and his WAR contingent, these endeavors are worth it.
"We have not conserved this river," he said. "We need to step up to the plate and start doing things differently."