Citrus County School District guardian A. Ramos pushes the classroom door open with his black-and-blue training sidearm drawn, aimed down an empty Lecanto High School hallway.
Hot air fogs up his clear plastic face mask as his breath quickens under the weight of a padded jacket.
Ramos, a former federal corrections officer and U.S. Army veteran, knows a gunman is close. Bullet casings on the ground are leading the way.
He zig-zags across the corridor, checking each door. Some are locked and others aren't, prompting him to do a quick sweep from the doorway to see what's inside before moving on to the next room.
He has to move fast; more time could mean more victims.
Three gunshots echo from a nearby stairwell. Ramos turns his head towards sound, his eyes widening. He moves straight toward the source. 
Mickey Dixon, a tactics instructor with Intercept CQB, and Buddy Grant, the school district's safety specialist, follow behind Ramos, watching him as he heads to a closed doorway at the end of the hall leading to a stairwell.
Ramos glances through the door's narrow window slats. After seeing the coast is clear, he moves into the stairwell.
He swings his pistol around and down to the floor below him. No one's there.
Ramos works his way down the stairs, leading with his gunsights, and pushes through another set of doors after clearing the other side from the threshold.
As Ramos enters the ground-floor hallway, he's met by darkness and the simulated lights and sounds of fire alarms. 
With no sign of the gunman, Ramos goes back to clearing rooms. 
Another salvo of gunfire rings out from inside a classroom a couple doors down the hall.
From outside the classroom door window, Ramos spots the armed assailant inside and to the side, his back facing him.
Ramos barges inside and fires enough Simunition — non-lethal colored dummy ammunition — to drop his target, Inverness-based Intercept Close Quarters Combat's Thomas Beagan dressed in pads, a helmet and clutching a handgun loaded with blanks.
Ramos, his firearm still trained on Beagan, rushes toward him, flips him on his stomach and pretends to handcuff him.
"What do you do now?" Dixon asks Ramos, who removes his mask, makes his way to a corner and put his cupped hand up to his mouth.
He takes a couple of deep breaths.
"Guardian Ramos to dispatch. Suspect is down and cuffed. He's wearing a light-brown jacket and pants.  I'll be awaiting backup in room..."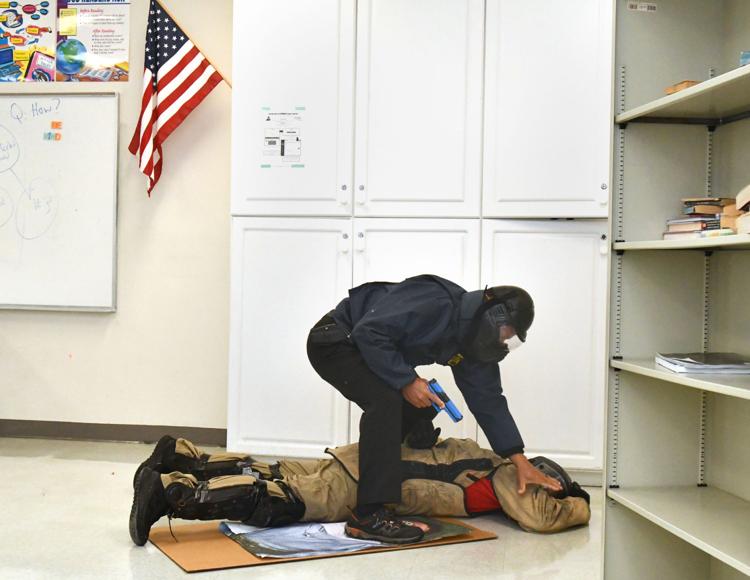 Ramos pauses as he tries to remember which room he's in.
"Calm down," Dixon tells him. "Think."
"109?" Ramos answers after a brief moment.
Dixon peaks back around the classroom door where the room number hangs on the wall outside.
Ramos groans in frustration before he radios in the room number, and Dixon ends the drill.
In a quick debriefing, Dixon, Grant and Beagan tell Ramos he did well, and Dixon reminds him that remembering details like a number can be tough when the adrenaline and blood pressure are pumping. 
Ramos was one of nine guardians to be put through a school-shooting simulation by Dixon and Grant earlier this month at the high school. The stakes are high: the guardians need to be automatic if students and staff are threatened.
"You don't want your guys freezing up," Grant said. "It's good to put them under as much stress as possible."
Earlier in July, the guardians completed 144 hours of state-mandated, grant-paid shooting drills and diversity training drafted and taught by instructors with the Citrus County Sheriff's Office, which applied for the funding to do so.
In less than a month, they'll start their first year protecting local schools.
"They're ready to meet any threat head on," Grant said. "They're more than capable of responding to it in a quick, professional manner, and be able to do the job that they were trained to do."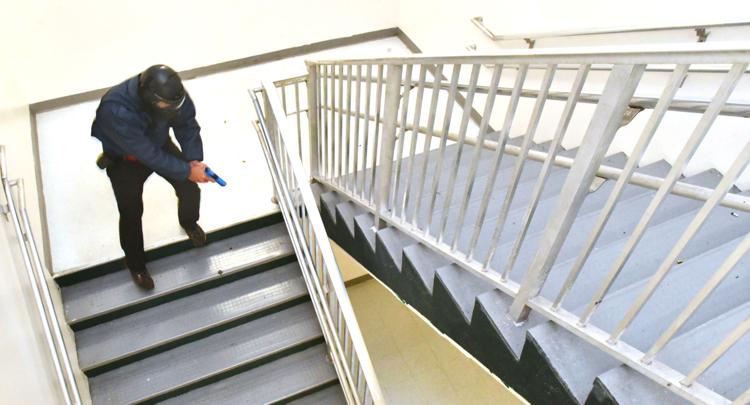 Justin Ferrara, major over the sheriff's Bureau of Law Enforcement Operations, said the guardians who met Florida's required marks "did fantastic," and are ready to answer calls alongside school resource officers (SROs) and other deputies.
"Any tool, procedure, technique or element that we can introduce to what we currently have to benefit the safety of kids, that's what we're trying to do," Ferrara said. "Nothing's foolproof, nothing's 100%, but anything we can add, we're doing the right thing."
"The citizens should commend our school board because they've taken the strong move to commit to having an SRO on every campus and augment that with guardians," Grant said.
Grant said the school district is putting its guardians through additional training before the school year starts even though they've met the state's eligibility to be guardians.
That includes familiarization with school layouts, first-aid training, CPR, AED usage, deescalation training and courses to become certified active-shooter response trainers.
There are also plans to meet with Citrus County Fire Rescue to educate guardians in becoming tactical medics.
"We're getting their schedules packed up," Grant said.
Some of the courses will be refreshers for the incoming guardians, who have a combined 183 years of experience in military and/or law enforcement.
"They're going to come in with strong backgrounds in security and law enforcement," Grant said. 
Day-to-day, guardians will communicate with SROs, relaying their positions and and potential concerns.
Their communication channel isn't always monitored by dispatchers, unlike main police, fire or EMS channels, said Ferrara, who added that CCSO and the school district are still looking at ways to improve their use of the county's radio system.
But if guardians have to get a vital message over the airwaves, they can activate a function on their radios that immediately notifies dispatchers and deputies, and gives guardians uninterrupted airtime to say what they need to.
"If they hit the button, that tells our dispatch center you need to listen up," Ferrara said.
When guardians, SROs and other law officers carrying guns are converging towards an armed person, knowing where everybody is and what they look like is life-saving knowledge — not only for students and staff, but for deputies and guardians who want to avoid friendly fire.
Grant said he wants his guardians on the radio every 20 to 30 seconds to share their locations in the event of an active threat on campus.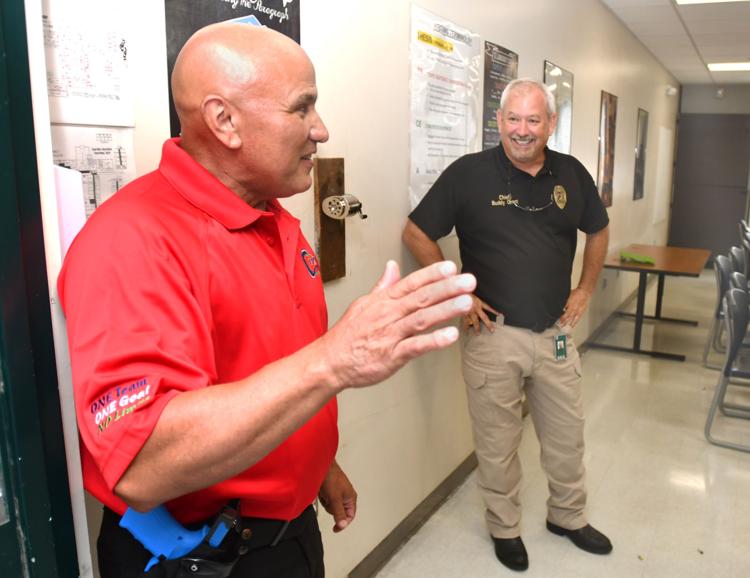 CCSO and Intercept also ran the guardians through "shoot, don't shoot" and "blue-on-blue" scenarios that place emphasis on being aware of their allies when they're securing a school.
Grant noted that Intercept is run by the same instructors who train CCSO's deputies, and contracting with the company was intentional in order to teach guardians the same tactics the local uses.
School board member Doug Dodd sits on the Marjory Stoneman Douglas Public Safety Commission, which, along with the guardian program, was established following the deadly February 2018 shooting at Marjory Stoneman Douglas High School to brainstorm safety measures for schools.
Based on what he saw during one of the guardians' trainings with CCSO, Dodd said he's happy with how they handled themselves.
"They were very professional," Dodd said.  "They're taking this very seriously and they know the responsibilities they're going to have."
Dodd said guardians should not replace SROs, who have other responsibilities to students, but they're another needed force that will help "change the mindset that our schools are even targets."
"It allows us to use avenues to better protect kids, and I'm convinced that one SRO, especially on larger campuses, may not be enough," Dodd said. "If you don't have someone in or near the vicinity of a school, you're not going to be able to possibly save lives. You have to have people who are trained to respond."
Grant and Ferrara said they're trying to get guardians and deputies together to go through joint exercises — additional steps to ensure the partnership is strong for the betterment of the schools.
"If it's not a combined and unified effort, it's not going to be successful " Ferrara said.
"As a parent who had two kids go through the Citrus County school system, I would have slept better at night knowing any of these guardians were going to be on a campus where my children were," Grant said. "They're absolutely ready for this job."