Ron Frink's first hint he would be a lawman in Citrus County's schools came in the early '80s when then-Sheriff Charlie Dean spoke to his Crystal River Middle School class.
"That always stuck out in my mind," Frink said. "It was such a neat thing that the head of the sheriff's office would come out and speak to a group of kids about what deputy sheriffs do."
It was then that Frink felt the calling to be a role-model law enforcement officer in local classrooms.
He wanted to leave a legacy of children he helped inspire to grow or turn their lives around, and after 25 years as a sheriff's school resource officer (SRO), Frink said he's done that.
"I still have students ... coming up to me years later and telling me about their families and thanking me for what I did for them in school," he said. "Looking at all of these students that are now in their 20s, 30s and 40s, and what they've accomplished, I hope I had something to do with that."
Frink retired in late June as a sergeant in the SRO unit, leaving the sheriff's office after a total 29 years.
He'll continue to teach as a professor of criminal justice and homeland security for an online college based in Chicago. Along with furthering his own education, Frink also plans to teach out of the College of Central Florida.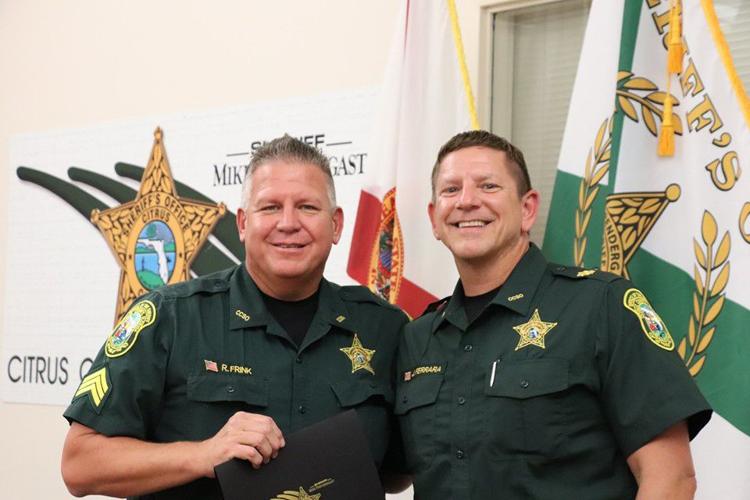 Frink, a native of New Jersey, and his family moved from Clearwater in the early '70s to Citrus County, where his dad worked at the power plant for Florida Power.
Frink attended Crystal River Primary, the defunct Crystal River Elementary, Crystal River Middle and Crystal River High schools.
"I've always considered Crystal River my home," Frink said.
While in high school, Frink also worked weekends at the Crystal Lodge Dive Shop, commuting there by boat from his family's home on the river.
"It was the second best job I ever had," he said.
Frink left for college at the University of South Florida and transferred to the University of Central Florida, where he graduated in 1990.
During his last session of courses, Frink worked a paid internship as a security guard for a Sears store in Orlando.
He asked surrounding police and sheriff's agencies if they had similar work, but they only offered unpaid internships, which brought Frink back to Citrus County with the same question.
Sheriff's officials told Frink they didn't have an internship program, but gave him the agency's first known "intern" title before paying him to handle 911 calls in dispatch and learn the job by riding along with deputies on their patrols.
"I was the only paid intern with the Citrus County Sheriff's Office," he said.
When his internship ended in late 1990, Frink was hired into dispatch with the intent of joining the police academy in January 1991.
After graduating from the academy in June 1991, Frink started the next month as a road patrol deputy.
Frink's mission was to get into the sheriff's SRO unit, which had been in existence since 1985. It would take him three more years.
"I was one of the few who got into law enforcement to get into that job," Frink said.
Before Frink became an SRO in 1994, there were up to five SROs that covered the school district. He entered during an expansion that put an SRO in every high school and middle school, bringing the total then to nine.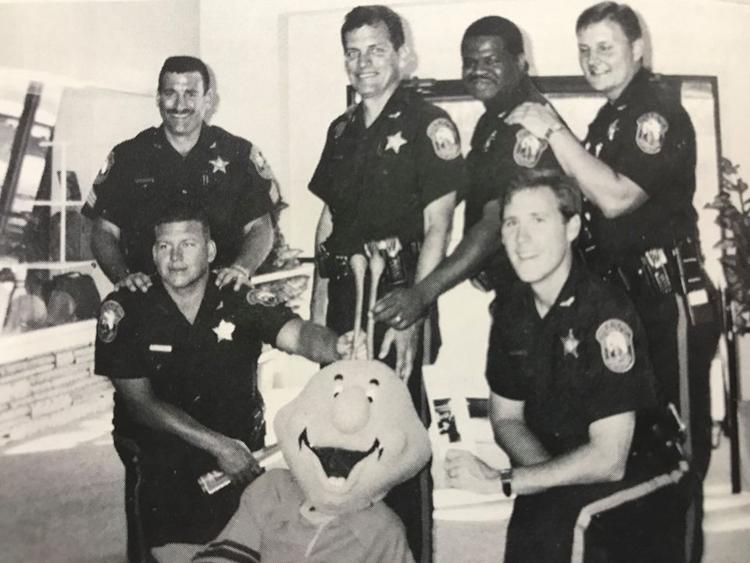 The first and only school he was assigned to until he became a sergeant in 2006 was Crystal River High, his old stomping grounds as a student.
"Eight years later from the school I graduated from, here I am walking the halls with a gun and badge," he said.
Frink knew many of the schools' teachers and staff from his days there as a student. But in his role as SRO, he had to earn their and the students' trust and respect.
"I felt like I had to get them to know me at a different level," he said. "Relationships is the key to everything in our job. ... You've always got to be that person that everybody feels like you can turn to."
Because Frink grew up in Crystal River, he knew most of the students' families.
That background, he said, helped him better connect and relate to children who needed guidance.
"I already had an understanding about them," he said.
Frink said the best thing about being an SRO was "interacting with these students and helping change lives."
"Being able to convince them that a mistake wasn't the end of their lives," he said.
It was also a chance to strengthen the ties between the sheriff's office and households that were wary of law enforcement.
"What you're doing is you're getting to know me personally," he said. "A lot of other deputies don't get that chance."
Frink worked alongside his colleagues to develop the SRO program into nationally recognized model. In 2005, the National Association of School Resource Officers awarded the sheriff's office with the National Model School Resource Officers Agency Award.
Then-Sheriff Jeff Dawsy was later invited in October 2006 to Washington, D.C., to be a conference panelist on school safety with former President George W. Bush.
Frink said the hardest part of being an SRO was arresting a student.
"You would try to do the best you could to help them along the way, but unfortunately that's what happens," he said.
But echoing the message that a mistake is not a sentence, Frink also saw the opportunity those unfortunate situations presented: for example, a student he busted in the high school parking lot for selling marijuana out of his car is now graduating from a police academy out of state, and had invited Frink to attend the ceremony.
Frink could have chosen to be in whatever position was available in the sheriff's office, but that would have meant giving up the chance to shape the lives of future generations.
And that's the message Frink wants to pass onto the SROs replacing him.
"It's to remember that we're there for the students, we're there to make positive changes and to help change future generations." he said. "To be part of their memories and their histories is part of the legacy I want."