Good things come to those (and things) who wait, including the Homosassa River.
It's been almost four years since representatives from the Homosassa River Restoration Project, Inc. visited King's Bay in Crystal River to study a successful cleanup endeavor there.
After raising money from a generous community, waiting for state and federal permits, and fighting for government funding, the nonprofit has now launched its very own environmental undertaking.
"We're very excited to finally be in the water," said Steve Minguy, HRRP president.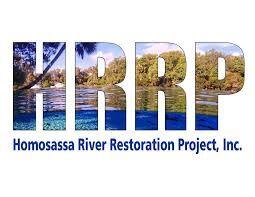 Mobilization began in mid-October 2020 to rehabilitate the river system, starting with more than 5 acres of residential canals and coves in between West Fishbowl Drive and West Spring Cove Road.
This is the first step of HRRP's three-phased goal for 2025 to restore a total 46.19 acres of the Homosassa River between its headspring and up to the Halls River Road bridge.
"We just wanted to get it done as soon as possible," Minguy said.
For information, visit HRRP's website at homosassariverrestorationproject.com.
Crews with HRRP's contractor, Sea & Shoreline, can only do in-water work outside of manatee-migration season, which runs from Nov. 15 to March 31.
"We're excited that we're moving forward," said Howard Miller, Sea & Shoreline's vice president of sales. "It's been really a long time to try and get it over the hump, and we're anxious to work with the community and the HRRP."
Sea & Shoreline is mimicking a similar process it uses for for Save Crystal River, Inc. and its 5-year-long King's Bay Restoration Project, which seeks to clean 92.6 acres by the city's 100th birthday on July 2, 2023.
After bringing on more personnel and working them on weekends, Sea & Shoreline, which is overseeing up to five similar projects statewide, is able to do both restoration projects in Homosassa and Crystal River at the same time.
"Especially right now," Miller said. "We have to work under a short period of time; we've really stacked up the staffing and we're giving out guys good overtime."
Boat, barge and dive crews began Friday, Oct. 23, 2020, sucking the water bottom of muck, algae and other invasive vegetation.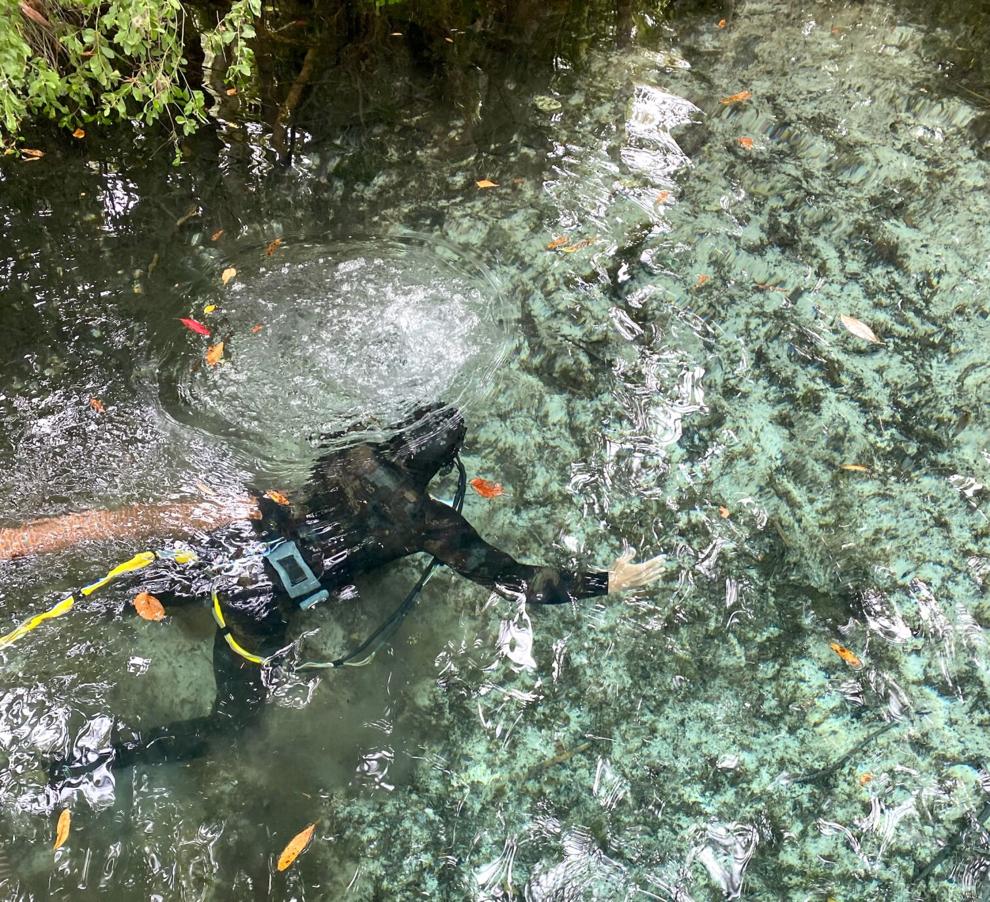 Water and removed contents will travel in a pipe on the bottom of Pepper Creek toward a 3-acre work site Sea & Shoreline rented on private land behind the Bella Oasis Hotel.
Miller said workers had cleared what little shrubbery and overgrowth remained on the property before grading it.
Sea & Shoreline also made arrangements with its neighbors, including the state park, which uses Pepper Creek for its tour boats.
"We gotta work around them, the kayakers, the manatees and just residential guys," Miller said. "Just like in Crystal River, the homeowners and neighborhood here has been extremely supportive and courteous and been a pleasure to work with."
Miller said Sea & Shoreline may have to move its base of operations as the project moves downriver. 
As the slurry of river water arrives on land at a rate of 20,000 gallons a minute, it flows through several mechanical dewatering sieves and filters for larger sediments to be separated out. 
Water's then pumped into several large Geotube bags, where microscopic polymers are injected inside to bond onto unwanted particles and sink to the bags' bottoms.
Once the bags reach their maximum and massive size, clean water seeps from tiny pores and into a lined trench flowing naturally into a small reservoir and pumped back to the river. 
Afterward, thousands of native eelgrasses will be planted in the sandy river bottom to be maintained until they take a natural foothold against the elements and hungry manatees.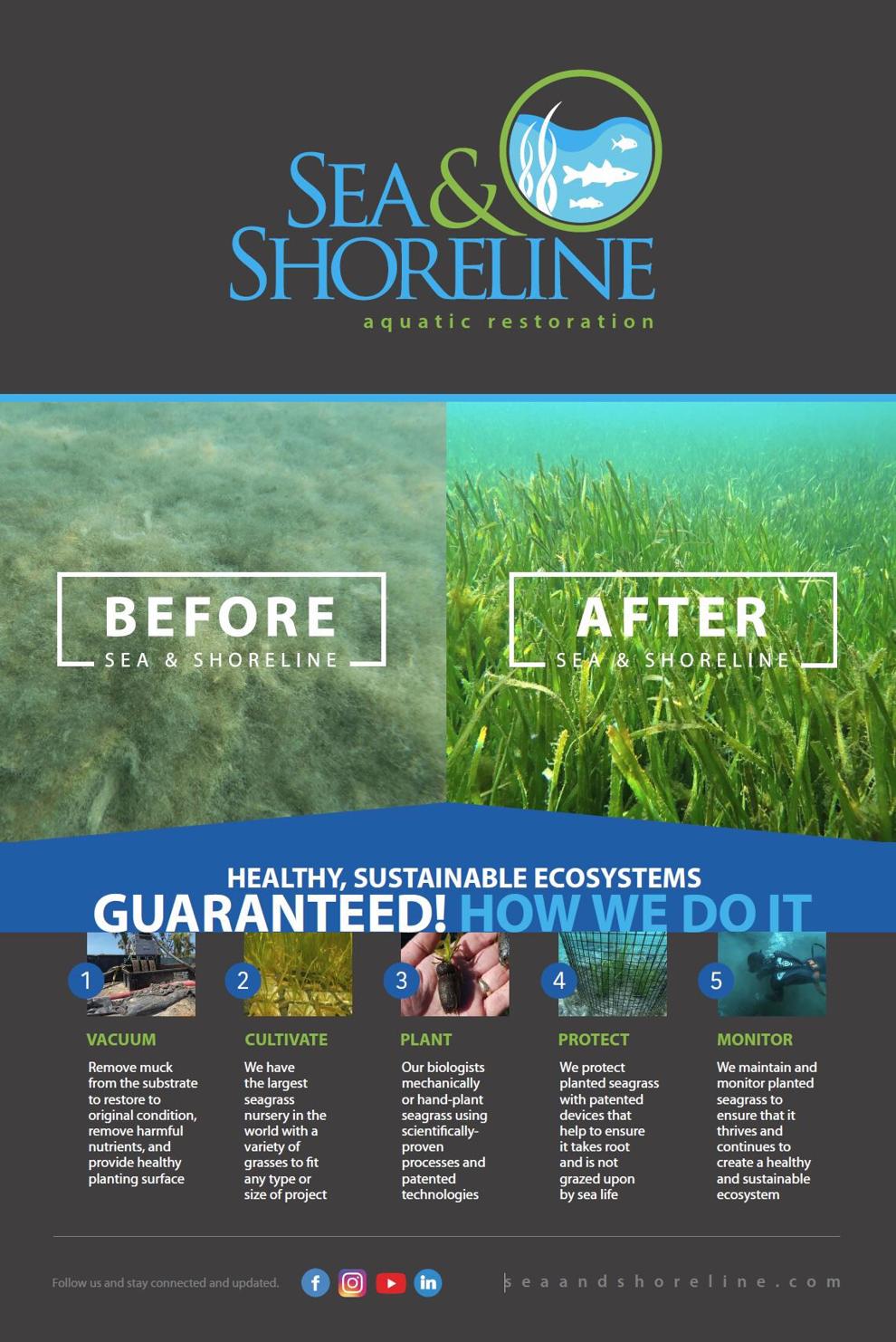 Paying for HRRP's project is part of a $2 million state lawmakers awarded the group in August 2019 via a grant from the Florida Department of Environmental Protection. 
HRRP was allocated and approved for another $1.5 million during the 2020 budget session to fund future project phases; however, Minguy said, it has yet to be promised.
"We're not sure where we stand on that," he said.
Minguy and Miller said permitting the recent job with the Army Corps of Engineers has been the biggest hurdle, but also an example of success born from a strong, grassroots campaign.
After then-Gov. Rick Scott in 2016 vetoed a $350,000 allocation for it, HRRP received $75,000 in subsequent fundraisers and in-kind donations to pay for project studies and permit fees.  
"The community has been my biggest thing I've noticed and I'm pleased about," Minguy said, "the amount of community support from all the clubs … and people who came out of everywhere to help."