Seven Rivers Christian School teacher Mindy Weed paced around her sixth-grade class of students during a Bible lesson.
Eyes from around 20 seated pupils followed Weed, their ears listening to the instructor's many questions and their arms primed for launch to signal an answer.
It looked like a regular day at the private Pre-K-12 school in Lecanto.
Another set of eyes tracked the teacher from the corner of Weed's class. They didn't belong to a student, but to a robot.
From atop a 6-foot pole, the spherical machine called a "Swivl" rotated with Weed's movements. 
An iPad clipped above the device and connected to its camera displayed a live video and audio feed of Weed's lecture to be seen online if a student needed to be taught from home.
Teaching its students from afar is something Seven Rivers has been preparing to do as part of its three-chapter response plan to COVID-19: prevention, containment and case record-keeping.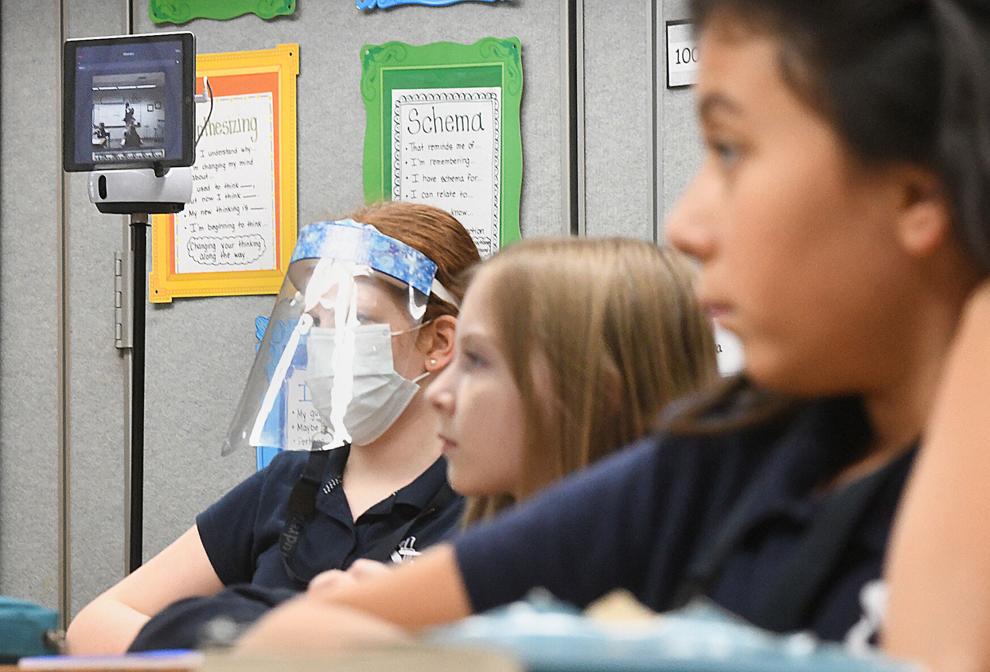 School leaders agreed to purchase eight Swivls in the event a coronavirus outbreak disrupts in-person education. 
A week after welcoming its students back to campus on Monday, Aug. 17, 2020, Seven Rivers did not have to put any of its eight robots into actual use because none of the school's roughly 500 students had to be quarantined. 
"Thank the Lord we don't have a use for it yet," said Wendy Cash, the school's director of advancement, grammar instructional specialist and spokeswoman, on Monday Aug. 24. "We're good now, but time will tell."
On Wednesday, Aug. 26, a pair of 11th-graders tested positive for the respiratory disease, prompting school officials to quarantine a total 23 teens or a class of juniors, Cash said.
With a negative test, the exposed students can return to school on Aug. 31; otherwise, they can come back on Sept. 4.
"We planned our containment and cohort policy for this very type if event," Cash said Wednesday in an email. "Thankfully, the rest of the school can continue live classes and the juniors will be back soon."
Headmaster Dana James said the school's first week has been a promising start to the rest of the 2020-21 academic year. 
"It fared a little better than we hoped," he said. "We have processes in place we hope will work, and so far they are."
When schools nationwide shuttered during their last semester in March because of COVID-19, they started wondering if they could reopen in the fall.
For an answer, Seven Rivers looked at its counterparts overseas in Europe, where schools had been open in the spring with various precautions in place.
From the reports they studied with the Centers for Disease Control and Prevention and the American Academy of Pediatrics, Seven Rivers officials felt confident they could come up with methods to help prevent and contain coronavirus transmissions on its campus.
"There are a bunch of European schools that have already done it," Cash said Monday. "We still think there's hope … we hope for the best, prepare for the worst."
Robotic teaching assistants aren't the only safeguards Seven Rivers has implemented to make sure education continues with little interruption.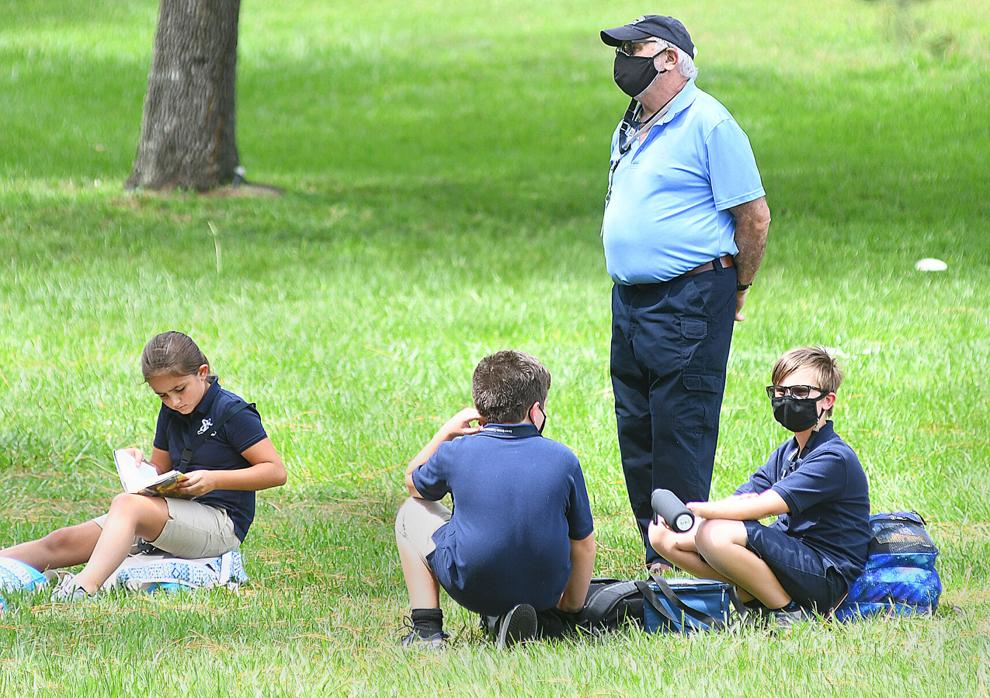 Seven Rivers' plan to mitigate coronavirus exposure is similar to the Citrus County School District's strategy but with a few tweaks, like requiring temperature checks for staff and students.
Cash said four touch-less multi-sink stations were installed outside school buildings so more than one student could wash their hands simultaneously after recess and before lunch.
"I know what it's like as a teacher to get your class to the bathroom, where there's only one or two sinks, and have them wash their hands properly for 20 seconds," Cash said. "That's a nightmare."
Roughly 20 air-and-surface purifiers were also purchased and scattered throughout classes to each filter a 3,000-foot radius.
Volunteering and field trips were also suspended.
Unlike the school district, Seven Rivers could not afford to offer a virtual school option for students to enroll in.
"We just don't have the money, resources or teaching body to do that," Cash said, "and, philosophically, we're a live school and we've got to have that in-person; it just goes with our philosophy on how children learn best."
An advantage Seven Rivers' campus has, compared to the local public school system of 16,000 students, is managing fewer and smaller class groups the school calls cohorts.
By segregating student cohorts from each other, the school can better limit the impact of exposure to someone with the contagious respiratory illness.
Cash said there are 23 cohorts between pre-K and sixth grade, and six for the 7 through 12 grade levels, with each cohort having between roughly 13 and 20 students.
Depending on how many students test positive for COVID-19 throughout the cohorts, a single class or the entire school could shutdown and continue lessons online, similar to what happened in March.
"The reason why schools have a containment plan is because we know kids are going to get COVID," Cash said.
Masks are optional if students and teachers are in their respective cohort.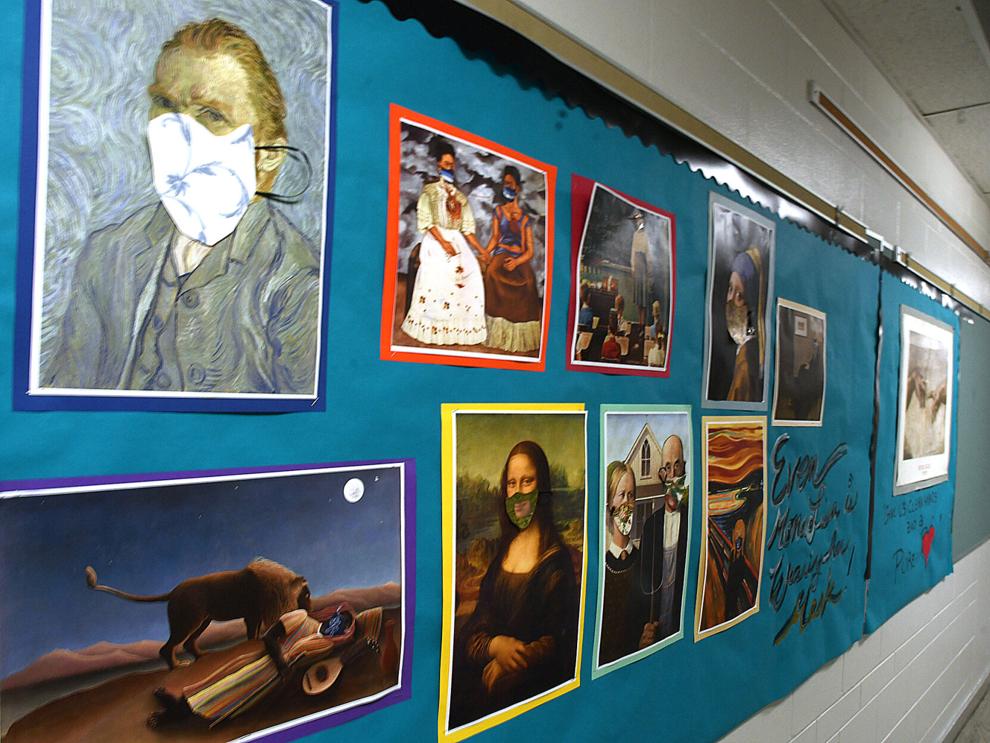 Masks are needed for cohorts if they have to intermingle, and for teachers if they instruct more than one cohort.
Since it was together as a cohort, Weed's class didn't have to wear face coverings.
"We're not going to get angry or upset when they don't have a mask," Cash said. "We're just going to hand them another one."
In the end, it's up to parents to make sure they're not sending their children to school if they suspect an illness.
"You have got to keep your kid home," Cash said. "We're going to go easy on the absence rules."
Seven Rivers made sure to reach all student families about what they can do to help keep the campus open and free of infection, like wearing masks during student drop-off/pickup and not socializing on school grounds.
"It's trial by fire and it's day-by-day and it's fighting any old war," Cash said. "You come up with a good plan and you execute that plan to the best of your ability and it's in God's hands."