Master Trooper Tod Cloud pulled his black, semi-marked Florida Highway Patrol cruiser over off of North Basswood Avenue's turnoff with U.S. 19, north of Crystal River.
"This is my greatest accomplishment here," Cloud said, pointing to Trooper Ronald Gordon Smith's memorial flanked by flags and bordered by personalized bricks and the highway patrol's logo.
Cloud, who was halfway through his 12-hour shift patrolling Citrus County's westside, exited his patrol car and walked up to Smith's stone plaque to upright a broken light alongside it.
He then looked toward a clearing near the woodline, where, on Dec. 23, 1973, Smith died during a gunfight with two escaped felons he encountered during the last few hours of his shift.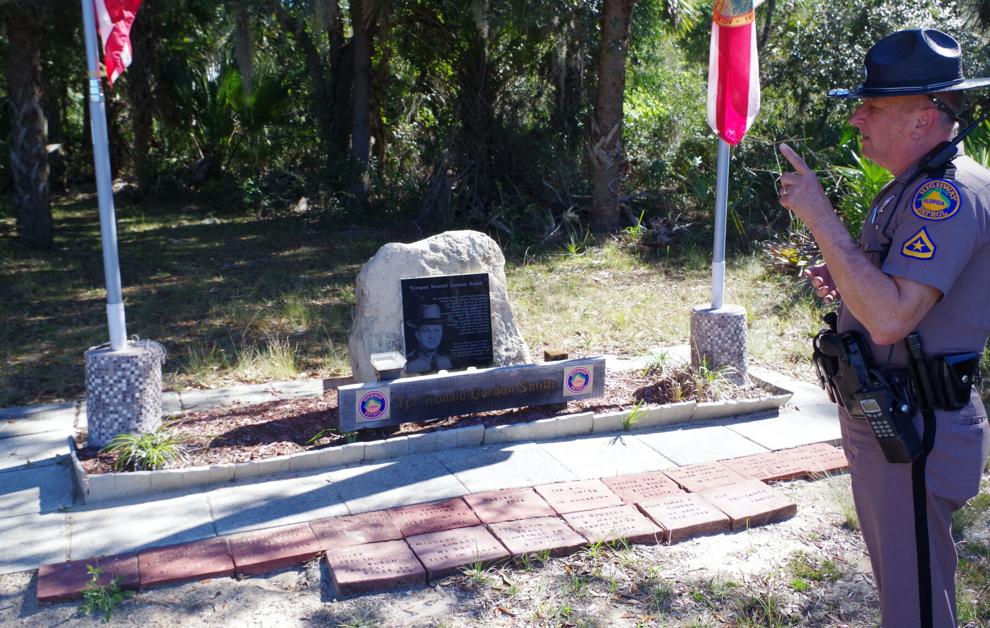 Smith was 28 years old and had been a highway patrolman for eight months.
"For the longest time," Cloud said, "I did not know a trooper was killed in the line of duty in this county."
It wasn't until October 2010 when Smith's roadside monument was erected, with the help of Cloud and his fellow members of the National Association of Retried Law Enforcement Officers, or NARLEO. Smith's name also became that of the Cross Florida Barge Canal bridge.
When he attended the ceremony to commemorate the memorial, Cloud was honored to meet Smith's daughter, who was 2 years old when her father died, and her own two young children.
"She made it to the dedication, and I met his grandkids," Cloud said, trying to hold back tears. "That's why I'm getting out of this business; I get too emotional sometimes, but it's a happy emotion."
After 21 years with Florida Highway Patrol, patrolling his home county, Cloud retired Thursday, April 1.
"I'm working up to the last day, that's what I'm doing," he told a Chronicle reporter during a ride-along a few weeks before his last day. "I'm just going to keep doing God's work in what he chose me to do."
Cloud has several retirement projects lined up for him to do on his family's 14-acre property in Homosassa, like raising a couple acres of fruit trees alongside some ducks and chickens.
"If I do leaf-raking alone, I would have a full-time job," he joked. "I've got more than enough to keep me busy and happy."
Cloud began his career with highway patrol on Feb. 27, 2000, at 43. His career in law enforcement started roughly 10 years prior, working as a corrections officer in Sumter County before serving as a policeman with the Crystal River and Interlachen police departments.
Cloud would say his first job in law enforcement was when he was a fifth-grader, as a safety patrolman growing up in Wilmington, Delaware.
"Way back then, we were actually on the street corners with street signs, stopping traffic," he said, "and I know they don't do that anymore."
As a child, Cloud dreamed to be an FBI agent.
"But I just came from a poor family with low self-esteem," he said, "and because of my low self-esteem, I dropped out of high school and went into the military."
If Cloud could give his younger self advice, it would be: "stay in school, get an education." 
"I hate to say it," he said, "but it's plain and simple that way."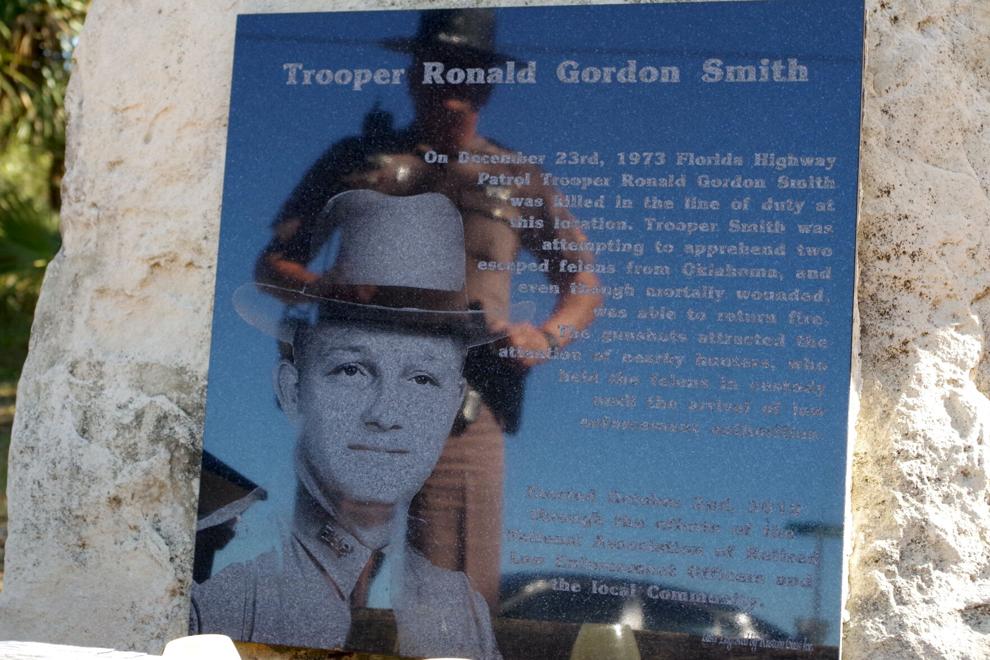 After two years serving with the U.S. Marine Corps, Cloud, at 24, began his 10-year employment with General Motors, making $16 an hour assembling cars.
Cloud tried to get a police job in the First State.
"They told me you're making too much money," he said, "and I tried to explain to them I wanted a career, I didn't want a job."
Cloud's decision to move to Florida in 1997 was an easy one because he had enjoyed the Sunshine State's beaches during General Motors' long holiday breaks.
Cloud attended Withlacoochee Technical College — then called the Withlacoochee Technical Institute — to get certified in corrections before cross training into law enforcement. 
He took an opening at the Sumter County Correctional Institute, where he was involved in the state prison's Bootcamp Program, a tough diversionary program for felons to take on to get an early release.
"That's where I met my wife; she was a drug dealer," Cloud said.
Punchline: Cloud's wife of 30 years, Nora, worked as a pharmacist at the prison.
"She's a legal drug dealer," Cloud said. "She used to hate that joke, but now she tells it."
Once he was law enforcement certified, Cloud began his five years with the Crystal River Police Department, working two years in charge of an out-of-school suspension program.
Looking for a slower pace, Cloud went to work four years with the Interlachen Police Department, then a three-officer agency with a jurisdiction over 6.50 square miles of rural land.
"Every third traffic stop I would make," Cloud said, "they went to jail because they were drunk, didn't have a license or had a warrant."
Interlachen was also the setting of where Cloud almost fired his service weapon, when he brandished his .357 revolver to get a burglar in the night to drop whatever was in his hands.
"On a clear night, you can hear the hammer being puled back on a .357, going click, click, click," Cloud said, "and as soon as he heard that click, click, click, he went to the ground ... I've been blessed."
When Cloud was looking to become a Florida Highway Patrol trooper, his police chief gave him one of his best recommendations.
"He wrote, 'he likes to take drunks to jail, and he likes to write tickets.'" Cloud said.
After Cloud went through Florida Highway Patrol's training academy, his officials began assigning patrol duties to him and his graduating class of 90 troopers. 
Cloud got Duval County at first, but he overheard which trooper was to be stationed in Citrus County, where Cloud had been living, and he got the other trooper to trade with him.
"I told him, 'the only things they got in Citrus County are old people and cows' … that was my advertisement," Cloud said. "To this day, I would have paid him $1,000 to switch."
Cloud said he's very aware of his reputation as a no-nonsense, ticket-happy highway patrolman in Citrus County.
"I don't mind having that reputation. I do give out warnings, once in a while," he said, chuckling. "The community knows that I am firm, but I am fair. You're violating the law really bad when I stop you."
Cloud also dispelled the rumors he gave his own mother a ticket.
"It makes me laugh," he said. "I would've had to have been a cop in Delaware."
Cloud said he knows those he's cited have learned from their mistakes, including a man he ticketed for not wearing a seatbelt who later survived a rollover crash he was buckled up in.
"My job is to be out here and save lives," he said. "I know I've helped people out here."
If he could, he said, Cloud would keep demonstrating highway patrol's rollover simulator. 
Cloud said he'll continue his 15-year service with Big Brothers Big Sisters, mentoring the youth, as well as volunteering at Teen Court and Take Stock in Children.
"I'm still going to be involved with community," he said.
Cloud didn't want to say much on the record about his second-proudest moment as a trooper, except for: 
"I'm going to say that the speed limit is only 70 mph on the interstate where they wanted to make it 75," he said, "and I'm proud of what I said, when I said it and why I said it."
Cloud was probably referring to the comments he made to then-Gov. Rick Scott while speaking at the May 2014 funeral of his colleague and friend, Trooper Chelsea Richard.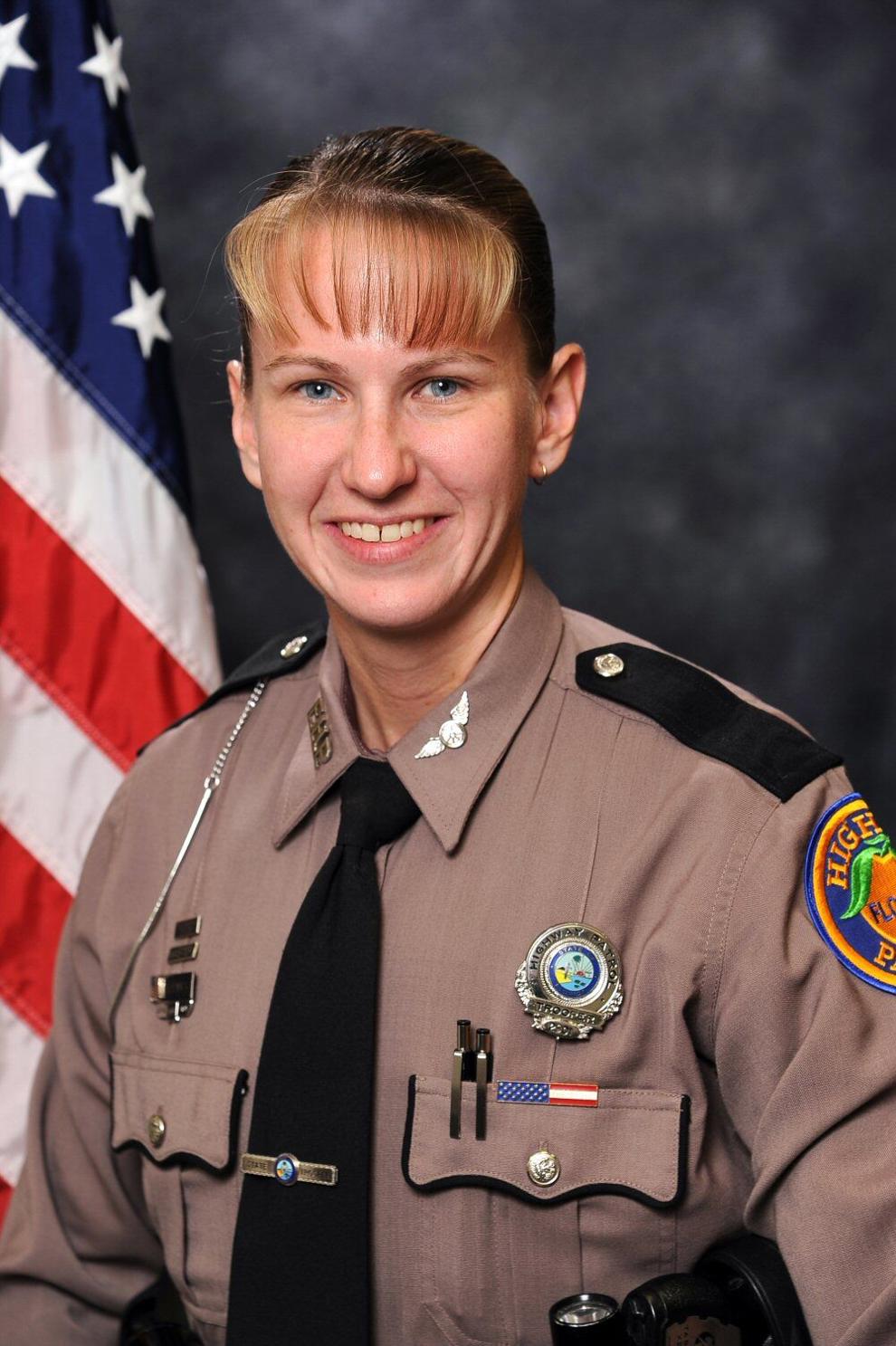 Richard, who started with highway patrol in June 2005, was fatally struck alongside two others on May 3, 2014, while she was investigating a crash on Interstate 75 near Ocala. She was 30, and her death led to the launch of Florida's "Move Over" awareness campaign.
Cloud told Scott at the service Florida lawmakers should not approve a bill seeking to raise the highway's speed limit.
Asked how he's evolved throughout his law enforcement career, Cloud said he's become more "godly."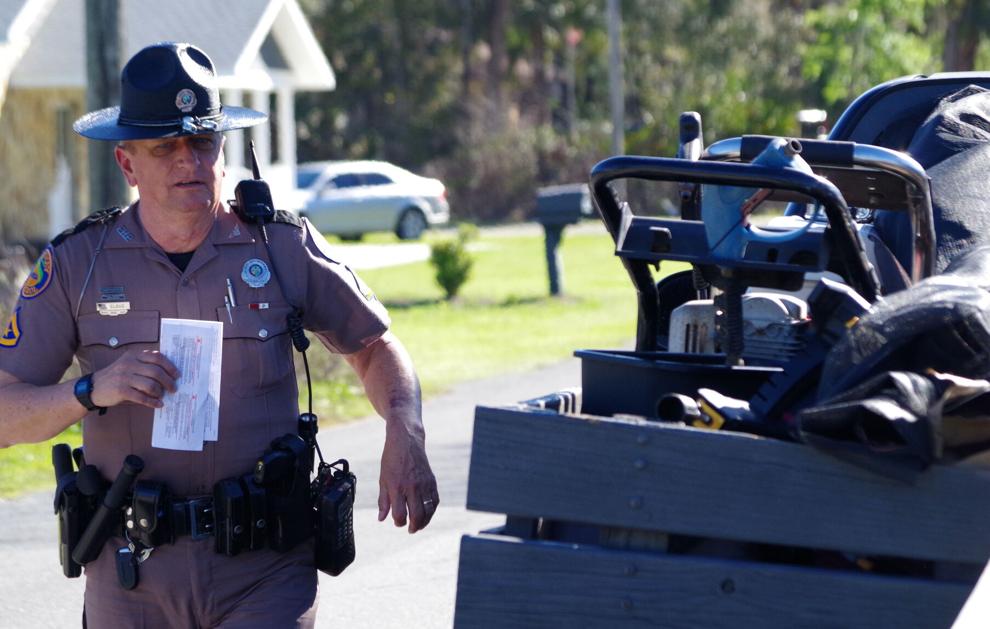 "Not religious but more godly, more faithful," he said. "I know the man upstairs has been looking out for me."
Cloud's biggest challenges as a trooper, he said, was telling someone their loved one died because of a vehicle crash.
"In my first year as a trooper, I've seen more serious injury and death ... than I did those whole nine years," he said, referring to his policeman days. "It is a challenging job when it comes to what you can handle, what you can't handle."
Nonetheless, he said, Cloud will remain one of law enforcement's biggest supporters and recruiters. 
"Just do it if it's in your heart because it's still an honorable profession, and it depends on the individuals that do it," he said. "I hope and pray they put somebody good in my spot."