As it get down to the wire for impacts of Hurricane Ian hitting Citrus County, four hurricane-ready schools became shelters late Tuesday, Sept. 27, and people trickled in throughout the evening.
Jacqueline Devine arrived at the Lecanto Primary School shelter Tuesday evening with her cat Athena, hoping the shelter would provide the same good experience she had staying there during a previous storm.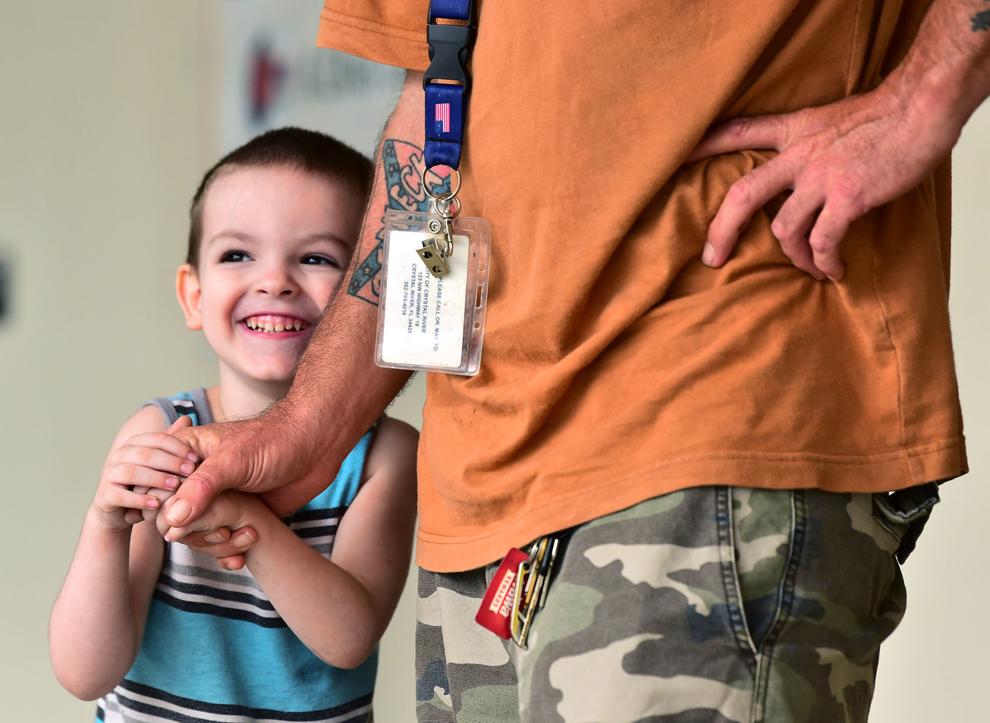 "I came here a couple years ago and I was very happy with it, so I looked it up online and I was like 'that looks like the same one!' It was a pretty good stay last time, but I think my cat was traumatized," said Devine.
Between having trees come down around her house this year and being by herself with her cat, Devine said it makes more sense to her to be careful and safe at a shelter regardless of what happens.
Gary Haralson was parked in the LPS parking lot before the shelter even opened, waiting to check his dog Mindy in and get situated inside.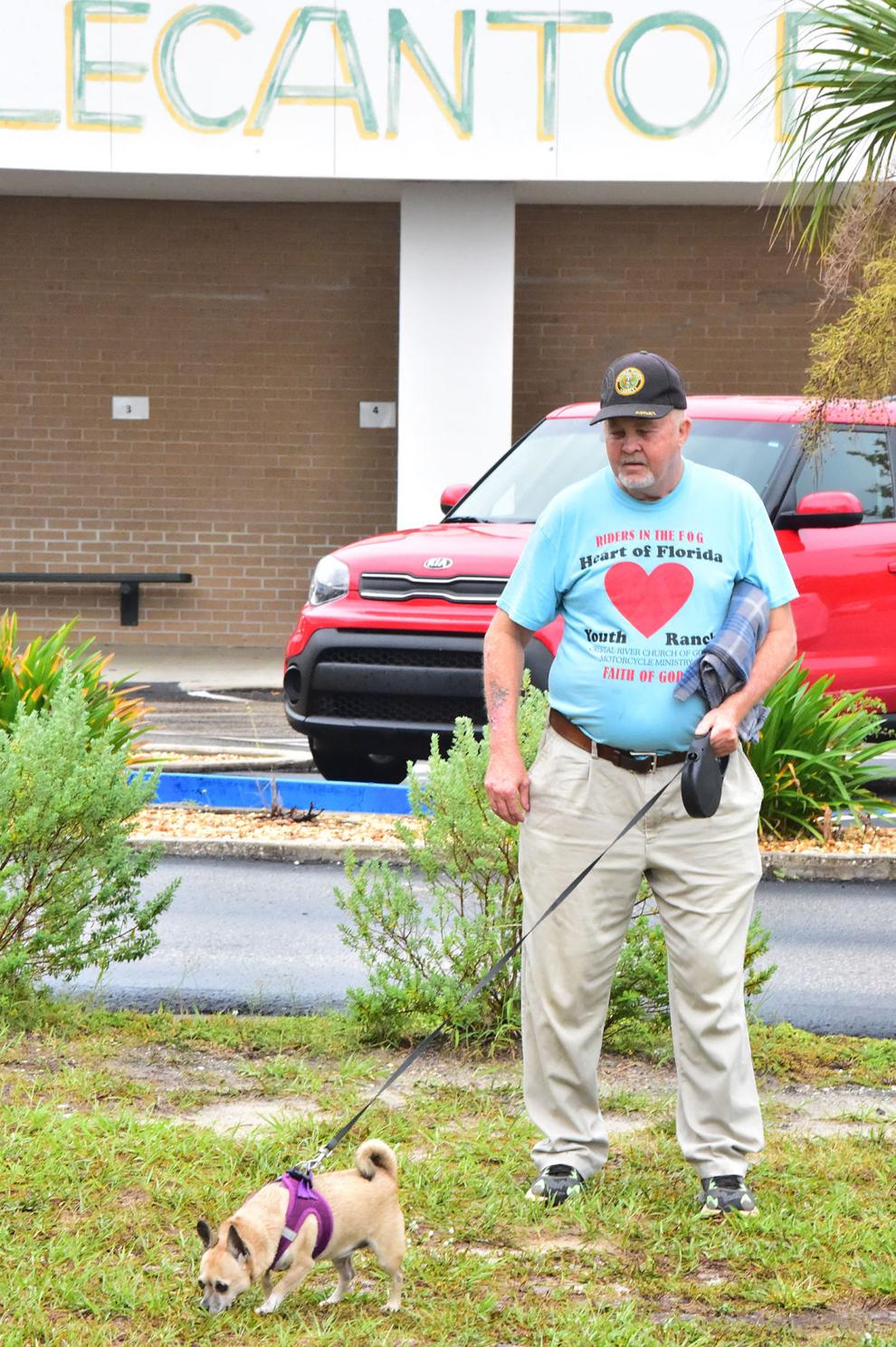 "I live in a 24-foot trailer, so somewhere to weather out the storm, to be safe," said Haralson.
Fred Buterson shrugged his shoulders and said "it is what it is and we ain't gonna be able to change nothing" as he waited to get his animals checked in. He came with Sally Burget on a county transit bus, along with their cat Taco and Chihuahua Susie.
"I know we're going to have flooding around our house and the power's going to be out," said Burget.
The two live in a mobile home together in Crystal River and, after a tree falling compromised their roof during Hurricane Irma, they decided it'd be safer to go to a shelter.
After staying the first night in the cafeteria and seeming content Wednesday morning, Sept. 28, Burget reported she had a pretty good first night's sleep.
Tim Denney just moved here six weeks ago from Ohio, so Ian is his first hurricane experience here in Citrus County. He and his dog Gracie took shelter at LPS Tuesday night, saying he just wanted "safety for him and his critters" and that he's just hoping he has a house to go back to.
The pet-friendly shelter at Lecanto Primary School ended up with about 31 people and 15 pets taken in Tuesday night.
Shelter capacities as of Wednesday morning, Sept. 28, are:
Lecanto Primary (Pet Friendly): 31 sheltering, max capacity is 1,012
Citrus High School (General Population): 15 sheltering, max capacity is 1,150
Forest Ridge Elementary (Special Needs): 21 sheltering, max capacity is 1,468
Central Ridge Elementary (General Population): 17 sheltering, max capacity is 1,146
To stay at the LPS shelter, according to Animal Control officer Bo Gallant, the pets have to be friendly and either on a leash or in a crate to be brought in. The animal has to stay inside a crate, which Animal Control provides, and is kept lined up down the hallways while the people stay in the cafeteria.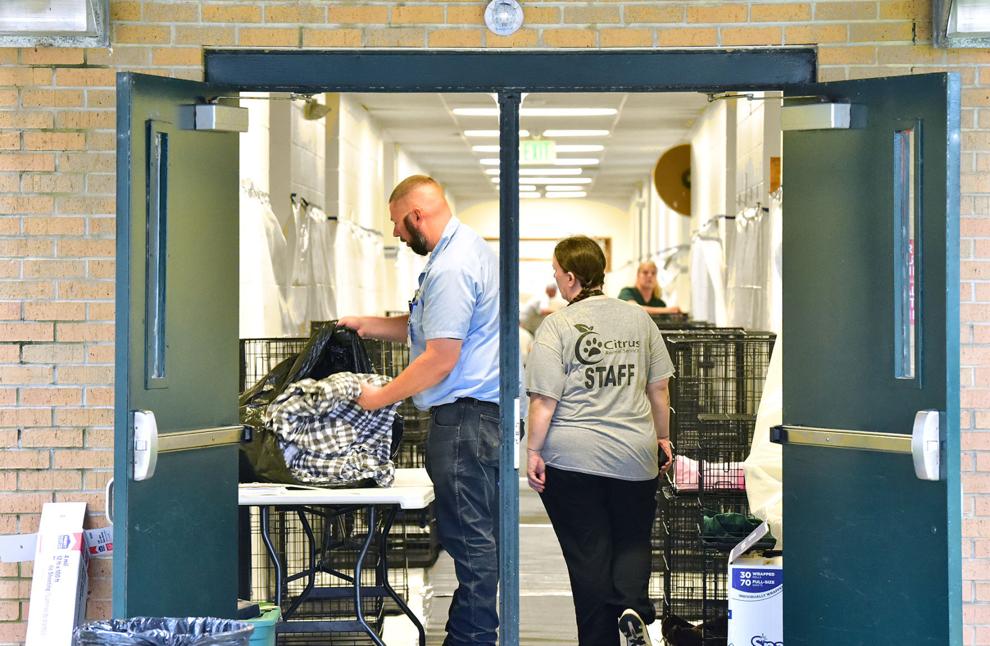 "If you want to come and see your dog, you're more than welcome to at any time," said Gallant. "You can take it and bring it outside for a walk as long as the weather's good."
Just after opening at 6 p.m., Animal Control at LPS had to turn away a dog that was being aggressive towards a smaller dog. The people could stay, but the dog had to be kept elsewhere. Pets being friendly is a must at the shelter to prevent any sort of fights, Gallant said.
While owners can bring their own food and water for their pets, the shelter also prepared supplies for the pets.
As of now, the shelters are still prepared for an influx of transplants from further south who travel up the Suncoast Parkway to escape the storm, as well as those who wait until last minute to decide.
Public shelters should be an option of last resort, Citrus County Sheriff's Office spokeswoman Brittney Carman wrote in a news release. Citizens should make all preparations to shelter with family or friends and exhaust all other options before utilizing a public shelter, Carman added.
Sexual offenders must report to the Citrus County Detention Facility to seek shelter if needed. The facility is at 2604 W. Woodland Ridge Drive, Lecanto.