On Feb. 23, a coalition of community groups joins together to bring some heart, soul and mind to the area. The 13th annual African American Read-In gets underway at 2:30 p.m. at the College of Central Florida Citrus Campus.
Committee chair Doug Wright says he hopes "Everyone comes out and learns about others and about the interesting pieces of writing from our culture. I hope they'll say, 'I didn't know that.'"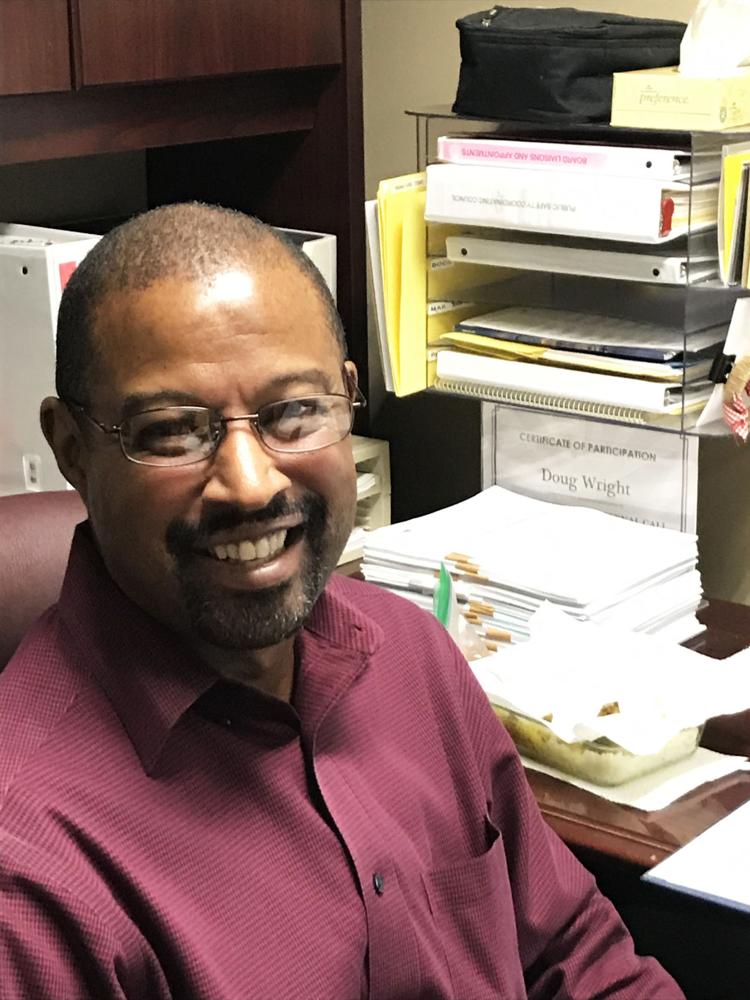 Wright says he's been participating in the Read-In since 2009, when he was a reader for the event.
He enjoyed that performance and returned the next year and ever since, although these days, he's too busy behind the scenes to read.
Wright also serves as the executive assistant to the Citrus County Board of Commissioners.
He says this year, in addition to adults reading a variety of works by African-American writers, "a boatload of youth" from area schools will be performing.
Charles Brooks, a co-teacher at Citrus Springs Middle School, is bringing his approximately 20-student "boatload" to the stage, and they will be reading works from such authors as Langston Hughes, Maya Angelou and Tupac Shakur.
Brooks says he hopes that by participating, students will get an understanding of the value of African-American literature, grasp the importance of cultures that might not be their own, and learn to "speak fluently before a group with passion and heart."
He says he coaches the students to "embrace the audience."
In turn, he says the audience "gets to see who these students might be and what they are able to do. They most likely will become future leaders and they won't shy away from it."
And what do Brooks' students think about all this?
Eighth-grader Julia Harrigan, 14, says she picked the poem, "Still I Rise," by Maya Angelou because she "likes how confident the writer feels. It makes me feel confident. Mr. Brooks says, 'Put yourself into this. You need to feel it and be the best that you can.'"
Brianna Atkins, also a 14-year-old eighth-grader, says what she has enjoyed the most is working with the other students — and Mr. Brooks, whom, she confesses, is her uncle.
"Mr. Brooks is funny and cool ... He encourages us to do stuff that's out of our comfort zone," Atkins says. She is reading "I Dream a World" by Langston Hughes.
Yaneisi Robles, a 15-year-old eighth-grader, says she picked her poem, "one morning late winter," by Jacqueline Woodson, because "Ever since I was a little girl, I've always been so close to my grandpa. It's about helping a grandfather who's sick. My grandpa always worked so hard. The (writer) is looking at this person getting older. I connected to it."
Each student in Brooks' class has a slightly different reason for choosing the piece he or she will be reading and for participating.
Eighth-grader Talana Johnson, 14, who is reading "Sometimes" by Jacqueline Woodson, says she can relate to how the writer "doesn't have a father and struggled with covering this up." She says when she reads, she hopes the audience will "feel an emotion like the pain I've been through."
Sixth-grader Emily Scott, 12, says she feels good about performing. "I'm going to be famous," she says. She is reading "Phenomenal Woman" by Maya Angelou.
Eighth-grader Jalon Banks, 14, is reading "Ballad of Birmingham" by Dudley Randall. The poem is about the 1963 bombing at a church in Birmingham, Alabama, when four girls were killed. Banks says he hopes the audience will "feel the emotion in me." The poem is about a piece of history, Banks says, and he'd like the audience to learn about this "in case they've never heard about it."
Lijuan Butler, 12, a sixth-grader, says although his piece, "Bars Fight," by Lucy Terry, is easy to remember, "I've never performed before a whole bunch of people."
And Lilah Jaroszewski, 13, an eighth-grader who is reading "Fire-Caught" by Langston Hughes, says she picked the piece because she liked it — but also because it's short.
"I'm really nervous," she admits.
Fourteen-year-old Victoria Johnson, an eighth-grader, says she likes her poem, "Praise Song for the Day," by Elizabeth Alexander, because "It emphasizes that everyone is equal." She says she hopes the audience will understand that everyone should be treated fairly and that "Our ancestors have a part in our everyday lives."
Citrus County School Board member Sandy Counts says treating each other without prejudice is something that comes naturally to small children.
"Prejudice is learned," she says. She says she enjoys the Read-In because "It's a feel-good event. It's a wonderful afternoon for a whole spectrum of our community."
Karen Slaska, a board member of the Friends of the Citrus County Library System and of Central Ridge Library in Beverly Hills, arranges the Read-In program. She chooses the works the adults will read, as well as some of the pieces for students.
She's been involved in the Read-In since it started. The retired librarian says she likes to discover unfamiliar works for the Read-In because "It's fun as a librarian to learn new stuff. That's what we do."
For each Read-In, the Friends of the Library donate about 200 books for attendees to take home, Slaska says.
In the opinion of Jim Davis, who has brought musicians to perform at the Read-In for at least six years and who will be performing in a quartet this year, "The wider community needs to experience how exceptionally valuable music and literature operate to bring us over hurdles and long-held misunderstandings we falsely hold."
More than 13 years ago, board members from the Citrus County Historical Society attended a conference and heard about an event similar to the Read-In, says Kathy Turner Thompson, historical resource manager at the Old Courthouse Heritage Museum. "Museums have always collaborated with other groups. And as part of the humanities, reading is important," she says.
The historical society members collaborated with area school districts, the Afro-American Club of Citrus County, the Citrus Campus of the College of Central Florida, and other area businesses and foundations to stage the first event.
This year, the Read-In committee is giving $100 certificates to each school with students who are participating. The Afro- American Club is providing refreshments.
The Supervisor of Elections and the Citrus County Education Foundation are offering information at tables they will set up, according to Read-In committee chair Wright.
In addition to Citrus Springs Middle School, Lecanto Middle School, Seven Rivers Christian School and E-Nini-Hassee school are among the schools participating.
As school board member Counts sees it, "This is a good day for great readings from all levels, from children up to grandparents ... It's a good chance for unity. It's about coming together at every level."