The annual Teen Town Hall was hosted by the Anti-Drug Coalition and local community partners Jan. 24 to give Citrus County teens a voice on several important topics. 
Fifty-six Citrus County High School students participated from across five schools including Citrus, Crystal River and Lecanto, along with representatives from Seven Rivers and Pace.
Students were nominated by guidance staff, social workers and other faculty to attend the event, which is an excused day of school for those participating. The students were given the opportunity to choose which breakout session they wanted to participate in, which included mental health, substance use, violence or relationships.
The groups were led by facilitators who were experts in their field, and included staff from organizations such as Eckerd Connects, Florida Department of Health, Citrus Abuse Shelter Association (CASA), Aspire Relationship Center, Lifestream Behavioral, Citrus County Sheriff's Office, Hanley Foundation and Citrus County Schools. Facilitators initiated the discussion, but then encouraged students to brainstorm about ways that they can help impact change in their schools and community by working jointly on a presentation.
Each group presented their idea or concept to the facilitators, parents and other community leaders who attended. Among those who attended the presentations was Angela Vick, Clerk of Courts for Citrus County, who stated, "What a privilege to be a sponsor for the Teen Town event and what a pleasure to attend and view the amazing presentations by the students. The level of engagement was impressive and I am encouraged by the message and the impact of these projects. I am convinced this type of initiative will truly make a difference for the youth and young adults in Citrus County."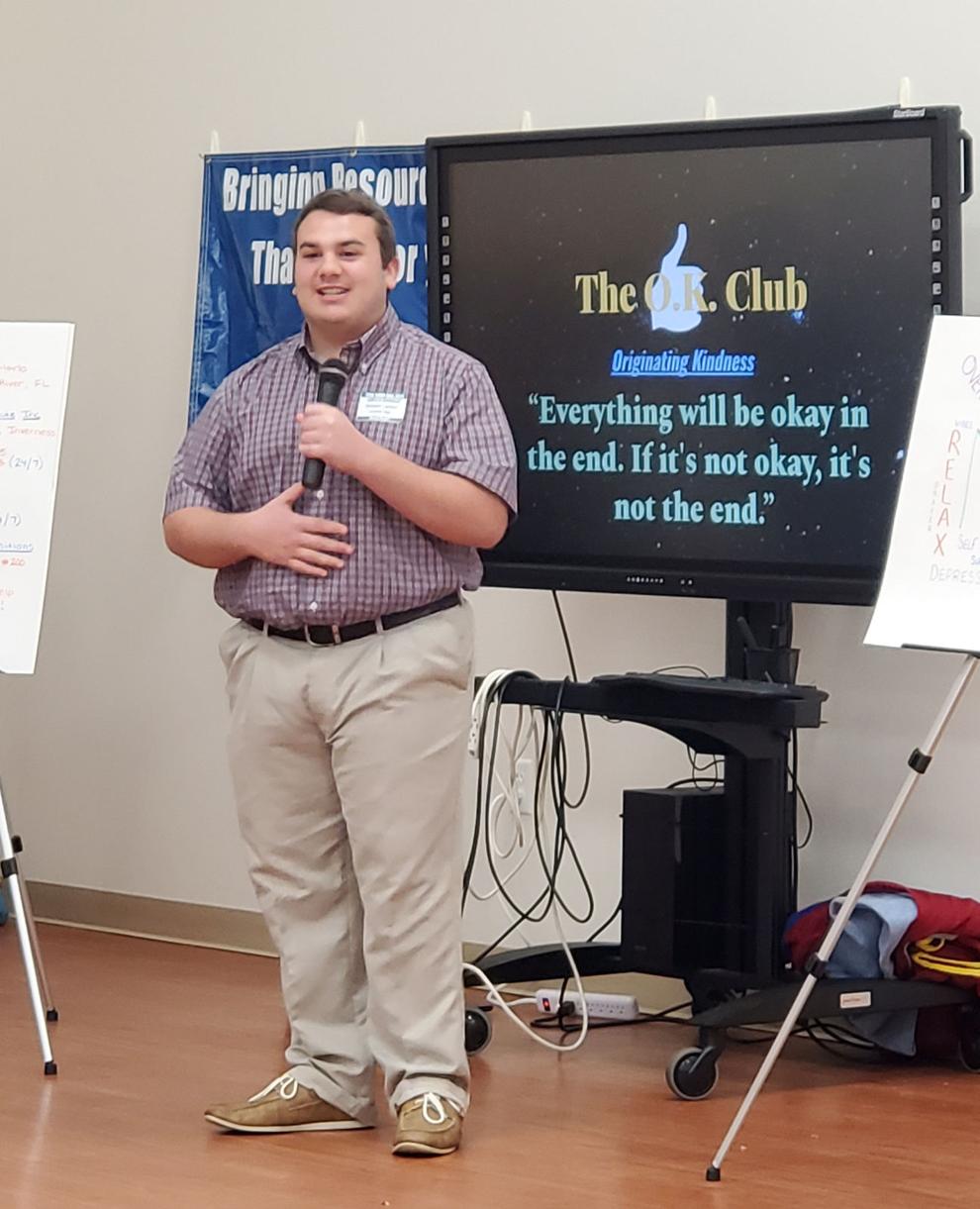 Several unique ideas were offered, including the mental health's group presentation, which centered around the stress that students often face with the busy schedules, pressure for scholarships, college choices and then general peer pressure. Students talked about the stigma associated with mental health issues, even at their age, and how many students are dealing with anxiety, depression and suicide. The group came up with the "Ok Club" designing their own logo, where OK stands for "Originating Kindness." The motto of the club makes a powerful statement by saying, "Everything will be OK in the end, and if it's not OK, it's not the end."
The substance use and addictions group had another homerun idea with the SAME Club. This club was proposed as a mentoring movement where high school students would become trained and mobilized to act as mentors to middle school students. Recognizing how many middle school students often feel insecure and become involved in substance use in the first place, they arrived at the SAME concept, which stands for Support, Advocate, Mentor and Educate.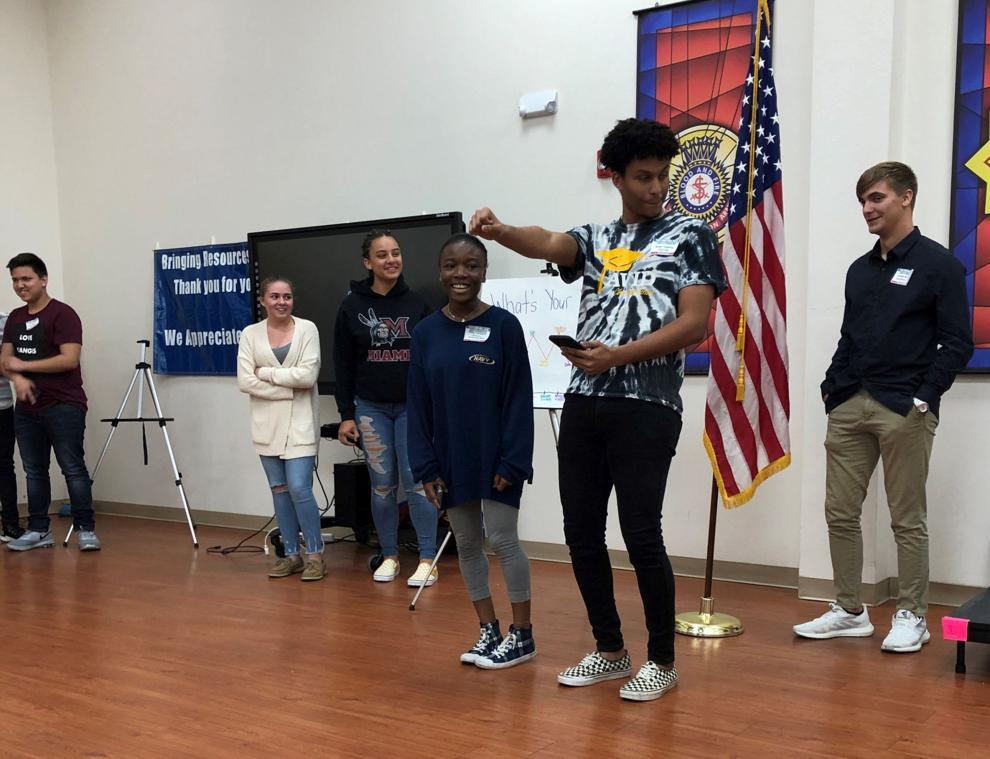 The relationships group presentation focused on boundaries, where students gave clear direction on the impacts of engaging in intimacy that they may not be prepared for when boundaries are not observed in advance. These students illustrated through a skit concerns about peer pressure, appropriate dress, and how a lack of true respect can lead to complications such as teen pregnancy, emotional issues, brokenness and rejection.
Leaving everyone in the room with a sense of surrealness, was the violence group. Both the students in the group, as well as certain members of the audience, participated by writing down (anonymously) acts of violence that they had witnessed. Papers were crumpled up and thrown into a basket to keep the anonymity. Statements were read aloud such as, "My mother and stepfather stabbed each other, and they are still together."
Perhaps the most pivotal moment in Teen Town Hall 2020 though was when a student, Reanna, stepped forward to share a personal account. This student shared her own experience of where she had been a witness to her sibling being abused that included a severe injury, which was followed by her family leaving their home and staying in the local shelter, CASA.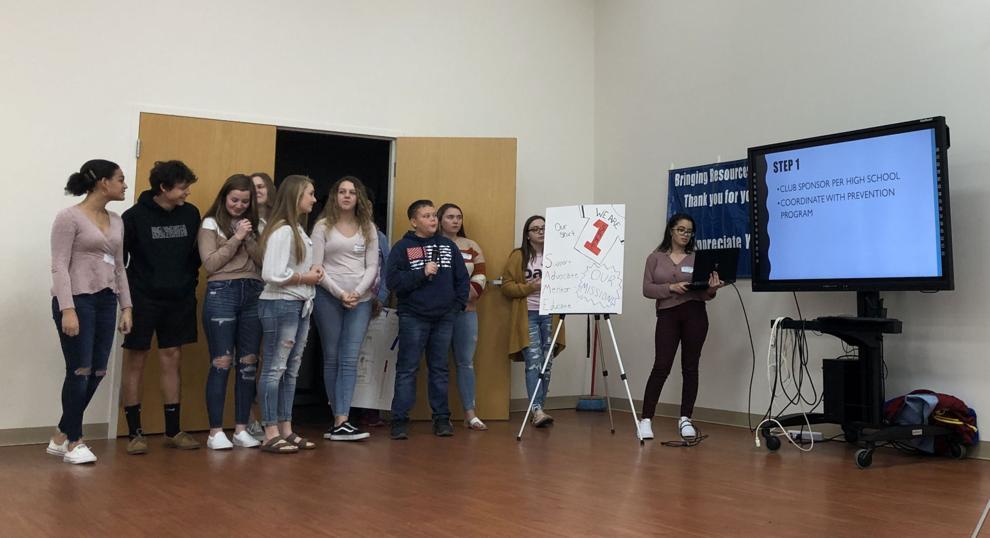 "It was particularly moving to see the courage that Reanna had to step forward and share not only with peers, but special guests too, what she and her family had gone through concerning domestic violence and the impacts," said Renea Teaster, executive director for the Anti-Drug Coalition of Citrus County. "Teen Town Hall is meant to be a forum where students discuss ideas that can be implemented into real solutions, but when you hear a story like this, it just leaves you in total awe, knowing this student has experienced difficult circumstances and risen to overcome them."
In closing, Teaster thanked the sponsors and students for participating in Teen Town Hall and using creativity to help bring awareness to the topics discussed. She also challenged the school faculty and leaders in attendance at the presentations to join forces and assist by helping students to put their ideas into action by utilizing local resources so that the work and ideas generated could become a reality through community campaigns.