In emergency situations, the handling of the aftermath can be just as important as the incident itself and the Citrus County School District is taking steps to be prepared for such situations.
A two-day training session was held on Tuesday and Wednesday this week to implement the procedure for the reunification process of parents with their children following evacuation during an emergency situation, which could be anything from a tornado, bomb threat, gas leak or active shooter situation.
"It's something we hope we never have to use," said Superintendent Sam Himmel. "But we want to be prepared in case anything ever happens."
The first day of training was mainly about theories and how to put the plan in action, the second was actual practice time, according to Dave Vincent, Citrus County School District police chief and school safety specialist.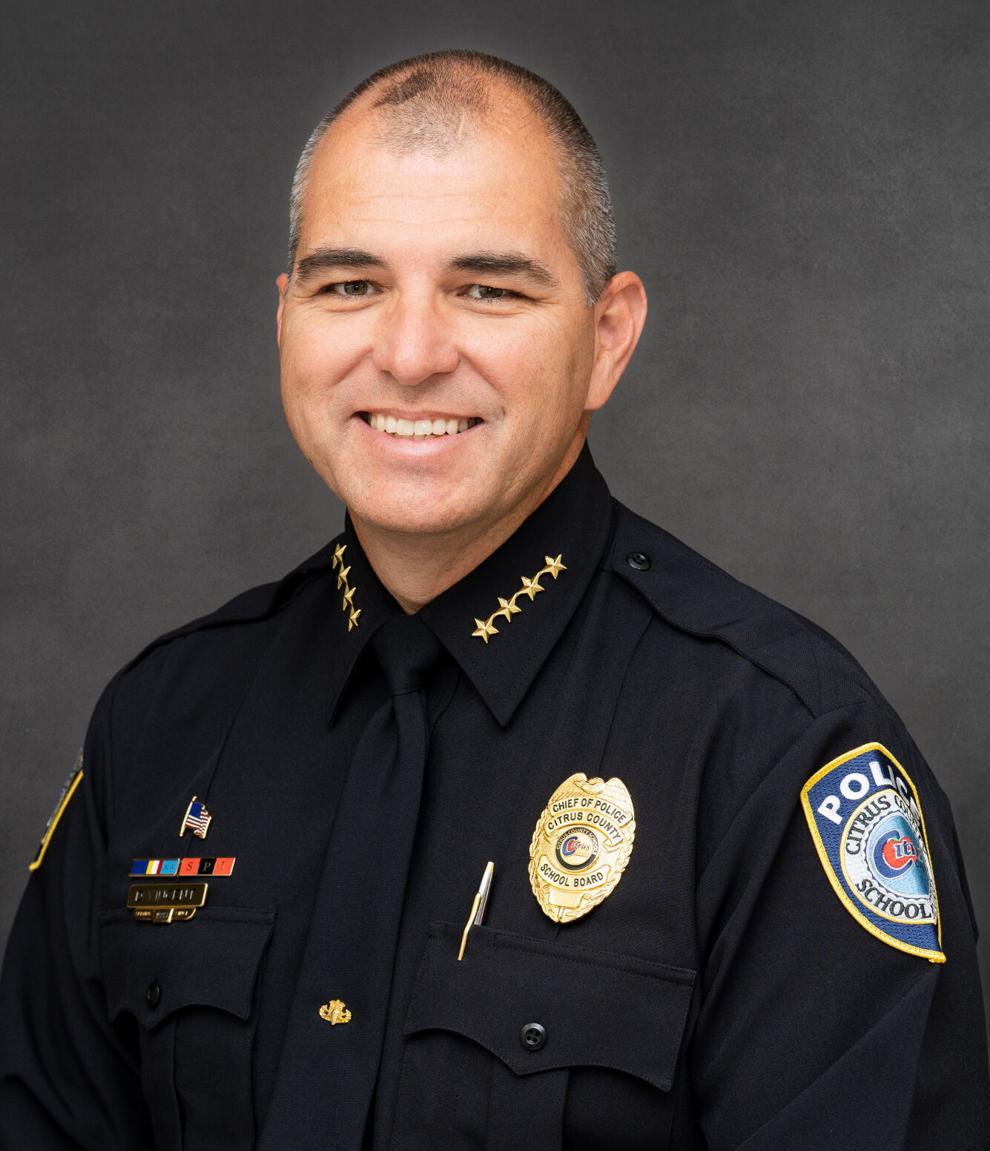 "Getting an educator to think in an incident command structure, I thought would be a challenge, but everybody's kind of embracing that and starting to figure out who to go to," said Chief Vincent.
Essentially, as the students are being transported on buses to the designated evacuation area, parents/guardians are able to go ahead and begin the process of reunification.
First step: They will check in and fill out a paper slip with both them and their child's information. The official "Checkers" will verify via Skyward that the person actually is a parent, guardian or someone with permission to pick up a student – this is where having your student's emergency pick-up list updated is important.
Second step: Parents/guardians will keep part of the slip while the Checkers hand off the other part to the "Accountants" who will verify also via Skyward whether or not the student is there at the site. The Accountants also receive the bus attendance sheets as they arrive so they know exactly what and how many students are there and who they need to track down. This is also where the importance of teachers taking attendance every class period comes in, so that in the event of an emergency, the district knows which kids were actually in school that day. All of this will happen simultaneously with the Checkers.
Third step: Parents/guardians will take their slip to the Reunifiers who will then call for the student to be sent over to the reunification area to be reunited with their parent/guardian. They will then be directed outside and away from the crowd and back to their cars.
While this process may seem complicated, it is necessary to make sure that all students are accounted for and their whereabouts are known.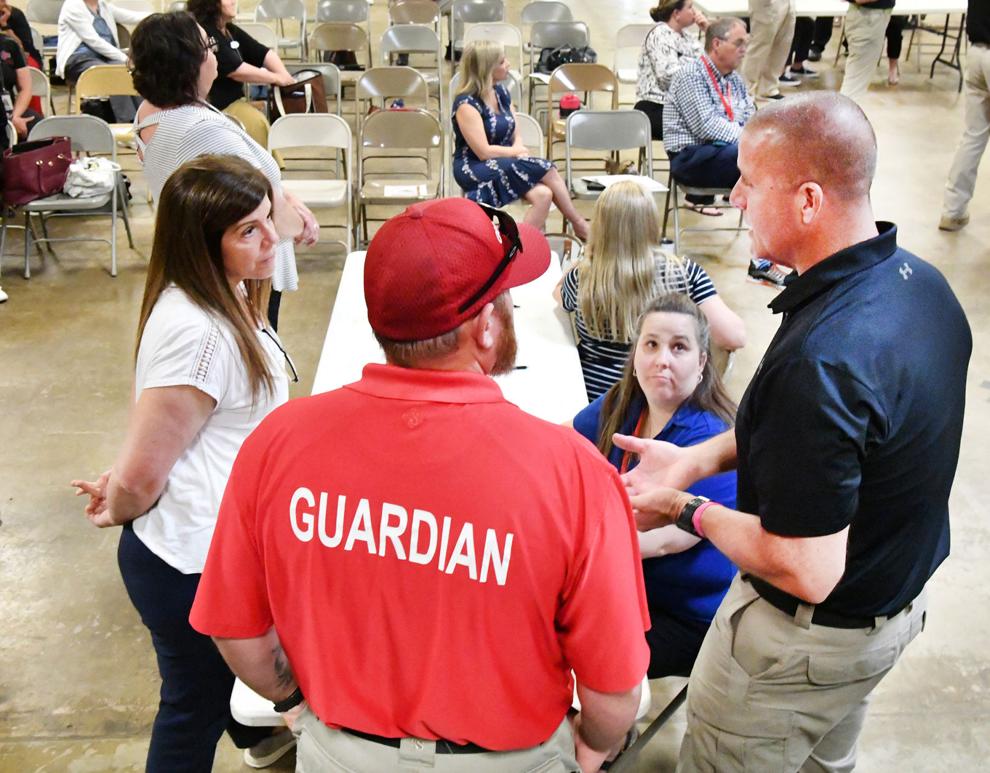 In light of recent events in Uvalde, Texas, it is more important than ever to make sure that everyone in the district is on the same page about this process, so that if an incident ever did happen, everyone knows where to go and what to do.
"What we want our parents and students to know is that there is a process," said Chief Vincent. "I think that when you look back at incidents across the country, there is a lot of criticism for what happens after the fact. I'm not here to say it's easy or criticize anybody's process, but it's a complicated process and having a plan and doing trainings like this to make it easier for both staff members and parents is really important. I hope that our community sees the effort that we're putting forward."
This two-day training has been in the works for a year now, having contacted the "I Love U Guys" Foundation during the planning to come and help facilitate the process.
Stacy Avila and Kevin Burd from the "I Love U Guys" Foundation led the training days in collaboration with Chief Vincent to establish their Reunification Method and get the district ready.
"It's evident that they are committed and dedicated to the safety of their students and taking it to the point of bringing us in to assist and guide them in their reunification plans," said Burd. "It's just been a great experience and I think they're taking away a lot from it."
The training was mandatory for school district employees and school administrators, as well as any teachers contracted with the county, with an overall turnout of about 75 people participating in the training days, including the school district police department. This process bridges the gap between the law enforcement, first responders and educators.
"With having a predominantly educator-attended class, questions come up about, 'Well while this is going on, what's going on, on the first responders' side?'" said Burd. "It's nice to hear the feedback from the educators side so that they know there's a plan in place and there's training taking place on the first responders' side that parallels what they are trying to do for the school because at the end it's all about the safety of our schools and saving lives."
"Talking it through and practicing with drills builds up muscle memory," said Avila. "And then now moving on to the exercises and simulating an event to test your capacity."
In addition to what is going on inside the building, there is an established traffic plan as well that will be enforced by law enforcement officers to ensure that parents/guardians don't intercept their students as they exit the buses. The only way to ensure everyone is accounted for is to keep things separate until the parents/guardians go through the proper verification process before the child is released to them.
"You never want the real thing to be the first time you try something, so my hopes is that we do this every year as positions change to refresh it," said Chief Vincent.
Better to be over prepared than under and Citrus County School District is making moves to keep student safety one of its top priorities.
"This will work for the lowest stress thing to the highest stress thing," said Avila.
Avila herself is a retired police officer from Colorado who was also a hostage negotiator. On September 27, 2006, she found herself the hostage negotiator during the Platte Canyon High School shooting. Unfortunately, they lost one of the students, Emily Keyes, who was shot and killed during the incident. It was her parents, Ellen and John Keyes, who started the "I Love U Guys" Foundation that Avila is now a part of.
"They really wanted to put their energy and focus not in being the angry parents, they put their energy and focus into what could they do to make schools safer?" said Avila.
Having that first-hand experience in an emergency situation means that Avila brings real world knowledge to the table about how events will actually go down day of, something that will greatly benefit Citrus County after learning from her these past two days.
"I really respect all the work Citrus County has done in preparing and not waiting for something to happen first," said Avila.