In the wake of the death of Citrus High School student-athlete Antonio Hicks during a recent football practice, the Citrus County School District may reconsider employing athletic trainers.
Athletic trainers are trained to detect subtle health issues that may go unnoticed by coaching staff and have protocols in place for student injuries. They also have authority to pull students out of games and practices if necessary.
At the Chronicle Editorial Board meeting Wednesday morning, Assistant Superintendent and Athletic Director Jonny Bishop said the potential employment of athletic trainers will likely be discussed during their staffing process, which takes place in January of each year.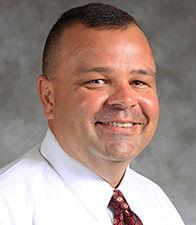 Bishop requested support for the hiring of athletic trainers during a 2008 school board workshop, but the district never pursued the issue. However, Bishop emphasized that if an athletic trainer had been on scene during practice, it doesn't mean the outcome of Hicks' death would have been different. 
Bishop added that coaching staff is required to have certifications in CPR, heat related illnesses cert and automated external defibrillators (AED). In addition, coaches receive cardiac arrest training and students are required to submit a physical examination for their safety. 
"Parents have a reasonable expectation that they get their kids back at the end of the day," Bishop said, noting the CHS coaching staff did everything in their power to bring Hicks home to his parents, including the use of CPR and an AED. 
Although he wishes the outcome was different, "We are proud of the way those coaches handled that situation," Bishop added.
At Tuesday evening's Citrus County School Board meeting, board member Doug Dodd said a discussion on athletic trainers is something he'd like to see.
"It certainly is worth the discussion," Dodd said.
Bishop said the district is continuing their inquiry regarding Hicks' death.
"We're going to look into everything," he said. "We began that process immediately."
The most critical information from the incident, Bishop said, lies in the kids who were there during practice. He said the timeline of the inquiry depends on the rate at which the district's risk management team can speak with them.
However, Bishop said they understand it will be difficult for students to talk about.
"They're struggling," he said. "They lost a brother."
The team took baby steps before getting back on the field, Bishop added. At their first few practices, "They talked about life — they talked about things bigger than football."
Bishop also praised CHS head football coach McKinley Franklin for leading the team through Hicks' death.
"Coach Franklin — he's hurting," Bishop said. "He's a man before he's a coach, he's a dad before he's a coach."