On a recent day at Crystal River Middle School, it was all about the Socratic Method and poetry, then lessons about manatees and how the weather affects them.
Tammy Rall, Crystal River Middle School Science teacher, blended these lessons together during the students' lessons about our environment.
Also helping with the Socratic Method — so named for philosopher Socrates — were students from the AVID (advancement via individual determination) program and their teacher, Kandy O'Quinn. According to the AVID website, AVID's mission is to "close the achievement gap by preparing all students for college readiness and success in a global society."
Rall had AVID students Lily McBride and Makenzi Verlato, along with O'Quinn, come to her science class "to model a Socratic seminar about weather and manatees, talking about cultural biodiversity in our own area," Rall said.
She also invited Sylvia Liu, an author/illustrator from Virginia, whose passion is the environment, to teach her students about poetry, since they have been studying about the environment.
"The Socratic seminar is a formal discussion, based on a text, in which the leader asks open-ended questions," said Rall. "Within the context of the discussion, students listen closely to the comments of others, thinking critically for themselves, and articulate their own thoughts and their responses to the thoughts of others."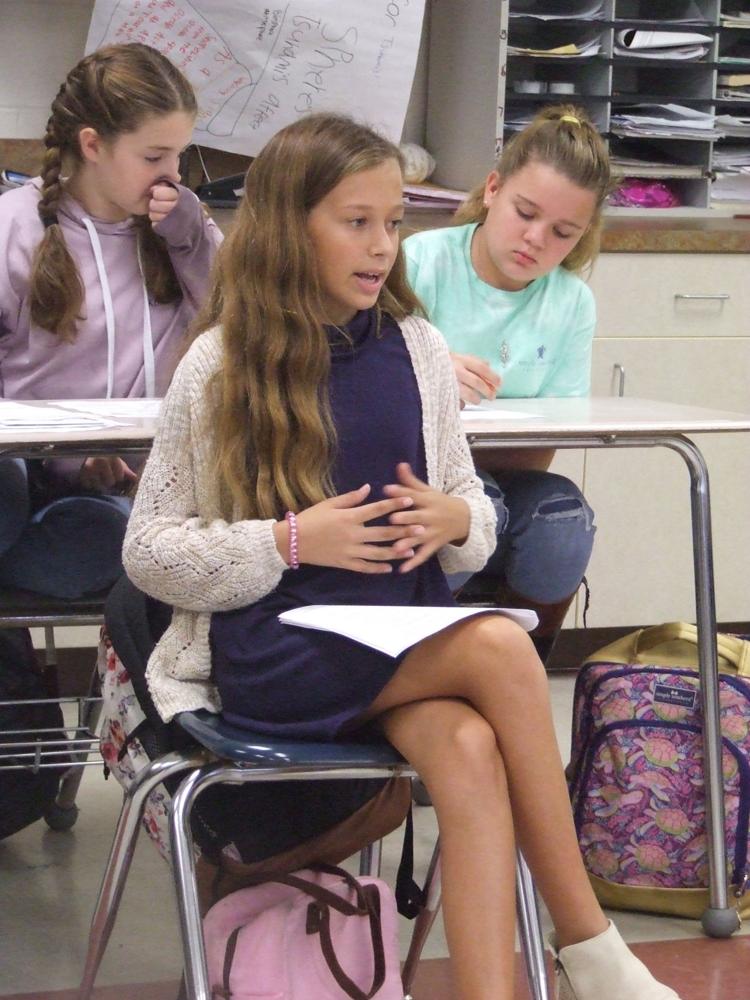 Rall asked the students several questions about the effect the weather has on the manatees, with the science and AVID students interacting about why they migrate here, how weather effects them and more.
"We are lucky to have Three Sisters Springs," Rall said, a place where the manatees love to spend time.
"The Socratic Method teaches students to work cooperatively and to question intelligently and with civility," Rall said.
CRMS students had discussions with each other, trying to find the correct answers to questions during the Socratic seminar.
Liu is a published children's picture book author/illustrator. She now has a new book in the works geared for middle school-age students about a sixth-grader and the manatees, and is using this area for research.
"My first career was in environmental law and I was always looking for creative outlets," said Liu. She was inspired by oceans, cephalopods, ghost crabs and more.
"I was lucky enough to do what I loved, protecting the oceans at the U.S. Department of Justice and the nonprofit group Oceana. Now, I'm even luckier to write and illustrate for kids," she said.
While here, Liu visited Three Sisters Springs and did a manatee boat tour on the Crystal River for her research. She also toured the Homosassa River and met with the Save the Manatee club.
Liu explained the different styles of poetry, onomatopoeia, Tyburn, odes, sonnets, Japanese haiku and more. She did a PowerPoint presentation on a Tyburn poem and had the class try their hand at creating one, while interacting with the students.
She told the students to always write "what you know."
Liu's first picture book, "A Morning with Grandpa," which won the New Voices Award with Lee & Low books in 2013, is about how a little girl teaches her grandfather yoga, while he teaches her tai chi.
Her second book is an anthology of poems called "Thanku," written by different poets, including a Tyburn poem by Liu. She won several awards for her picture books and can be found on Twitter@artsylliu and Facebook at www.facebook.com/Art by SylviaLiu. Her website is: enjoyingplanetearth.