A community cannot survive without its schools.
Schools can't exist without their neighborhoods.
It's a relationship many in Citrus County strive to strengthen, and the Schoolhouse Hustle on Saturday, April 4, is one of the biggest times to show support and spirit for local teachers and students.
Going on seven years, proceeds from the Schoolhouse Hustle, sponsored this year by the Suncoast Credit Union, have benefitted the Citrus County Education Foundation (CCEF), a nonprofit that's assisted county public schools since 1988.
Each hustle has brought in between $10,000 and $15,000.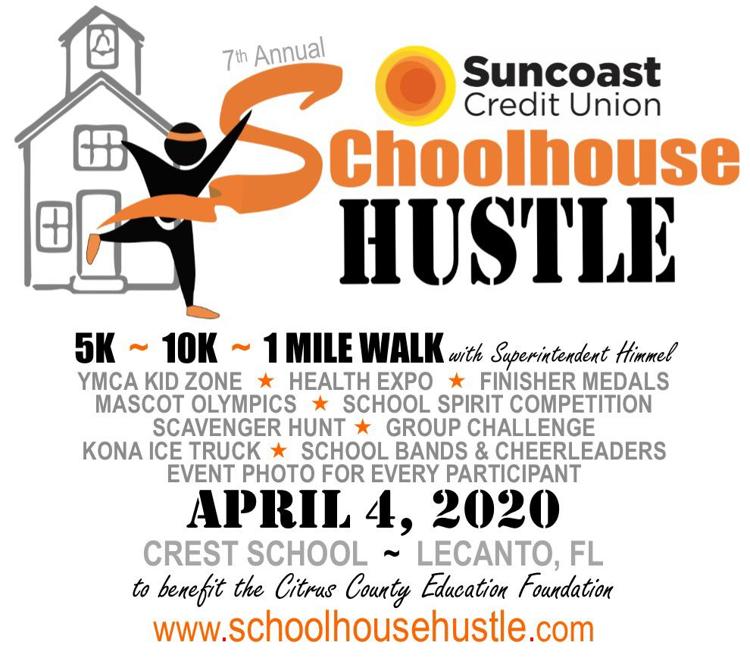 All are invited to register for a run or walk in the 2020 hustle's 5K or 10K that starts at 8 a.m. at the Roger Weaver Lecanto Educational Complex, 2600 S. Panther Pride Drive, Lecanto.
"This event is a fundraising event but it's also more of a school-community event," CCEF Executive Director Shaunda Burdette said. "We're trying to touch all facets: the circuit runners … the families who want to spend time with their kids … the teachers who just want to come and celebrate education."
Those who preregister get a T-shirt. Race day registration opens at 7 a.m. 
There will be awards for overall individual men and women, for individual men and women over 40 years old and for age groups based on times recorded by DRC Sports. Finisher medals will be given out to participants.
Following the run, Superintendent of Schools Sandra "Sam" Himmel is leading a 1-mile "Walk For Chalk."
"It's just fun," said Tracy Blair Bryson, CCEF board member and Schoolhouse Hustle committee chair. "They'll be around 1,000 people on that Lecanto campus."
For the first time, CCEF and the school district's transportation department are partnering to bus elementary students and their families for free from their respective schools to this year's Schoolhouse Hustle.
Parents can expect to see a field trip notice from their child's school around March 1, and must turn it in by March 19.
Citrus County's YMCA will host a kid's zone and free daycare at the Schoolhouse Hustle for potty-trained children whose parents are participants.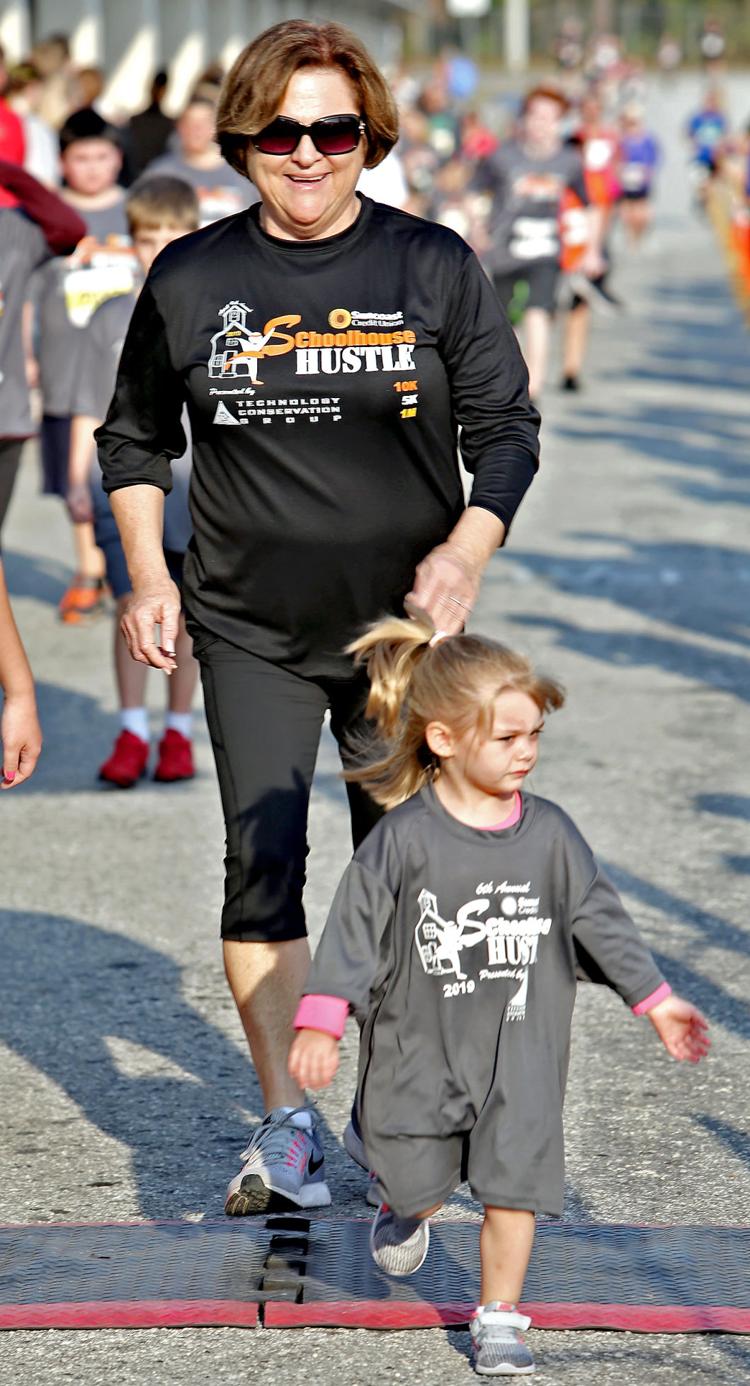 There will also be a family health expo and scavenger hunt at the educational complex' CREST School, featuring roughly 20 vendors.
"We have groups … people who are trying to get out in the community and work with kids," Bryson said.
Mascots from most of the county's schools are also going head-to-head in an Olympics-style showdown, starting at 7:30 a.m.
Showing off school colors is highly encouraged, and student participation could earn two schools $1,000 each for their attendance. 
"We have traveling trophies, and those things mean a lot to those principals," Bryson said. "It's good for school spirit and it's good for families."
Schoolhouse Hustle attendance during its first year in 2014 totaled around 500. Last year, it brought in 851 people, including 493 runners and 358 walkers. In 2018, 1,004 attendees showed.
"It has doubled in size since its inception," Burdette said. "It's a great day everyone looks forward to."
To learn more about the Citrus County Education Foundation, its future fundraisers and events, visit www.cirtuseducation.org.