Citrus County Education Foundation partners continue to go all-in for another school year to give teachers and students what they need to strive in classrooms.
For roughly 30 years, it's been the nonprofit's mission to work with the Citrus County School District on how it and its local donors can fill in the gaps left open by lacks in government funding.
CCEF and its 21-member volunteer board are busy year-round with community-backed events, programs, grant and scholarship awards that either strengthen or begin educative initiatives. 
"We have something every month to bring the community together to celebrate education," said Shaunda Burdette, CCEF's executive director of three years.
Burdette, who's been with CCEF for 10 years, said it's grown over the years, building its donor base and its services to the district.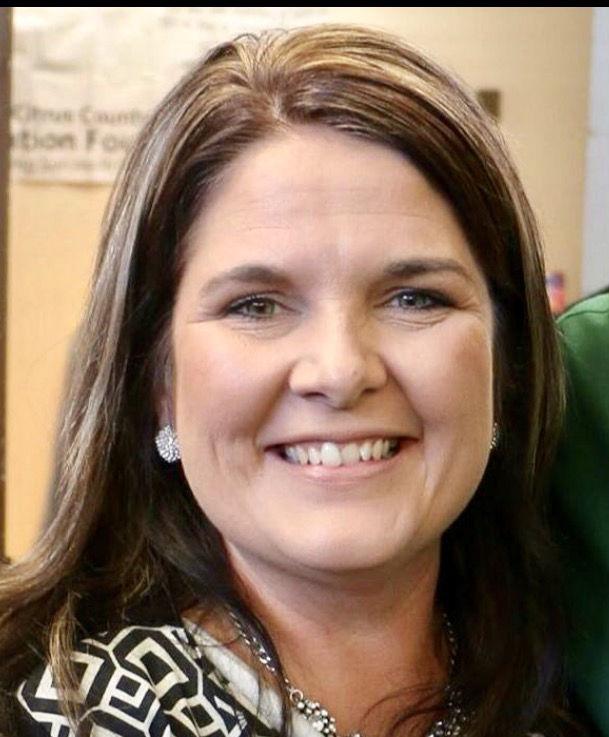 Over the first 25 years of its existence, CCEF put a total $1 million back into local schools. CCEF raised the same amount during the next three years, and brought in $800,000 last year, Burdette said.
This year will be CCEF's first working out of the Withlacoochee Technical College (WTC), which donated an office headquarters for board members to organize its many functions.
Several of those programs and events are starting soon and over the next few months.
CCEF has its grand reopening of the Suncoast Credit Union's Supplies 4 Success teacher store on Thursday at WTC, providing educators with free items for their classroom or students.
"So they're not spending money out of pocket to get that," Burdette said. "It's very important for us to get that burden off of teachers."
Supplies 4 Success is open from 3 to 6 p.m., Monday through Thursday in room 707, behind the 700 building of WTC, located at 1201 W. Main St., Inverness.
District teachers needing essentials can stop by the store once a month, when their school is scheduled during the first four or five weeks the store is open.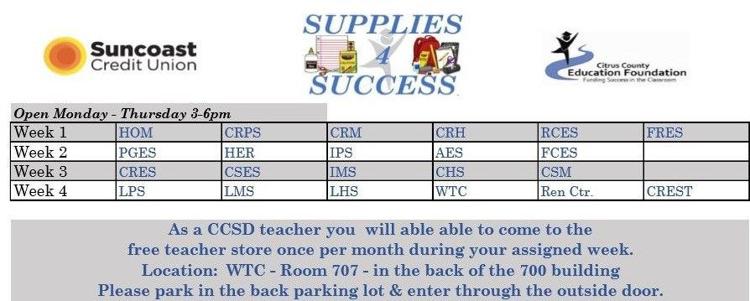 Due to Hurricane Dorian, CCEF rescheduled the store's opening from Tuesday to Thursday, but is inviting teachers who were set to shop on Tuesday and Wednesday to return next week, Burdette said.
Burdette said when the store first opened last year, roughly 500 educators took around $40,000 in supplies.
"Which were donated products from our incredible community," Burdette said. "The minute we say there's a need, they step up."
Burdette said teachers can request what they need, and inventories are restocked weekly.
To donate to Supplies 4 Success, call 352-726-1931 to setup a drop-off time. 
CCEF is also putting on a training session for teachers on how to write grants. This will take place at 5 p.m. on Sept. 17 at the College of Central Florida's Lecanto campus.
These lessons will help teachers write better and more competitive grant applications for the three mini-grants CCEF is offering this year to educators with a cause in mind.
CCEF is currently accepting applications for its Foundation 4 Success Mini-Grant. Download an application at tinyurl.com/y527c5hl.
Recipients will be announced at CCEF's awards gala in November, before CCEF takes applications for its Health and Wellness Mini-Grants, awarded in January.
Burdette said CCEF's Foundation 4 Success and Health and Wellness mini-grants gave out a total of between $10,000 and $20,000 annually about 10 years ago, and now gives out $80,000 to $100,000 a year in private and state-matched monies.
Burdette said CCEF is starting a third mini-grant in February to support teachers of the arts.
CCEF is also overseeing the Lake Hernando Dragon Boat Festival, which has drawn in up to 5,000 people worldwide to chip in proceeds towards CCEF and witness the international qualifying race.
"It's a really great event, and it's one that kind of blossomed here in Citrus County," Burdette said about the Nov. 9 outing.
CCEF's sixth annual Foundation Fest is on Nov. 22 at the Plantation on Crystal River, where a variety of fundraising efforts — a battle of teacher bands, celebrity bartending and a silent auction — will take place.
Information on Citrus County Education Foundation's Foundation Fest
To donate towards the silent auction, contact Burdette or CCEF Associate Director Susan Frampton at 352-726-1931 ext. 2240.