A couple who conspired to burglarize a Lecanto man's home and murder him, a woman's birthday gift to herself leads to her arrest for trafficking meth and a substitute teacher's seduction of teenage boys.
These were some of the most noteworthy criminal cases that ended in 2019, according to Chronicle readers.
Circuit Court Judge Richard "Ric" Howard, who umpires Citrus County's felony cases, presided over 25 trials this year, one less than 2018.
Howard's highest number of trials was 54 in 2002, a year after he took over felony docket.
However, not all cases end with a trial conviction. Many resolve with defendants' agreeing to change their not-guilty pleas for lesser punishments.
Below are the top five most-read cases from this year, based on online page views from the Chronicle's website:
Couple sentenced for Lecanto man's murder: 'If I could bring him back, I'd kill him again.'
Christopher Eugene Smith showed no remorse at his August sentencing for strangling 73-year-old James Thomas Roman to death in April 2017.
"If I could bring him back, I'd kill him again," the Dunnellon 34-year-old said before pleading guilty to his first-degree murder and armed burglary charges in exchange for a pair of concurrent life sentences.
Smith was facing death by lethal injection, but his change of plea removed that possibility.
Sara Jane Atwood, Smith's 25-year-old accomplice from Inverness, was also sentenced in September to 40 years in prison, following her guilty plea in July on amended charges of second-degree murder and armed burglary.
Smith said at his sentencing he was on a mission to kill Roman for sexually abusing Atwood's young daughter and Atwood when Roman was caring for her in her youth.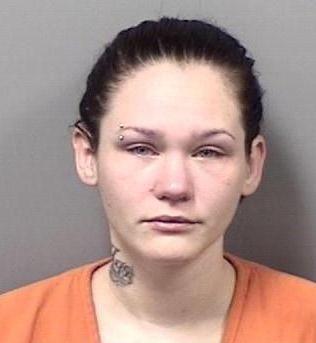 "His comments about the victim ... is a bunch of hogwash," Assistant State Attorney Pete Magrino said about Smith's accusations, and claimed Smith was a criminal gang member who saw an opportunity to rob a vulnerable man.
"I didn't go there to rob anyone," Smith said. "I went there to kill a child molester, and that's all I did."
Smith barged through Roman's front door off of West Cardamon Place when the homeowner opened it for Atwood, who said she was having car troubles, and Smith strangled Roman during a fight.
Citrus County Sheriff's Office deputies discovered Roman's body a few days after authorities recovered his truck that Smith was driving in a pursuit with and Florida Highway Patrol troopers in Marion County.
After Smith served a year and six months in prison for charges connected to the chase, a Citrus County grand jury indicted him and Atwood for Roman's murder in September 2018.
A month after accepting his life sentences, Smith also pleaded no contest in exchange for five years in prison for attacking a jail inmate and holding others hostage with a homemade knife.
Part of Smith's plea allowed him to get a Burger King meal.
Beverly Hills man agrees to serve prison time for shooting man in eatery parking lot
Shane Gallagher-Smith was going to argue at an October court hearing he was acting in self-defense in February when he shot and injured Arnold Green at Dunkin' Donuts parking lot in Inverness.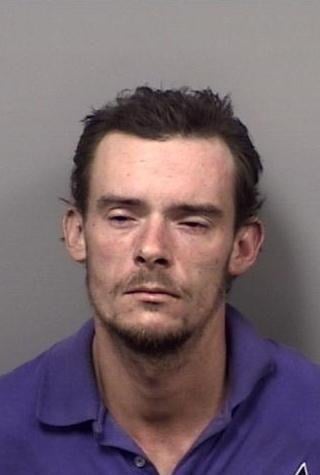 Instead, the Beverly Hills 28-year-old pleaded no contest before his "Stand Your Ground" hearing to charges of aggravated battery with a firearm that discharged and injured someone, possessing a firearm as a convicted felon and possessing methamphetamine.
His change of plea was in exchange for 7 1/2 years in prison. Had Gallagher-Smith lost his self-defense claims and been convicted at his trial later in October, Howard could have sentenced him to up to life in prison with a minimum-mandatory term of 25 years.
Gallagher-Smith fired five rounds at Green, then 37, in the parking lot of the Dunkin' Donuts on the corner of State Road 44 and South Stone Way. 
Their confrontation started when Green got into a dispute with his girlfriend, who's related to Gallagher-Smith.
Green followed Gallagher-Smith to the Dunkin' Donuts after a fight at Green's house. 
While in the eatery's parking lot, Gallagher-Smith suddenly stopped his truck, causing Green to rear-end it. Green and Gallagher-Smith both fled the scene afterward.
Gallagher-Smith opened fire when Green got out to inspect the damage, striking Green in his elbow. 
Brian Trehy, Gallagher-Smith's attorney, was set to argue his client's shooting was justified because Green caused the crash and approached Gallagher-Smith with a knife. 
A warrant was issued for Gallagher-Smith's arrest in March. 
A sheriff's office deputy apprehended Gallagher-Smith as he was riding a motorcycle home with his young son on board, and found Gallagher-Smith with meth.
Youth league volunteer, substitute teacher sentenced for seducing teen boys
A community expressed their dismay for Angela Stanton's during her June sentencing, when Howard ordered the Inverness youth sports league volunteer and beginning substitute teacher to serve eight years in prison for her illicit relationship with two teenage boys.
"Ms. Stanton, they don't hate you," Howard said at the hearing about the roughly 60 public letters he read. "Most of those people despise you, and there's a big difference in that.
"They rue the day they met you."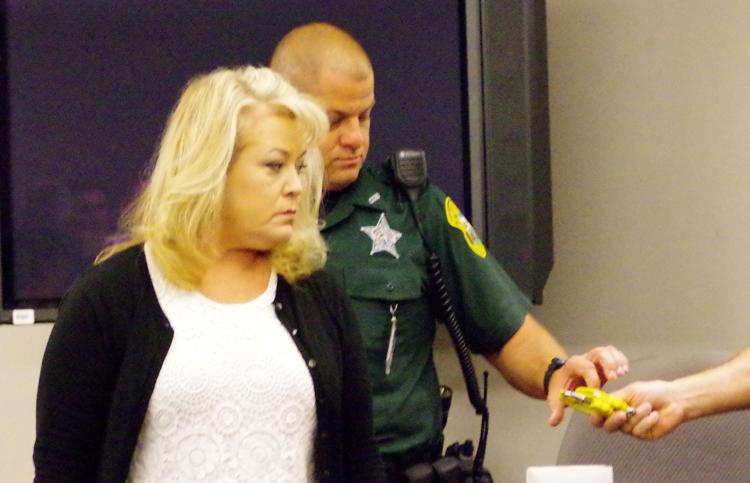 Stanton, 51, of Inverness, pleaded no contest in May to charges of lewd and lascivious battery on a person between 12 and 16 years old and two counts of showing obscene material to a minor.
She sent nude Snapchat images of herself to a pair of boys in the spring and summer of 2018, and performed a sex act on of the boys when he was 15.
Stanton's change of plea was in exchange for a reduced sentence. She was originally facing up to 25 years behind bars.
Sheriff's office investigators and Assistant State Attorney Shannon Schlarf claim Stanton imbedded herself into the boys' family and lives, going to such lengths as to getting a substitute teaching job at Citrus High School, where the teens studied.
Soon after Stanton's Jan. 24 arrest, the Citrus County School Board fired her from her weekslong position at the high school.
Stanton was also removed from her roles with the Inverness Storm cheerleading and football organization.
"As I sit here today, broken and distraught, I am extremely remorseful but also full of fear," Stanton said at sentencing. "The way I acted was unacceptable; it was very out of character for me. I would never have thought in my lifetime that I would be capable of anything like this."
Woman spends birthday money on trafficking weight of meth; sentenced to eight years
When Stephanie Ann Revel in February spent $900 in birthday money from her boyfriend, she bought just over 14 grams of meth that deputies found at a traffic stop a couple days later.
Before sentencing Revel to eight years in prison, including a three-year minimum-mandatory prison term, Howard asked the Beverly Hills 34-year-old why she didn't spend the money on her two kids.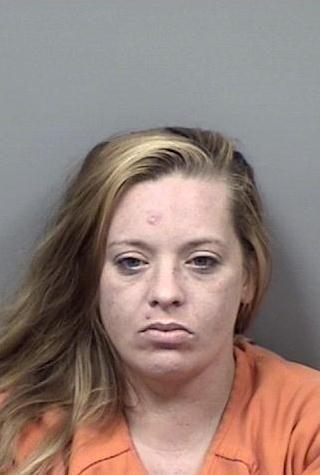 "I pray my children learn from my mistakes, I take full responsibility for my actions," she said. "I truly am ashamed and remorseful."
Instead of standing trial, Revel pleaded no contest to her charges of trafficking in meth, possessing 0.5 grams of heroin and two alprazolam pills, and agreed to have Howard sentence her to between 3 and 40 ears in prison.
Revel, who was not convicted of a similar crime before, argued the drugs were for personal use, not selling. However, the way the meth was packaged in separate baggies led Howard to believe Revel was dealing.
"Which causes great consternation for me," the judge said.
"That's just how they weighed it," Revel replied.
Woman's probation sentence in deadly hit-and-run outrages victim's family
Matthew Howell's friends and family were not happy with Howard's January sentencing of Bailey Clair to probation for the April 2016 hit-and-run that killed 24-year-old Howell.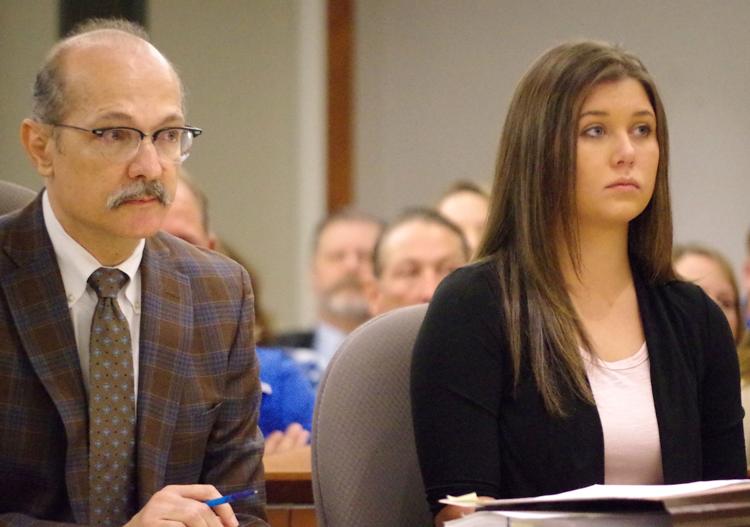 "I cannot express how sorry I truly am for their loss, and hope that today can provide them with a sense of closure," Clair said before Howard ordered her to serve five years of probation, revoke her driver's license for five years and do 120 hours of community service.
"I think a person's life is worth much more than that," Howell's mother, Cheri Robertson, told Howard. "You don't leave someone laying in the road. I find that very cold-hearted."
Clair accepted Howard's offer in October to be sentenced to a possible prison sentence of up to four years, the minimum-mandatory punishment the Crystal River 24-year-old could face for her first-degree felony charge of leaving the scene of a fatal crash.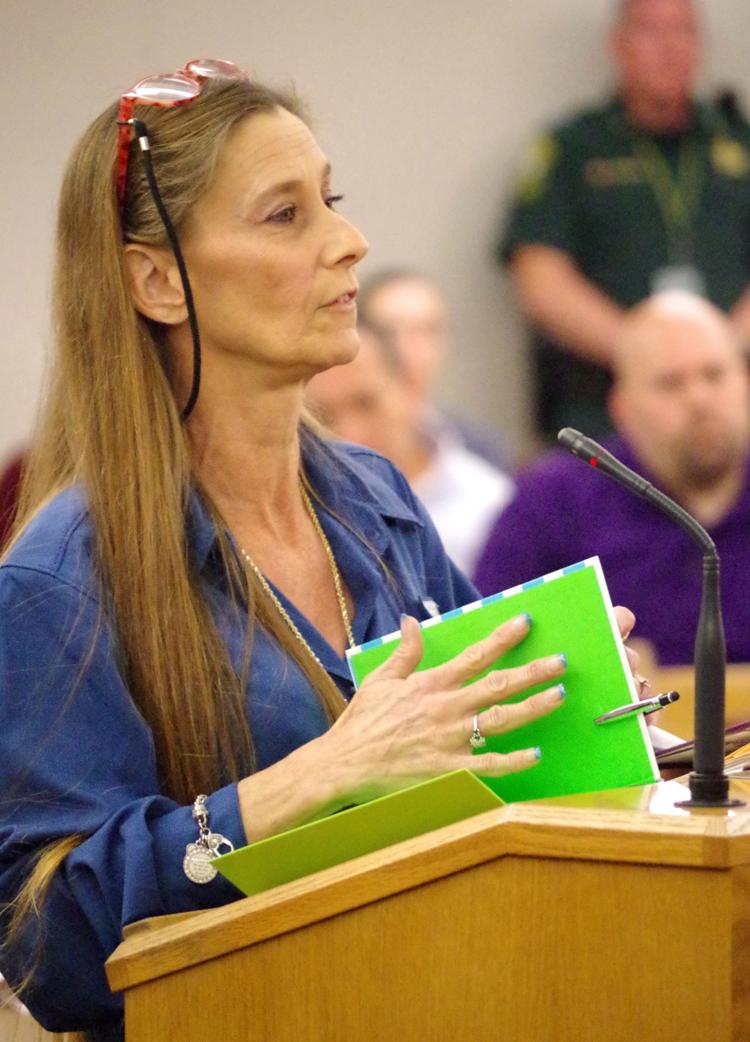 Howard ruled that Howell caused the collision with Clair's Ford in the inside southbound lane of U.S. 19 near the intersection with West Gem Street in Homosassa.
A Florida Highway Patrol crash-homicide report and Howell's autopsy showed he had twice the legal limit of alcohol and hydrocodone present in his system and stepped into the path of Clair's car.
Clair was reportedly driving between 40 and 48 mph when she struck Howell and drove away. She reported her involvement in the crash the day Howell's body was discovered. Clair was charged in May 2018 after two years of investigations by FHP.
"What I have is a most tragic consequence of overindulgence on behalf of Mr. Howell," Howard said. "He was a good guy, of this there is no doubt, and he got plastered drunk and got plastered on hydrocodone, and he might have died of an overdose if she did not hit him."