Citrus County Sheriff's Deputy Joshua Mullins spotted the red-and-black Mustang parked at the Circle K on the corner of US 41 and Gobbler Drive in Floral City.
It matched the description given at 6:45 p.m. by a witness, who said its driver had revved his tires and threw dirt onto his truck in the 9500 block of Gobbler Drive, and fired up to four gunshots out his car window before driving away.
Mullins walked up to the Ford and asked its driver, 23-year-old Charles Austin Alec Jewell, to shift the car's gear into park. After a few commands, the Winter Haven man complied, according to the arrest report.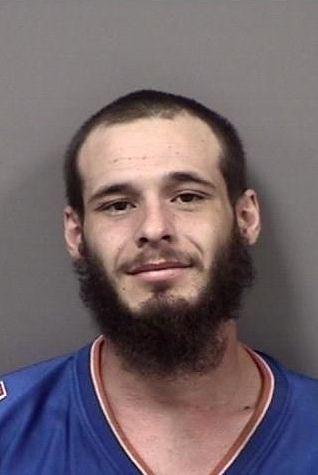 While Mullins questioned Jewell about where he had come from, Deputy Adam Ferguson arrived as backup. 
Because he didn't have an ID, Jewell gave the lawmen his name and birthday, which led to the deputies discovering Jewell was wanted for leading authorities in a chase in Polk County.
"At that point, the suspect, Jewell, knew that something was not going to happen the way he wanted it to," Citrus County Sheriff Mike Prendergast said in an interview.
When Mullins asked Jewell to exit the car, it's alleged Jewell shifted the Mustang into reverse, prompting Mullins to reach inside and try to pull Jewell from the vehicle as it rolled backwards. 
Mullins decided for his own safety to let go as Jewell's door swung around and struck him, before Jewell allegedly drove out of the parking lot and onto Gobbler Drive. 
Mullins, who was uninjured, and Ferguson, followed right behind in their patrol cars, beginning a 30-minute pursuit that reached speeds of up to 100 mph through Inverness and back around to Floral City.
Authorities apprehended Jewell after Florida Highway Patrol (FHP) Trooper Andrew Schmidt rammed his cruiser into the Mustang — its tires torn apart by deputies' stop sticks — inside the Trails End RV Resort.
In connection to the June 23 chase, Jewell will be arraigned July 16 on charges of aggravated battery of a deputy, aggravated assault with a deadly weapon, fleeing and eluding, reckless driving and criminal mischief.
"If he would have just complied with law enforcement there and faced the original charges," Prendergast said. "We're hopeful that the judge will take the case, and let the hammer fall where it does so that justice is administered appropriately for this person."
After leaving the gas station, it's alleged Jewell led Ferguson, Mullins, K9 Deputy Dale Strickland and Deputy Franco Saayman north on US 41 towards Inverness, traveling more than 80 mph in the 45 mph zone.
With Ferguson taking the lead, Mullins radioed in the pursuit's direction and speed. He's also relayed weather and road conditions, notifying other deputies of the environmental risks to themselves and other motorists.
"You're doing that very rapidly as events are unfolding," Prendergast said. "Our deputies should not outdrive their own capabilities as law enforcement officers."
Prendergast said while a deputy's objective during a pursuit is to stop a dangerous driver, they have to prioritize the safety of themselves and civilian bystanders, who must do what they can to evade an incoming, high-speed motorcade of police and their suspect.
 "Any moment you hear those sirens, you see lights flashing, you absolutely must take immediate actions for your personal safety and those around you," the sheriff said. "Please do get out of the way, please do it as safely as possibly and let us do our jobs so that we can protect our citizens...Lives do matter and seconds do count."
When he hit the heart of Inverness, Jewell turned onto South Apopka Avenue. Deputies kept track of how many stop signs and red traffic lights were ignored as the chase continued south through the Inverness Highlands.
CCSO tries to keep the group of chasing deputies small, making it easier to manage. Other units are stationed nearby if they're needed to join in or set stop sticks further up the road.
As Jewell got into the southbound lane of Pleasant Grove Road, his alleged speeds went into triple digits as he went around curves and other vehicles. Jewell made his way east and back onto US 41, heading north to Floral City, his arrest report shows.
Sgt. Matt Taylor and Deputy Christian Velazquez positioned themselves ahead and along US 41 to deploy stop sticks across the roadways to puncture the Mustang's tires.
Police throw out retractable stop sticks or spike strips across a road seconds before their target vehicle blows by, and rope it back in before another vehicle rolls over it.
But in these short moments, authorities are left exposed to their suspect.
"Timing is everything," Prendergast said. "It's a very precarious situation because you don't know the mindset of the individual who's driving that vehicle."
Deputies were able to pierce the Mustang's left side tires as the car turned onto East Trails End Road from South Withlapopka Drive.
CCSO called in for FHP to assist in stopping Jewell. Thanking the state agency, Prendergast said FHP is typically there to halt a long-term chase.
Trooper Schmidt made his way to the front of the pack.
He tried to bump the front of his cruiser with the Mustang's rear, timing the strike to maximize chances Jewell would lose control — a maneuver known as the Pursuit Intervention Technique, or PIT.
CCSO deputies are not allowed to perform PIT maneuvers, which can be life threatening on the road and in training.
Prendergast said he's interested in getting them certified, but that requires funding and a location his agency doesn't have.
"Pursuit training like that…requires a big piece or real estate, it requires a lot of extensive training and you've got to retraining on it all the time," he said.
After a well-placed PIT by Schmidt during a turn on a dirt road, the Mustang spun out and stopped, and Jewell raised his hands out the window to troopers and deputies, who had their firearms drawn.
Jewell was handcuffed and put in the back of Schmidt's cruiser. He apologized to his captors for the trouble he caused, dashcam footage showed.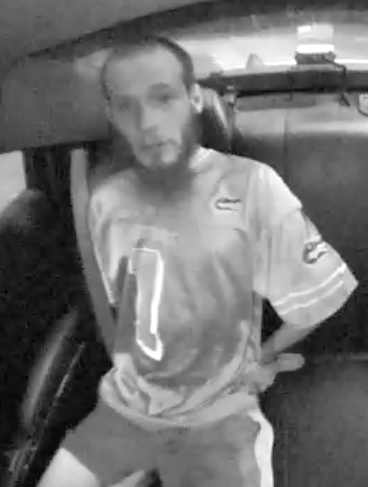 "I want to commend our deputies for doing an outstanding job of protecting our community, and to resolving this situation with the utmost safety of our citizens foremost on their minds, and to successfully getting this person arrested with our deputies safe and the troopers safe," Prendergast said. "It's a pretty priceless commodity to have our guys that are out there, and in my opinion, they're irreplaceable."