A steel plate in the back of a man's skull may have saved him after a Hernando woman allegedly struck his head with an axe.
Citrus County Sheriff's Office authorities arrested 30-year-old Casandra Brooke Hallmark on Saturday, June 26, on a charge of attempted premeditated murder with a deadly weapon.
Hallmark was jailed without a bond.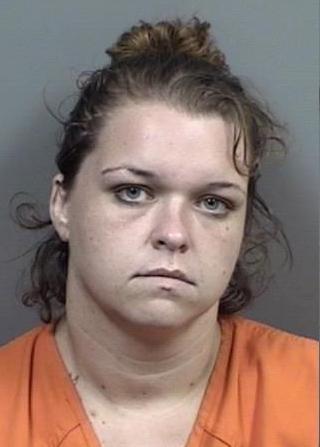 According to Hallmark's arrest report, the sheriff's office was dispatched Saturday to a man being struck by a double-sided medieval axe at a Hernando address. Hallmark, who a witness identified as the man's alleged attacker, had run away.
Deputies questioned the man, who said he and another man were working on a water pump when he felt a thump on the rear of his head, stunning him before he felt a second impact.
Deputies noted an inch-long cut to the back of the man's head, a couple inches away from the top of his spinal cord.
"It was later discovered that the victim had a steel plate inserted into the back of his skull," Hallmark's arrest report states, "which may have contributed to him becoming dazed."
According to the arrest report, the man said he saw the other man yelling at Hallmark, who was holding the axe above her head before the other man disarmed her and chased her away.
Deputies spoke to the man who witnessed the alleged attack. 
He corroborated the injured man's statements, adding Hallmark, who is homeless, stayed in a shed on his property the evening before. He said he let Hallmark into his house to get cigarettes when she must have grabbed the weapon from off his wall display. 
Hallmark's statements to deputies were redacted in her arrest report.