An Inverness man accused of firing a shotgun in a neighborhood and at a person escaping from him faces several felony charges, including attempted first-degree murder.
Citrus County Sheriff's Office (CCSO) authorities apprehended 56-year-old Todd Wayne Jordan Jr. after the alleged shooting on Saturday Sept. 5, 2020, according to Jordan's arrest report, obtained Monday, Sept. 14.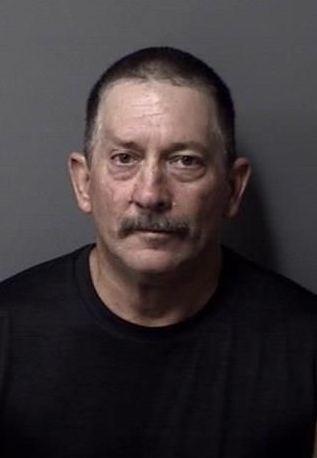 Jordan was later arrested on charges of attempted premeditated murder, discharging a firearm in a public area, shooting into a dwelling, possessing a controlled substance and two counts of possessing firearm or ammunition as a convicted felon. 
He was jailed at the Citrus County Detention Facility without a bond. However, at Jordan's first court appearance Sept. 6, a judge reset his total bond to $76,000.
Jordan's arraignment hearing, when he'll issue a formal plea, was scheduled for Sept. 21, court records show.
According to Jordan's arrest report, CCSO deputies responded to a shooting in an Inverness community near East Jasmine Lane, where witnesses named Jordan as the shooter.
Deputies later detained Jordan at his 40-year-old business in Inverness, Todd's Tropicaire Plants, Inc.
During a search of Jordan's person, deputies discovered a knife, a live shotgun shell and 0.4 grams of bagged methamphetamine. 
Deputies also seized a Remington 810 pump-action shotgun they found in between the driver and passenger seats of Jordan's van.
While questioned by a CCSO Major Crimes Unit detective, the man Jordan's accused of shooting at said he and Jordan were having disputes over property, according to the arrest report.
Jordan asked the man to move out of his business, and the man relocated to the house and eventual shooting scene.
Several hours later, the man said in the arrest report, Jordan pulled into the home's backyard off of East Jasmine Lane, grabbed a shotgun, threatened the man's life and fired a round into the air.
As Jordan went to reload, the man ran into the house through the back door. When he got inside, a second round went through the door and out the other side of the house.
Another witness corroborated the man's statements to the detective, adding Jordan continued to threaten the man, the arrest report shows.
CCSO investigators documented evidence of the damage, and recovered shotgun shell wadding from inside the home.
In a Mirandized interview with a CCSO detective, Jordan said he went to the house to retrieve belongings he believe the man took from him, according to his arrest report.
Jordan said he armed himself with a shotgun he took from his parent's house because the man had pulled a handgun on him multiple times earlier in the day — an accusation the man denied to the detective.
When the man asked him to leave the property as he arrived, Jordan grabbed the shotgun, loaded it with a shell of birdshot and fired it into the air, Jordan said.
Jordan said once the man retreated inside the house, he fired a round of buckshot at the backdoor, according to the arrest report.
According to the Florida Department of Corrections, Jordan was imprisoned between April 2017 and September 2018 on felony convictions of possessing meth, fleeing and eluding law enforcement and driving with an invalid license.