Citrus County Sheriff's Office deputies on Wednesday, June 23, 2020, arrested six-time convicted felon Johnny Roger Johnson II in the 7700 block of West Laura Street in Dunnellon.
Johnson, whose birthday is June 21, was wanted for burglary of a conveyance with battery and strong arm robbery. However, after his arrest Wednesday, Johnson now faces a number of new charges, including: one count of possession of a firearm by a convicted felon; one count of sell/manufacture/deliver or possession with intent to sell/manufacture a controlled substance; one count of possession of a controlled substance; and, one count of possession of drug paraphernalia. His bond was set at $18,000. His bond for the charges of burglary with battery and robbery were set at $30,000.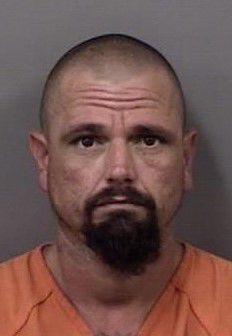 According to the report, when law enforcement personnel arrived at the residence at 7795 W. Laura St., they observed Johnson exit a pop up camper and walk toward a truck. He then returned to the camper. Shortly afterward, Johnson exited the camper again at which time authorities ordered him "to get on the ground."
After handcuffing him, detectives saw multiple clear plastic baggies, a glass methamphetamine pipe and a box of shotgun shells in plain sight in the camper, the report stated. Officers entered the camper, finding plastic baggies with cannabis and methamphetamine. They also found a digital scale, $640 and a 12-gauge shotgun.
According to the report, the baggie containing cannabis weighed 28.02 grams, with the methamphetamine weighing 1.22 grams.
Johnson was then transported to the Citrus County Jail, where detectives conducted a background check revealing the defendant had six prior felony convictions including a pair of stints in the Florida prison system.