In an attempt to evade a Citrus County Sheriff's Office deputy Monday night, a Lecanto-area man allegedly jumped from a moving vehicle that then crashed into a parked street sweeper.
Jason Paul Madison, 26, was arrested and charged with one count each of driving while license suspended or revoked; possession of a controlled substance; resisting a law enforcement officer without violence; possession of drug paraphernalia. His bond was set at $6,000.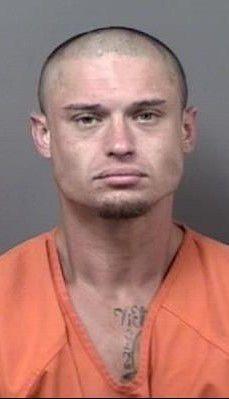 According to the report, Deputy William Richardson spotted a red, four-door car with a broken light cover pulling out of a gas station parking lot on West Cardinal Street. The deputy followed the car, which picked up speed before making an abrupt right turn onto South Berliner Way, a dirt road.
The car continued around a left bend when the driver's side door opened while the car was moving. Madison jumped from the car, which then crashed into a street sweeper truck parked in front of a residence in the 6600 block of South Hamburg Terrace.
According to the report, Madison ran into the backyard of the residence and into a wooded area. A K-9 unit and its handler were called in and found Madison lying down in the brush attempting to conceal himself. After several commands to show his hands, Madison was caught by the K-9, Calum. That's when Madison yelled, "Sorry, I don't have a license."
Court records show Madison's license was suspended for six months on Nov. 18, 2019, for driving while license suspended.
During a search of Madison, deputies found a pocket knife and hollowed out orange highlighter, which contained 1 gram of methamphetamine, the report stated.
Once Madison was medically cleared, he was transported to the Citrus County Detention Facility.