Citrus County Sheriff's Office lawmen weren't fans of Richard Wolfe's rainy dance routine in the middle of an Inverness roadway.
Instead of applauding the Crystal River 57-year-old, authorities were forced to stun him with a Taser during his arrest just before noon on Tuesday, Sept. 7, on the pavement of State Road 44.
Deputies booked Wolfe into the county jail under charges of resisting an officer without violence, fleeing from law enforcement after being ordered to stop and reckless driving. Wolfe's bond was set at $3,500.
According to Wolfe's arrest report, sheriff's office detective Daniel Slingerland spotted a dark-gray Honda SUV turn left onto the grass median of S.R. 44 in front of the Inverness-area Walmart.
Slingerland watched the SUV travel roughly 200 feet on the median, trying to pass and merge in front of eastbound traffic. When the SUV did merge onto S.R. 44, it forced a pickup truck to brake.
Afterward, the SUV used the left-turn lane for North Croft Avenue to pass neighboring vehicles before merging back into the eastbound lanes of S.R. 44.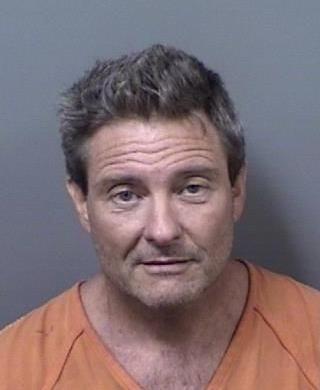 "During the time of the violations, there was low visibility due to heavy rain and wet roadways," Slingerland wrote in Wolfe's arrest report.
Slingerland pulled over the SUV just east of S.R. 44's intersection with Croft Avenue. Wolfe exited the vehicle, prompting Slingerland to give him orders to return.
Wolfe refused the detective's commands, removed a knife from his waistband and threw it into the grass along the road, his arrest report states.
Deputy David Gator later arrived to also direct Wolfe back to the SUV.
While this was happening, eastbound traffic was brought to a halt. Drew Benefield, who was stopped right behind the traffic stop, videotaped Wolfe's purported encounter with Slingerland and Gator.
Benefield's first video ends right after the SUV peels away toward the east, with Slingerland's unmarked patrol car pursuing it.
According to Wolfe's arrest report, the SUV stops again in S.R. 44's center-turn lane, roughly three-tenths of a mile down the road.
Wolfe exited his vehicle and began approaching Slingerland, who ordered Wolfe to place his hands on the back of the SUV. Wolfe began to comply, but then began to dance.
"He then began challenging this detective, stating, 'What are you scared of? I got knives, you got a gun!,'" Slingerland wrote in the arrest report.
Benefield was able to videotape Wolfe purportedly straddling the SUV and thrusting the front and back of his pelvis at Slingerland, who was standing several feet away.
Wolfe then walked into eastbound lanes of S.R. 44 while Slingerland and an unnamed deputy followed behind, ordering him to get onto the ground.
Benefield's video shows Wolfe go down to his knees with his hands behind his head before he stands up and backs away from the detective and deputy.
After Wolfe refused several commands, his arrest report states, the deputy shot him with a Taser, bringing Wolfe to the ground on the side of S.R. 44. Wolfe continued to resist Slingerland and the deputy's attempts to handcuff him, forcing the deputy to use his Taser again. Wolfe refused medical treatment for his Taser wounds.
Benefield praised the law officers for having good self-control during the incident.
"They did a great job," he said.
To watch Benefield's video, see the online version of this story at chronicleonline.com.