Attorneys began — again — to deliberate the fate of John William Campbell for killing his father almost 11 years ago inside their Inverness home.
Campbell's resentencing for the August 2010 premeditated murder of 68-year-old John Henry "Jack" Campbell started Monday, June 7, and is scheduled to last most of the week.
Campbell, 47, had been Citrus County's sole resident on death row since Circuit Court Richard "Ric" Howard sentenced him there in March 2013.
That was until rulings from the U.S. and state supreme courts vacated Campbell's punishment, but not his conviction, because a dozen jurors from his January 2013 trial weren't unanimous in their recommendation for Howard to order the ultimate penalty.
After considering testimony and evidence on Campbell's upbringing and criminal background, Howard will decide alone whether to order a sentence of either life in prison or death for Campbell, who waived his right for a jury to preside over his resentencing.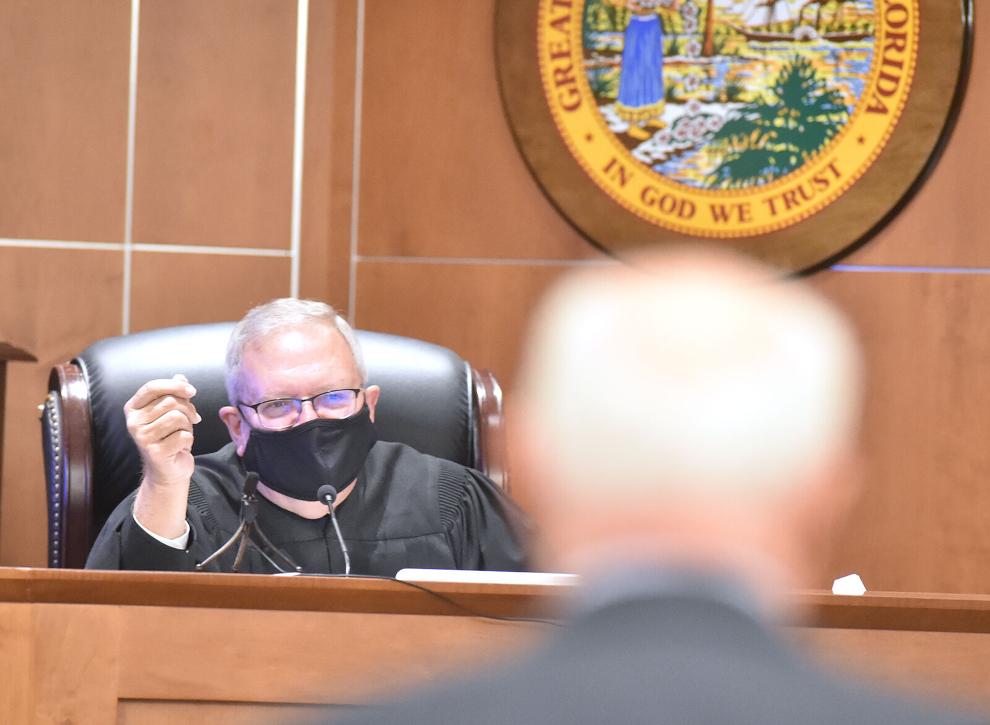 Campbell appeared to court Monday dressed in red inmate garb, and sat among his team of assistant public defenders, Jessica Roberts, John Spivey and Edward Spaight.
Assistant state attorneys Pete Magrino and Richard Buxman, Campbell's original prosecutors, asked Howard in opening statements to remember the facts from Campbell's trial to reinstate his sentence.
"I anticipate, at the conclusion of the entire hearing," Magrino said, "I'll be back before the court ... to once again argue for the court to sentence the defendant to death."
Spivey said his client's criminal actions and suicide attempts stem back to a fetal alcohol disorder stunting developments of his brain and body, including blindness in one eye and a back deformity. 
Spivey said Campbell's hostile upbringing in Texas with abusive parents also contributed to his poor decisions. 
"Poisoned in the womb, plunged in a lifetime of disfunction, predestined to fail," Spivey said. "The true origin of this life-gone-astray doesn't involved John's choices, but the cards he was dealt by no choice of his own."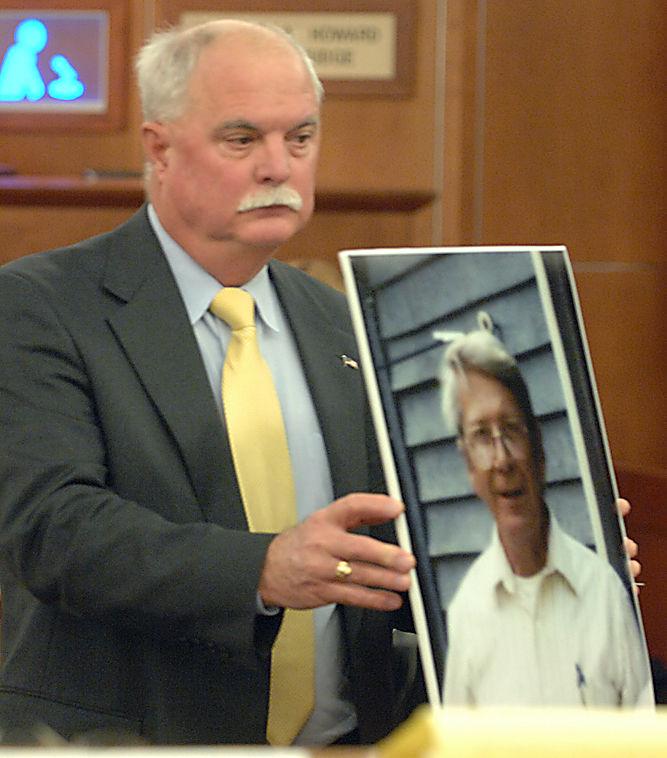 Along with residing at the Union Correctional Institution in Raiford for murdering his father, Campbell has been serving consecutive 25- and 70-year prison sentences from December 2011 and March 2013.
Campbell was convicted of robbing the Walgreens, Dollar General and Lowe's in Inverness between Aug. 5 and 10 before he crashed into a Citrus County Sheriff's Office (CCSO) cruiser during a high-speed chase Aug. 11 near the Hernando-Citrus county line.
At the time of his sentencings, Campbell was a seven-time felon, including a conviction out of Texas, where he hid in Angela Thatcher's closet in May 1998 and attacked his ex-sister-in-law with a hammer because he lost custody over his infant son.
"I was terrified, I wasn't think anything except I might die," Thatcher testified Monday as a witness to help prosecutors prove more aggravating circumstances of Campbell's crime.
CCSO deputies discovered the body of Campbell's father Aug. 10, 2010, in a doublewide home he shared with his son off of East Nugget Lane in Inverness.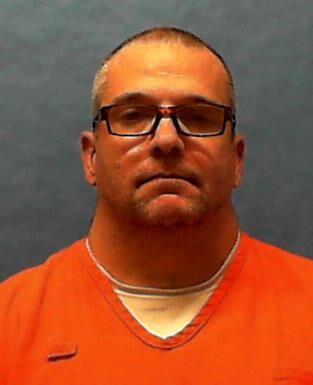 Gary Atchison, a retried CCSO detective, testified Monday to questioning Campbell about the robberies while Campbell was recovering from the crash at a hospital. 
Magrino played the recorded interview for Howard. Campbell confessed to the robberies and to striking his father twice with a hammer-hatchet.
"This has been going on for years ... him just never talking to me; I tried," a sobbing Campbell told detectives about his motives. "He didn't care about anybody else, he didn't care about me; he wanted peace, so I gave it to him ... I don't want nothing, I want to die."
Campbell rifled through his father's belongings, stealing a credit card to buy gift cards he exchanged for crack cocaine before leading authorities on the vehicle chase.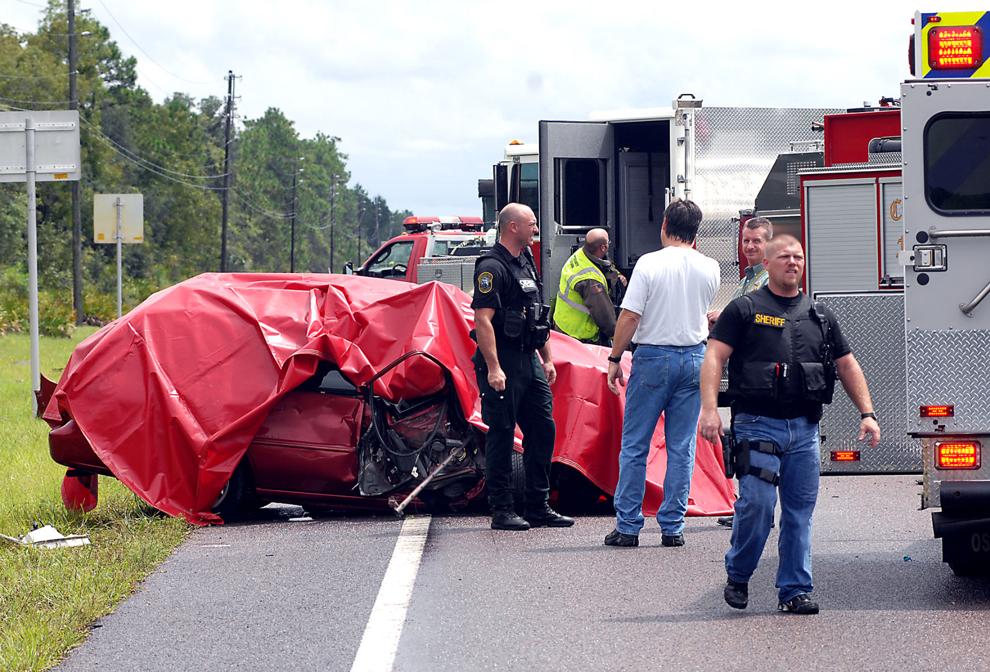 CCSO Detective Sam Ruby testified Monday was about to deploy stop-sticks on northbound lanes of U.S. 19 to deflate the tires of Campbell's oncoming vehicle from Hernando County.
"It made an intentional turn towards my vehicle," Ruby said. 
Ruby said he was hospitalized for three bruised ribs. 
"That was the closest I've ever come to dying," the Army veteran testified.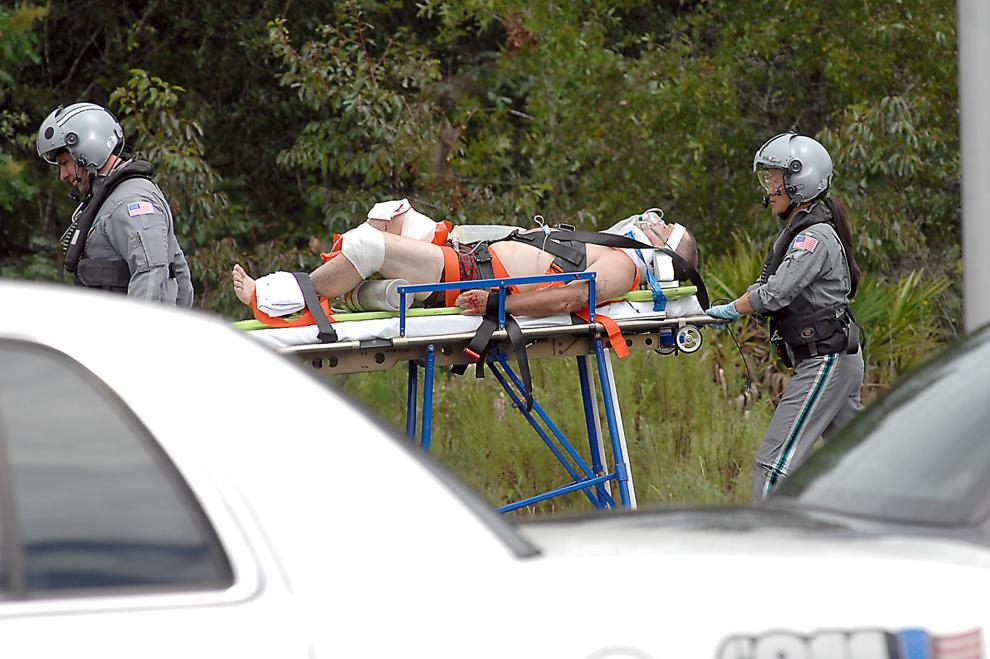 Campbell and his attorneys said Campbell was attempting to take his life when he crashed into the patrol car.
"I wasn't trying to hurt no officer," Campbell said in his police interview.
After putting on half-a-day's worth of witnesses on Monday, Magrino and Buxman rested their case. 
Spaight and Spivey ended the day with testimony from Campbell's family, childhood friends and doctors to speak on behalf of Campbell's character.
Dr. Mark Cunningham, a psychologist, testifying to finding 30 adverse factors in Campbell's background that undermined his development and decision-making, including his brain damage, drug abuse, academic failures and neglectful parents and tragic deaths of friends.
Cunningham said Campbell has 16 of 22 risk factors for violence and delinquency cited by the U.S. Department of Justice.