After an early evening fight came to an end, an 18-year-old Beverly Hills man fired off a series of parting shots Tuesday, July 7, 2020, at Water Tower Park in Beverly Hills.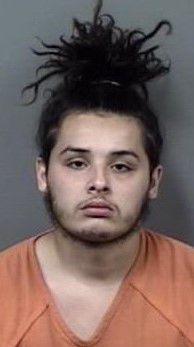 Alex Muniz-Rodriguez faces three charges of aggravated assault with a deadly weapon without intent to kill after deputies arrested him following the incident. His bond was set at $6,000.
According to a Citrus County Sheriff's Office arrest affidavit, deputies were dispatched to Water Tower Park at 4 Laurenshire St., where Deputy Mike Anger spoke with three victims who identified Muniz-Rodriguez as the shooter. The victims told Anger the defendant fired two to three shots directly at them as they were leaving the park.
The witnesses told deputies they had gone to the park to fight with Muniz-Rodriguez' girlfriend. Once they were done fighting, the three people were walking toward their car when one witness saw the defendant pull a firearm from his pocket, firing two to three shots at them. One witness saw dirt being kicked up near their vehicle as Muniz-Rodriguez was shooting at them.
After speaking with the witnesses, Deputy Robaldo Ramos contacted Muniz-Rodriguez's girlfriend in Crystal River. She told him after she was done fighting, she and Muniz-Rodriguez began walking back to each other's cars when she heard gun shots. It was then, the report stated, she ran toward her vehicle.
According to the report, she heard Muniz-Rodriguez yelling, "You doing that, you really doing that?" She told Ramos that once she and Muniz-Rodriguez got into her car, that the other eyewitnesses were shooting at them. She advised the deputy she did not see who was shooting because she had her back turned toward them.
When asked if Muniz-Rodriguez had a gun, she told the deputy, "yes." She did not know what Muniz-Rodriguez did with it.
The deputies' interview with Muniz-Rodriguez was redacted from the report, but he had agreed to speak with them post Miranda. After the interview, Muniz-Rodriguez was transported to the Citrus County Detention Facility.